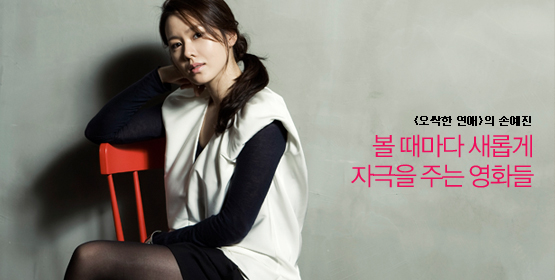 Son Ye-jin [Chae Ki-won/10Asia]
썝蹂몃낫湲 븘씠肄
There are a countless number of beautiful actresses. And a good number of them are good at acting as well. But seldom does an actor who hit stardom for her looks first leave a strong impression in all 16 episodes of a mini-series before her twenties has passed. So that is probably why Son Ye-jin stood out after appearing in SBS' "Alone in Love." It marked the appearance of a beautiful 25-year-old actress who so exquisitely could portray on the emotions of a woman who has experienced divorce and hence can no longer be just excited over love. It was sort of a surprise to all and whether the roles she played thereafter were received well or not, they were at a standard higher than that applied to actresses her age.
Yet the reason this actress is interesting is not just because she is young, pretty and skilled. Her desire to improve by accepting that the high level of expectations surrounding her and then thinking of which step to take next to actually become better, is more interesting than her achievements so far. "There's a limit to how much one person can express. That's why to not fall behind, it becomes important to choose good projects. I think transforming just for the sake of transforming is dangerous." And this is the reason she chose "Spellbound." "This is my third romantic comedy following 'The Art of Seduction' and 'My Wife Got Married.' And because the first two were so great, there was less room for me to try something new. But I felt that I could show a new form of fun through 'Spellbound' in how there is an element of horror to it.'" Of course actors will promote their projects but if one feels a sincerity within it, it is probably because they do not hide their desires regarding acting. Just like how the following movie recommendations by Son Ye-jin, which she said stimulate her, revealed her desires regarding acting.
<#10_LINE#>
1. "Forrest Gump"
1994 | Robert Zemeckis
"I watched this a really long time ago but watched it again recently. I've probably watched this a total of four times so far. And I like actor Tom Hanks but I also like fairy tale-like stories which are sad but make you laugh. What we call pathos. Like how within Charlie Chaplin's laughter, there is sadness. I like this movie so much that I even have it on DVD."
The success story of a man with an IQ of 75. "Forrest Gump" actually very strongly depicts on the American Dream in terms of its setup and in how it crosses back and forth between the life of main female character Jenny (Robin Wright) who is a hippie and Gump (Tom Hanks) who becomes a Vietnam War hero. Yet despite the slightly uncomfortable political implications within the movie, the story of Gump who sacrifices his all for the woman he loves leaves a strong ringing in one's heart.
2. "Life Is Beautiful"
1997 | Roberto Benigni
"This is a movie I like as well for its pathos which I spoke of when recommending 'Forrest Gump.' I mean, this movie actually tells about a very sad story. Jews are forced to do hard labor just because they are Jews and the father dies to protect his son. But I think it's amazing that they told this story in a mood that you can laugh from beginning to end. I didn't know this before but I'm starting to realize that I like movies like these."
Without question the star to the Academy Awards of the year 1999 was best actor recipient Roberto Benigni who drew howls of laughter from the audience. As both actor and director, he became the Academy Award's choice with his foreign comedy "Life is Beautiful." One will be touched for a long time upon discovering that the kind narration for the movie telling about the cheerful Jewish man Guido protecting his son while in concentration camp, is actually Guido's son when he is grown up.
3. "Leon"
1994 | Luc Besson
"This is a movie that has been considered stylish for many years now. That is how old this movie is but there is not a single thing about it, from its imagery to story to music, that isn't impressive. Because even that single scene with the plant is providing so many people with ideas. For things such as editorials. Hence I'll say that with Leon and Matilda's love story, topped with Sting's song, only makes the movie perfect."
At the time of its release, the movie was promoted with a focus on the action sequences containing Leon, the many people who rushed to theaters thinking it was an action film got taken aback by how it was of a completely different style and story than they expected, and then they went wild over it. The story of how Leon, a hitman yet possess the innocence of a boy, communicates and sacrifices his life to save the young girl Matilda who lives in his building, moves the viewer more than any other action hero.
4. "Priceless"
2006 | Pierre Salvadori
"Audrey Tautou was great in the movie but actor Gad Elmaleh's comical acting was excellent in particular. Simply put, Audrey Tautou plays a woman who seduces rich men and the movie tells about how Gad Elmaleh, the bartender of a hotel, pretends to be a rich man. But his acting was funny yet unexaggerated. For example, there was a scene where he was serving in the hall of the bar but pretended to be a customer as soon as he spots her and his reaction there was great."
The movie is a romantic comedy which tells about Audrey Tautou as a woman who one cannot hate no matter what and Gad Elmaleh who is not handsome yet loveable. The story being about a woman who wants to live a happy life after marrying a rich man yet ends up meeting a guy who truly loves her, has been repeated many times by now but its unique style of cheerfulness keeps the audience glued to the pic from beginning to end.
5. "The Piano Teacher"
2001 | Michael Haneke
"I actually went into this film not even knowing who Isabelle Huppert was but I ended up not being able to repress my astonishment throughout. She seemed extremely cold and cynical on the outside but there was a naturalness to her that made her acting not seem like acting. The whole time I was thinking, who is she and that she couldn't be normal. [laughs] She put on acting that I'd never be able to do. She was shocking for me."
This movie by Michael Haneke is different from director Roman Polanski's "The Pianist." While the latter showed the beautiful world of music amidst the horrors of the holocaust, the former told of the love or desire that pushes forward like an uncontrollable yet passionate performance. And in the movie, Isabelle Huppert, who plays a cold-hearted yet desire-coveting piano professor, acts out her dangerous love and obsession with a genius male student. It is difficult not to get shocked by her acting in the last scene in particular.
※ Any copying, republication or redistribution of 10Asia's content is expressly prohibited without prior consent of 10Asia. Copyright infringement is subject to criminal and civil penalties.
<ⓒ즐거움의 공장 "10 아시아" (10.asiae.co.kr) 무단전재 배포금지>