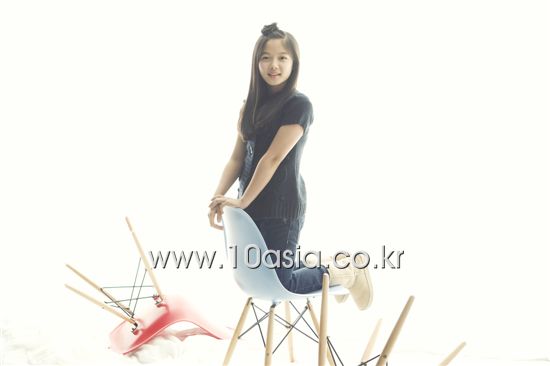 Actress Kim You-jung [Lee Jin-hyuk/10Asia]
썝蹂몃낫湲 븘씠肄
10: What is the first role you played that you felt the fun in acting?
Kim:
I wanted to act well in "Haeundae" and "All For Love" left a strong impression on me. I enjoyed working on "The Chaser" as well but I think I had the most fun with acting in "Gumiho." I came to think that I would like to act for the rest of my life.
10: I guess you had fun on set although the drama itself was sad and scary.
Kim:
It was so much fun that I'd like to go back to those times! The crew treated me very well, they would always give me good food, and the actors were very nice as well. Mr. Jang Hyun-sung in particular is like a real dad and friend. He's filming a new daily drama these days but he said the set isn't as cheerful without me and that he thought of me while eating meat so he called me, asking for me to join them. (laugh) And I like the director for "Gumiho" the most as well. He's always smiling and was very cute. He looks like a fox when he smiles.
10: Is there a role you'd definitely want to play later on?
Kim:
A rich person. (laugh) Because I've always played beggars. I suddenly become poor in "Dong Yi - Jewel in the Crown," I live in a rented room in "Gumiho," I want to have money in "Flames of Desire" because I'm poor, I was rich in "Road No. 1" but so briefly that I didn't really get to feel it, I'm in an awkward situation in "Haeundae" as well and in "The Chaser" my mom... (sigh)
10: What sort of rich kid do you want to play?
Kim:
One that's perfect in every way. (laugh)
10: Like someone who is pretty, smart, has a lot of money and wears expensive clothes?
Kim:
Yes. But everyone says I look better as a beggar. I briefly wore rainbow-striped garments while working on "Dong Yi" because I was the child from a rich family but the make-up team said I look much prettier as a beggar. (laugh)
10: That probably means you're pretty without being made up. (laugh) But do you sometimes wish that you'd look prettier on TV or mind how you look on screen?
Kim You-jung:
No when I'm acting but I do think it would be nice to look prettier and slimmer in photographs. And when I'm in front of the celebrity I like. (laugh)
10: Oh, when you met T.O.P? (laugh)
Kim:
I got to take a photo with him and talk to him when Uhm Jung-hwa took me. But I tied my hair up because it was a mess and my clothes were weird because I had gone straight from a shoot. Of course, you know how people will still say you look pretty though, right? T.O.P said I'm pretty and cute, but I didn't believe him. (laugh) I don't think I looked pretty.
10: How do you decide on which roles you play?
Kim:
My mom used to make most of the decisions but we discuss together a lot these days.
10: What do you tell her that you like doing?
Kim:
I like roles where I'll have a lot of emotional scenes because you can express your emotions. Not laughing though. Laughing scenes are really hard to do. (laugh) But I would like to try comical acting as well. A role like Jin Ji-hee played in MBC sitcom "High Kick 2" but not like Seo Shin-ae's since I've played too many roles where I live in a rented room. (laugh) And I'd also like to play roles in a drama with schools, like KBS' "God of Study."
10: "God of Study" is about high schools. Do you think that's what actual high schools will be like?
Kim:
Nah, how could it? That's just the drama.
10: (laugh) That's true... Do you sometimes look up what people say on the Internet about you?
Kim:
I've been told that the phrase 'Kim You-jung anti [fans]' pops up as a related search word when you type in 'Kim You-jung.' And I haven't been in it before but my friends tell me I have anti-fan sites as well. But I don't pay too much attention to that. And I've only been to my fan sites once. I don't use the Internet that often.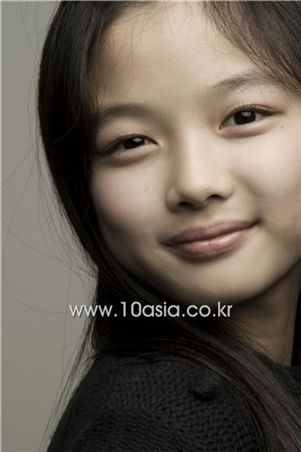 Actress Kim You-jung [Lee Jin-hyuk/10Asia]
썝蹂몃낫湲 븘씠肄
10: What response do you like to receive the most for your acting?
Kim:
When they say that I did a good job of pulling of my character.
10: And you said you'd like to be an actor for the rest of your life but is there something you'd like to do other than that?
Kim:
Hmm... My original dream was to be a doctor. And I also want to be a designer, chef and reporter. I'm also interested in the arts and physical education so athlete as well! (laugh) But I'm not strong enough to be a soccer player so maybe jump rope? Or running?
10: Are there any instruments or sports that you'd like to learn to play?
Kim:
I think I've learned almost everything on set. I even learned to play the hae-geum [traditional string instrument] while doing "Dong Yi" and got to keep it. It helps for when I go on talent shows at school. Everyone is so amazed. But the instructor hasn't been tuning it so I think it's starting to sound weird. (laugh) And I'd also like to play the drum and guitar.
10: Are you interested in singing and dancing as well?
Kim:
I'd wanted to be a singer as well but I think I'd feel lonely if I debuted as a solo. And that I'd be in conflict with other people if I debuted in a group because someone would be more popular than another person. I think being a trainee is very tough as well so I like acting the best. (laugh)
10: When does winter vacation start?
Kim:
Next week. On Thursday. Two days before Christmas.
10: What will you do for Christmas?
Kim:
I'll watch the Christmas specials on television and hang out with my friends. I hope it snows.
10: Do you by any chance... believe in Santa Claus?
Kim:
He doesn't, it's just your dad. Who believes in him these days? Not even kids in kindergarten do. (laugh)
10: I see. I knew nobody would believe in him... (laugh) What do you think your dad will get for you this Christmas?
Kim:
I haven't been getting gifts starting two years ago. My friends say that as well. I guess you don't get presents when you get older.
10: Is there anything in particular that you want to do next year since you'll become a sixth grader?
Kim:
I want to go to an amusement park. And I'd like to have a slumber party with my close friends. We'll all hang out at one of our friend's house, sleep over a night, play again, and then say goodbye! Everyone else is allowed to except for me. My parents don't like it when I sleep elsewhere and they say I'll be a nuisance to my friend's parents when I do which I agree with but I like playing with my friends. (laugh)
10: Do you keep a diary by any chance?
Kim:
I don't think any elementary school kid would like keeping a diary. It's so troublesome. Even the teacher makes us write them about twice a week but I don't like it that she forces us to do such things. What's important is that it stays in your memory. But I sometimes do think it would be nice to keep one after reading the ones my brother and sister wrote in the past.
10: Of course because you forget everything over time. (laugh) I don't know whether you'll remember this in the future but what sort of actress would you like to become?
Kim:
Someone who gets along well with the people she works with and an actress who expresses herself well through her acting.
10: In that sense, of the characters you have played so far, who do you think resembled you the most?
Kim:
Hye-jin from "Flames of Desire." (laugh)
Reporter : Choi Ji-Eun five@, Lee Seung-Han fourteen@Photographer : Lee Jin-hyuk eleven@Editor : Jessica Kim jesskim@, Lee Ji-Hye seven@
<ⓒ10Asia All rights reserved>