Press conference for the 14th PIFF opening film "Good Morning President"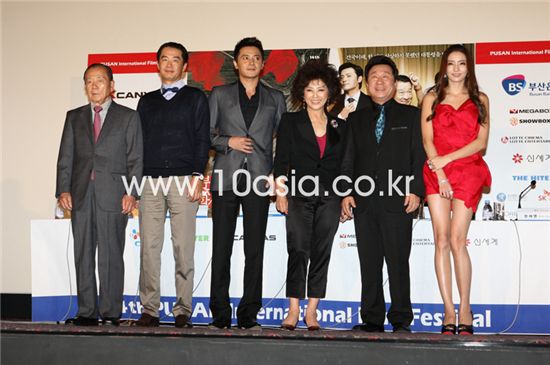 From left, Pusan International Film Festival Director Kim Dong-ho, "Good Morning President" director Jang Jin, and cast members Jang Dong-gun, Goh Doo-shim, Lim Ha-ryong and Han Chae-young, pose during a photo session of a press conference held on October 8, 2009. [Chae Ki-won/10Asia]
The 14th Pusan International Film Festival (PIFF) kicked off Thursday with an opening ceremony and the much-anticipated South Korean film "Good Morning President".
The fest made an unprecedented move this year to "invigorate the stagnant domestic film market" by choosing the comedy by director Jang Jin who is better known for his commercial success. And heartthrob Jang Dong-gun played one of the presidents in the story about the lives of three different presidents -- a reality women would only dream of.
A press conference took place after a screening for the film set for release in theatres on October 22.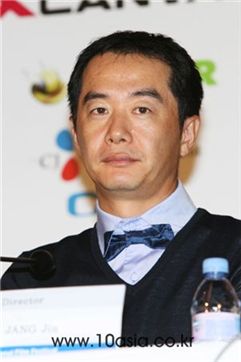 South Korean director Jang Jin [Chae Ki-won/10Asia]
Q:I was reminded of a particular South Korean president while watching this film about three presidents. Did you not choose a particular president as a model or refer to him?
Jang Jin (Jang): I'd never thought it would be necessary to do any studying for the film so I didn't do any research on presidents. I didn't have a certain president in mind. I was born in the 70s and had become used to the sovereign-type presidents. So I felt a distance from them but I wanted to start understanding them and I thought I would be able to do it well if I did it in my movie. I think what is lamentable about it is we were half-way into shooting the film when our country lost two presidents. In a way, I wanted to see them also watch this movie and laugh at it heartily [but they can't] so I was upset and sad. If a certain president popped into your mind while watching the film, I'm guessing that it's probably the same president that five out of ten people were also reminded of. I didn't intend on it but our presidents usually experience a lot of dramatic experiences so you may relate the story to someone from a certain period.
Q: You said your film is not about a certain president but "President" reflects a lot on South Korea's political situation.
Jang: Though the film is about presidents I thought there wouldn't be any political questions after watching it. And it's because I did not try to deliver any political messages in it. I think you can look at the movie from two perspectives. One is that we may be able to understand presidents better by seeing how they pull through political situations that we experienced and when they are faced with certain situations themselves. We may also feel some satisfaction from the film by meeting the presidents everyone dreams of. But the movie, in no way, was made with the intention of criticizing the path of any past or current administration. If I wanted to, we are living in times where we can say so ourselves directly rather than expressing it indirectly through a movie.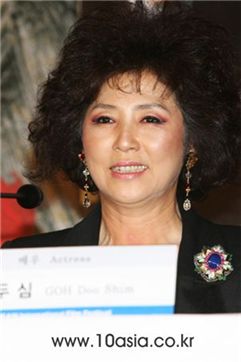 South Korean actress Goh Doo-shim [Chae Ki-won/10Asia]
Q: Is there any particular reason you had three presidents appear in the film instead of one?
Jang: Three presidents seemed most ideal. And it would've also been difficult to fill up the ideal running time for commercials films which is between 90 to 100 minutes. I personally wanted portray presidents before, during and after their term with the one currently in office at the center of the film. I also wanted to show the story so that the presidents before and after would all just be the same human being.
Q: Your hair and wardrobe are extremely unconventional today unlike the image of the female president you played in the film.
Goh Doo-shim: Who says I can't go punk just because I played a president? (laugh) I actually wear this hairstyle often when I'm in a good mood. I like it and I really went all out to match this extremely fun and happy occasion. I wanted to show people that I can be like this too by losing the usual loose and baggy pants I wear for playing roles of elder women. I remember seeing an article earlier on which said "Goh Doo-shim pretties up". (laugh)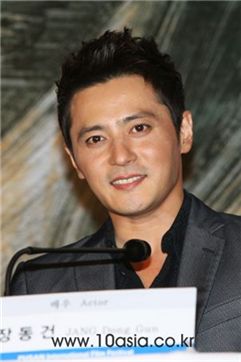 South Korean actor Jang Dong-gun [Chae Ki-won/10Asia]
Q: President Cha Ji-wook inside the film is scared of three things, namely bad drinking habits, his son's questions and candlelight vigils. What are the three things the real Jang Dong-gun is most scared of?
Jang Dong-gun (Jang DG): One of the things I'm always scared about are the netizens. Because the netizens are the audience. And another thing I get scared of around this time of the year, are yourselves -- the reporters -- and the critics. Usually I'm not but I'm scared when I have to be evaluated for a movie. (laugh)
Q: We heard that you have to drink beer if you start worrying too much because you suffer from insomnia. How many sleepless nights did you spend and how much beer did you consume after choosing this movie which is your first in four years?
Jang DG: I didn't worry over my choice of film but I couldn't sleep because I personally was lonely. Like all singles my age are. I once appeared on a talk show and said I drink beer everyday before going to sleep and some people took it seriously but it's not -- it's to an extent that I can enjoy. I sleep well these days and I'm excited everyday because I got to shoot a fun film.
Reporter : Lee Ji-Hye seven@10asia.co.kr
Photographer : Chae ki-won ten@10asia.co.kr
Editor : Jessica Kim jesskim@asiae.co.kr
<ⓒ10Asia All rights reserved>