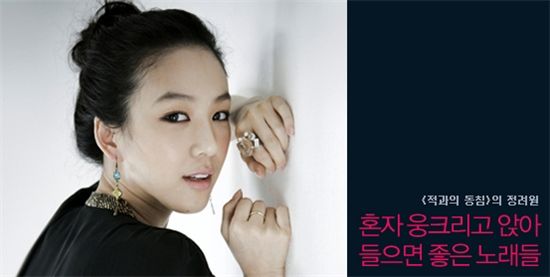 From a certain point onward, it has become difficult to see the 'pretty' Jung Ryeo-won. Of course she still garners attention at press conferences and premieres for her pretty and refined style, but in the projects she takes on, that image of hers started to diminish and now has completely vanished. That point was probably when she appeared in MBC's 2005 TV series "My Name is Kim Sam-soon." After making her name known as an actress through MBC's "Hello Francesca" where she played the cute and sexy fashionista vampire Elizabeth, she played the innocent and fragile Hee-jin in "Kim Sam-soon" which Jung acknowledged as "the turning point" of her life. She also could have incorporated more of her urban image into her roles but she did not take the safe paths after "Sam-soon." She made sure to hide the advantages she had in terms of looks and faced on with just her acting through a variety of roles -- a country girl who lives in the mountains of the Gangwon Province ("Which Star Are You From"), a girl who has an innocent ego yet curses easily due to a multiple personality disorder ("Two Faces of My Girlfriend") and a girl who lives like someone who is dejected, refusing to communicate with the world by staying in her room ("Castaway On The Moon"). It was because according to her words, "There are other places to look nice."
Her belief that you can "act comfortably by not looking pretty" was reflected into her decision to take on "In Love and the War" as well. She did not merely look 'not pretty' but appeared as country girl Seul-hee for which Jung purposely wore shabby clothes and spoke inarticulately. So what kind of person is Jung really -- this celebrity who is a stylish lady outside the screen yet is indifferent to all that happens outside of acting when she is on screen. The songs she recommended for listening to 'when sitting alone hunched up' may be of hints to the emotions she usually feels.

1. Damien Rice "9"
"It'll be a song you can relate to if you have loved someone you really shouldn't because his love for her can be felt so strongly in his voice." The song of Damien Rice's that many actors have recommended is "The Blower's Daughter" used as the original soundtrack to film "Closer." But the first song Jung recommended was "Accidental Babies" which without having to translate the lyrics, you can assume what Damien Rice is singing of just by listening to his voice within the sound of the piano. It may be good to listen to this song if you want to feel the lonesome sentimentality he gives off with just his voice, a great instrument, which does not need to lean on fancy music. After imagining what it would feel like when the woman you love is with another man, the "What about me?" he spits out in the end indeed gives off an "earnestness" like Jung says.

2. Nell's 3rd Album "Healing Process"
"These songs are about love, memories and people but I think it would be more appropriate to say the vocalist recites them rather than sing them. After having said that he has forgotten everything, as if nothing had ever happened, in the end he yells out, 'I'd like to think that it's real this time. I love you.' My heart ached a lot over this part. Nell's songs are great but their lyrics are genius." While Damien Rice calmly sings of his solitary emotions, Nell is closer to a musician who will pour out his emotions with every fiber in his body. He does not force himself to hold back on his sadness. The lyrics to Nell's songs are merciless, mumbling of love, parting, pain and healing, in a high-pitched voice. They are songs through which you can even experience the pit of one's emotions if you listen to them sitting hunched up in your room alone.

3. Radiohead "OK Computer"
"This is one of my favorite songs. Thomas York's seemingly indifferent and slightly annoyed voice when singing is strangely attractive." "No Surprises" is regarded one of Radiohead's best songs, along with "Creep," to the point that not only Jung Ryeo-won but KimC picked it as their favorite songs. The clear sound of the xylophone, delicate sound of the guitar and York's voice come together to create a dreamy atmosphere. Rumor said that their lyrics saying 'a handshake of carbon monoxide' combined with their music video where the level of water rises in a closed space, was alluding to suicide but York denied it. Nonetheless, the message of this song becomes more clear when you listen to it while watching its music video.

4. Snow Patrol "Up To Now"
"It's a song I want to listen to while looking up at the sky at night when I find someone I love." It's a song that will make you feel like crying anyway but even more so if you are someone who has watched season 2 of "Grey's Anatomy" since it overlaps with some sad scenes to the drama. Izzie, who falls so in love with her patient Denny that she even breaks up with her boyfriend, later ends up having to see his cold dead body. This is when "Chasing Cars" played. And thanks to it, Snow Patrol came to be loved in the U.S. after becoming the first English rock band in 13 years which placed within the top 5 slots of the Billboard charts.

5. The Black Skirts "201 (Special Edition)"
"I think The Black Skirts are genius. I want to give them 50 points in their ability to switch between English and Korean for the lyrics to their songs and another 50 for not creating their songs in the typical 'part A-part B-sub bridge' format. Hence, I give them 100 points in total so you could say they make perfect songs." The Black Skirts, who appeared in the Indie music scene in November 2008 with their debut album "201," were shocking presences. Their music was 'different' from what had previously been heard in Korea, to the extent that they won the award for best modern rock album at last year's Korean Music Award. It is now a one-man band, with just Cho Hyoo-il, after other members of it went their own way but it is still receiving enough attention to be flooded with questions on when another album will be released.
※ Any copying, republication or redistribution of 10Asia's content is expressly prohibited without prior consent of 10Asia. Copyright infringement is subject to criminal and civil penalties.
Reporter : Lee Ga-on Editor : Jessica Kim jesskim@
<ⓒ10Asia All rights reserved>