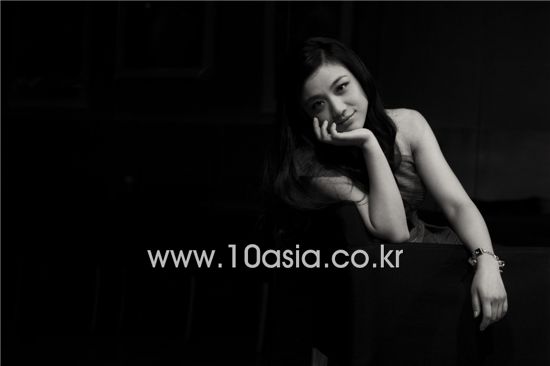 Tang Wei [Lee Jin-hyuk/10Asia]
Anna (Tang Wei) in film "Late Autumn" is like fog that drifts about Seattle. She will not answer properly to Hoon's (Hyun Bin) questions and often gets lost in her own thoughts. Nobody, including Hoon nor the audience, knows what is going on inside the mind of Anna who has a vacuum in her life because of something important that she left behind somewhere in the past. A woman like the murky fog that you can neither get a hold of nor see properly. Hoon and Anna's encounter was like fog too -- a much-desired occurence for both but permitted only for a brief time, like fog that will disappear when the skies clear.
Tang Wei acts out many scenes of the film without any particular installation. Furthermore, no background music plays in the ending scene which focuses solely on her on a single take that lasts for over five minutes. The camera shows that everything the movie wanted to show is contained within this woman's face and shoulders. The aura of an actress which fills the screen instead of looking like it was forced. Tang Wei acquired that through her first movie "Lust, Caution" and proved it in "Late Autumn." Below are excerpts from an interview with Tang Wei.
Q: You're meeting with the Korean audience for the first time after "Lust, Caution" four years ago.
Tang Wei:
Has it already been that long? It doesn't at all feel like so much time has passed. Who would've known... (laugh) I worked, studied and took time to replenish myself during the past four years. If there is something that you want to make yours, you need to learn and acquire each and everything. And such things will last a lifetime so I tried to learn as many things as I can. I learned how to cook and studied hard into becoming a good daughter. (laugh) I also got a racing license for my next movie. By learning various things and making them mine, it felt like I was becoming better person and one with a bigger heart. That's how I prepare for the project that will come next. When I replenish myself, then empty myself out, a new director will come along and draw something on my clean slate. That's what I had been waiting for.
Q: In "Late Autumn," your character Anna is exposed very openly on the screen in many scenes. For a long time, it would show only your face or from a distance quietly pointed at you who is just standing still. Like such, you had to show her emotions through the use of little dialogue or movement.
Tang Wei:
At first, I had a very hard time preparing to play Anna's character. She is someone who had lived for over 10 years in her hometown but I don't have such experience. So I had to try living there to become Anna. I went to Seattle early, before we cranked in, and went to the markets and talked to the people there to spend time trying to get as close to Anna as I could. And after living that life somewhat, I came to understand where she's from and I added in that experience I had living her into who she is. That's how I came to understand Anna's life and background. But while this is a difficulty I can express in words, there was a separate thing I had a tough time with that I can't explain in words. I had to be a person who was completely empty when I walk into the world after having served seven years in prison but I didn't know how to go about this and she was in extreme pain, to the extent that it was indescribable, until she met Hoon.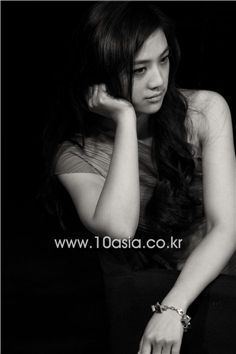 Tang Wei [Lee Jin-hyuk/10Asia]
Q: What kind of person did you see Anna as being when you first read the script?
Tang Wei:
Anna came out from a place she had been locked up in for a long time. But she had already become someone that nobody needs and exists nowhere. So amidst such vacantness, loneliness and stillness, she had forgotten what even the meaning of love is so the emotion she feels when someone appears is hard to even imagine without experiencing it. She had no house, no work and a mobile phone but nobody to call. So how hot must have the fire called Hoon have been to she who had become so rigid down to her heart. She felt he was burning at first but her iciness gradually melted in that fire. That's why I still believe Hoon must've been an angel instead of a person. And of course, so is Hyun Bin. (laugh)
Q: How was it working with a Korean director and actor and acting in English?
Tang Wei:
Director Kim Tae-yong speaks English well. I think even better than me. There were so many words I couldn't understand when we spoke together. (laugh) And we had an interpreter at first because of the language but from a certain point on, the interpreter couldn't understand our conversation. That's something that is still quite unbelievable but we came to speak in a language that no one else could understand. For example, if after filming a take the director walked toward me with his head tilted to one side while saying "Uh... Tang Wei..." I'd respond, "Ah, okay okay. Let's do it again." (laugh) It was similar with the cinematographer as well -- we could understand each other just by looking at each other's faces. I could tell what was good and what I would have to do over just by looking at his eyes. I think I got to work with the best director and cinematographer while working on "Late Autumn." And then there was also Hyun Bin. I felt that Anna was the happiest person on earth when on site with director Kim, the cinematographer and Hyun Bin.
Q: Well the set might have been enjoyable but it must've been difficult to be Anna who plays the most important role in the movie.
Tang Wei:
What was most difficult was the pain I felt the more I became Anna. When I became her, I felt so lonely that it was as if I was the only one who existed in this world. That's why I always felt happy when I saw Hoon on set. He is someone she could rely on, after having thought she was all alone. Hoon is the greatest person on earth. That's why it was the most fun shooting the scene where she runs around with Hoon hand in hand. I was out of breath to the point it felt as if I had run in a 100 meter race but it was exhilirating. We ran all night but the empty space, the sound of my shoes echoing on the wet floor and even the feeling of my trenchcoat brushing on a railing all felt good. And Hoon would follow from behind, making me feel that someone is watching over me and it was nice because it felt like I was being protected. I actually realized just yesterday that Anna had relied on Hoon. That's why I acted her out like the way I did. I think I'm finally starting to come out of my character, after the interviews yesterday and today. I'm seeing the movie in an increasingly objective light and it's so much fun talking about it like this.
Q: You're not hte type that easily comes out of your character when you're done with a movie?
Tang Wei:
I do a lot of regretting after I'm done with a role. I torment myself, saying 'Why did I do that? Why did I do it like this?' A lot of time has to pass for me to come to the conclusion that I'll just do better the next time. That's why I'm scared of watching myself act in the finished product.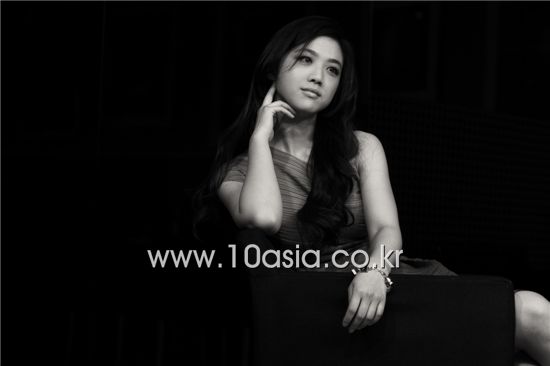 Tang Wei [Lee Jin-hyuk/10Asia]
Q: That's surprising since I thought you were quite bold. In Korea, a photograph of you responding with ease to Brad Pitt who held out his hand for a handshake as if to a goddess at the Venice film fest became popular. (laugh)
Tang Wei:
I'll take that as a compliment. (laugh) Brad Pitt and Angelina Jolie were great people. I had been standing alone because director Lee Ang hadn't been able to make it when I ran into them by chance. He held out his hand, saying "Lust, Caution" was great so I happily shaked hands with him. But that was also when Jolie was pregnant with her twins. I like children so I asked if I could touch her belly and she willingly said yes which I remember made me very happy. (laugh) Her belly was very soft and so big that it looked like the babies would come out soon but it was amazing because I had never touched a belly pregnant with twins.
Q: You seem to be the curious type. (laugh) What kind of person is Tang Wei in person? There's almost nothing that's known about you outside movies.
Tang Wei:
I want people to remember me only by the character I played. I'm actually the type that goes with what my heart tells me and am curious. I'm also very much like a child. (laugh) I went to my hometown in Hangzhou over Chinese New Year and met my friends from elementary school but they said I hadn't changed from 20 years ago. So I told them they're crazy, that I'm old and that I could not possible be the same from then and they told me that it's not in terms of looks but I'm the same in how I talk and move. (laugh)
Q: We heard that you watched all of drama "Secret Garden" that Hyun Bin starred in.
Tang Wei:
I watched all of it and it was fun. I'm crazy about reading comics and it was like watching a movie comic book. I like fairytale-like stories and I like dreaming of things. (laugh) I think that's why I like working on movies. People may think movies are unrealistic but I've come to realize it's actually very realistic after living in them because you act like a certain character after grasping a complete understanding of it. I'm actually not like that in real life but I feel that I become more complete while responding to situations in realistic ways. I think I pull out my desires, emotions, mindlessness most accurately when I act a character from a movie. That's why I like to act. I'm sure everyone who is an actor will think the same way. That's why it's hard to leave this job once you fall for it (laugh) Movies are the most honest illusional world.
Q: Do you remember the first time you took up acting?
Tang Wei:
The first time I got a taste of what acting is about is when I was in school. I was majoring in directing and taking a class for acting when we were asked to act a whale that had gotten stabbed by a harpoon. (laugh) I kept imagining 'I'm a whale, I'm a whale' when it actually started to feel like someone had actually stabbed me and I was bleeding. I then fainted but my friends didn't know I had fainted for real so nobody helped me. (laugh) I didn't know it at that moment but as I was going down the stairs after that class, I looked back on what I had done and it felt so exhilirating. I realized that acting is a lot of fun. That's why from then on, my friends started telling me acting is like drugs. They also tell me not to work on too many projects because I'll get addicted if I do too much. I do wonder acting is like what smoking and drinking is for some people.
Q: You said that you've come to be able to see movies from a somewhat objective stance. What sort of movie is "Late Autumn" to you?
Tang Wei:
"Late Autumn" is such a beautiful love story. To the extent that I wonder whether I would be able to act the way Anna did if I ever met someone like she and Hoon did. It makes me very happy to think that they spent such a happy time together in the movie, even if it may have been for a brief while. If you're someone who does not believe in love, have been hurt by love, or are in despair that love will no longer find you, you'll feel happy after watching this movie. There's even a saying that love comes to those who believe in it. (laugh)
※ Any copying, republication or redistribution of 10Asia's content is expressly prohibited without prior consent of 10Asia. Copyright infringement is subject to criminal and civil penalties.
Reporter : Lee Ji-Hye seven@Photographer : Lee Jin-hyuk eleven@Editor : Jessica Kim jesskim@
<ⓒ10Asia All rights reserved>