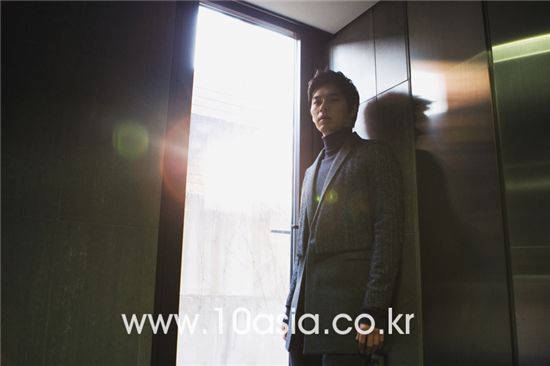 Actor Hyun Bin, who plays the role of a megalomaniac in the film "I Am Happy", poses during an interview with 10Asia. [Chae Ki-won/10Asia]
For some reason, it is hard to think of Hyun Bin's smiling face. And it is not simply because he is playing the role of a poor and agonized man wanting to escape from his dire situation but ends up in a hospital after diagnosed as a megalomaniac in the recent film "I Am Happy." Hyun's role in TV series ranging from MBC's "Ireland" in 2004, KBS' "The Snow Queen," "The World That They Live In" to MBC's "Friend, Our Legend," were all characters who were mostly suppressed in some way or is facing a dead end. Even in the romantic comedy drama "My Name is Kim Sam-Soon", he successfully portrayed the sorrowful pain that his character had deep in his heart. For this, Hyun came to be acknowledged as an actor with a dignified presence at the young age of 28 and the time spent with him was an opportunity to confirm this. He did smile frequently though, opposite from expectations.
10: A year has already passed since we met while you were shooting "The World That They Live In."
Hyun Bin (Hyun): I've been extremely busy these days. Usually I'm not such a workaholic, but I've been offered with great roles one after another, and thus the past year or two meant constant work for me.
10: In fact, the film "I Am Happy" was completed before shooting "The World That They Live In." How did you feel after watching the film again after it was selected as the closing film at the 14th Pusan International Film Festival (PIFF)?
Hyun: It was the same in that it was stifling. (laugh) However, I had a chance to watch it more closely unlike during the PIFF, when concentrating wasn't easy.
10: What do you mean by when you say it was stifling?
Hyun: The movie it self is depressing and miserable. It's hard to put it in words, but I could say it may be something similar to wanting to drink in the middle of the night for no specific reason? (laugh)
10: But you chose to take on the depressing plot. (laugh) Well, the character from the original novel "Mr. Cho Man-deuk" written by the late Lee Chung-joon is not only a man in his late 30s but the situation he is placed in is also very painful.
Hyun: I got to read the initial scenario before seeing the book, but the character had originally been set to be older and he was also in a slightly different situation. But while reading the depressing scenario, I found myself smiling. It wasn't because it was funny, but for some reason I couldn't help myself from smiling. I told director Yoon that I really want to play this role and that I'm queerly attracted to it.
10: Man-soo from "I Am Happy" has a dull look in his eyes even before he is diagnosed with megalomania. He neither has a chance to recover from poverty nor does he have a dramatic story. Why did you choose to dive into such hardship by selecting a plot which is surely not popular and is not much that you can obtain from?
Hyun: The scenario was different from others. I couldn't predict whether I can successfully play out Man-soo's character or not. And although it may seem irresponsible, I couldn't tell the director surely that I would be able to take on the role and do a good job of it. Rather, I told him candidly, "I am not confident that I will be able to do this well, but I will do my best." I guess I wasn't wrong in thinking that there would be a lot of lessons to learn.
10: What exactly did you learn?
Hyun: The film came to me at the exact time when I had to look back on myself once in a while. While shooting, I asked myself whether I'm happy or not. I asked myself about happiness, myself and things about my career. Of course, I wasn't able to find an answer. (laugh) It's hard to find an end to these questions. But, the process, the two or three months or so, did have a great impact on me. Though I don't know how others will evaluate my acting, the film itself was valuable time for me.
10: You acted as a mad man in this movie unlike Kang-gook from "Ireland" or Tae-woong from "The Snow Queen" who controlled their emotions rationality. What was it like to pretend to be 'insane'?
Hyun: It was painful. Like I told director Yoon, the entire process of shooting the film was distressing and painful. But what was interesting was that I was able to gain a deeper fun out of such pain. Acting as characters in my previous works, in fact, involved me pulling out a certain aspect within myself or exaggerating it. Man-soo and I, however, did not have a single similarity including the situated environment or personality. Therefore, I discussed with the director regarding Man-soo's looks or movements. Doing so helped me to endure the painful moments.
10: The pain Man-soo went through when he was receiving electric shock therapy was also delivered straight to the viewers. The moment when his face gets red-hot without being able to make a single sound was especially impressive.
Hyun: I thought hard on how I should portray such pain while being tied to a bed. I read books and saw movies that deal with megalomania, got information from the director and met patients who are suffering from it. My face turned red because I was really holding my breath and in the process, I once spat out the mouthpiece because I had stopped breathing.
Reporter: Choi Ji-Eun five@10asia.co.kr
Photographer : Chae ki-won ten@10asia.co.kr
Editor: Linda Kim lindakim@asiae.co.kr, Lee Ji-Hye seven@10asia.co.kr, Jang Kyung-Jin three@10asia.co.kr
<ⓒ10Asia All rights reserved>