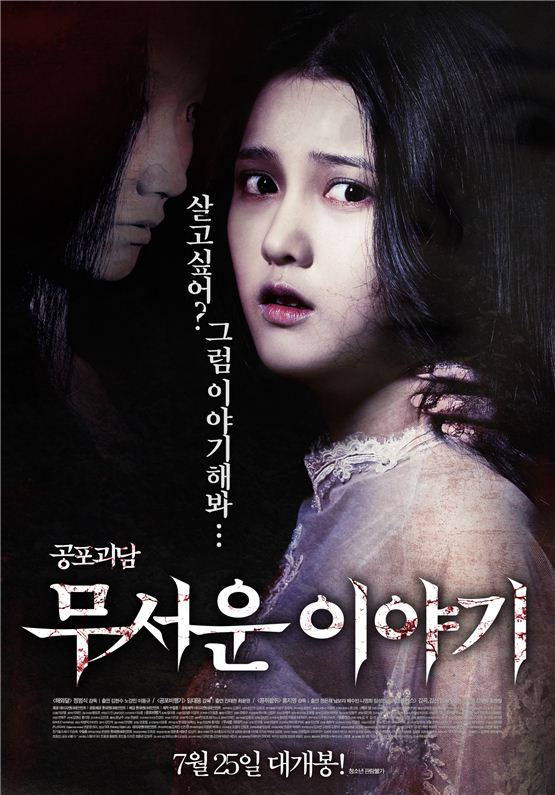 Poster of "Horror Stories" [Lotte Entertainment]
The Bottom Line
Five directors, who have their specialties in horror films, have joined forces to bring back the past glory days of Korean well-made horror film. An omnibus of horror-thriller shorts not only carry some truly spooky moments but also nudges serious social issues in Korea.
Divided into four short films, two modern horrific adaptations of old Korean legends and two pure fictional thrillers, the pics all come down to "A Horror Story."
Using the story-within-a-story method, the omnibus was also the opening pic of the 2012 Puchon International Fim Festival and will be released in local theaters on July 25.
A Horror Story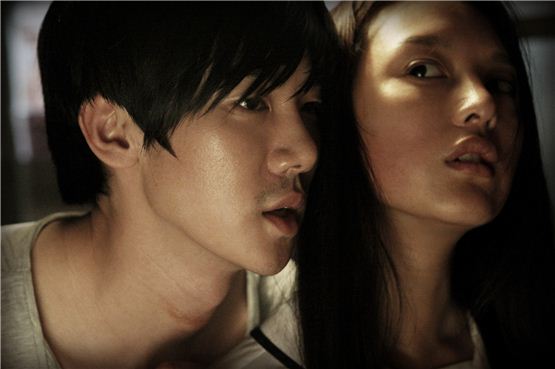 A still shot of Yu Yeon-suk (left) and Kim Ji-won (right) in "A Horror Story" [Lotte Entertainment]
Storyline
A high school student named Ji-won (Kim Ji-won) gets kidnapped by a psycho killer (Yu Yeon-suk), who can go to sleep only when he listens to scary stories. Hoping to escape from the psychiatric man, Jiwon begin telling four horror stories she knows: "Don't Answer to the Door," "Endless Flight," "Secret Recipe" and "Ambulance on the Death Zone."
Why Should You Care
Inspired by famous oral literature "The Arabian Nights' Entertainment," director Min Kyu-dong has smoothly weaved four different stories into one.
In the bridge film, two rising stars Yu Yeon-suk of "Re-encounter," (2010) and Kim Ji-won of "High Kick 3" (MBC, 2011-2012) keep the suspense between a killer and a potential victim until the credit roll.
Don't Answer to the Door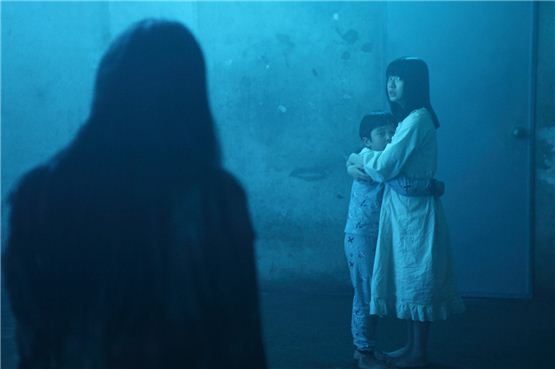 A still shot of Kim Hyun-soo (right) in "Don't Answer To the Door" [Lotte Entertainment]
Storyline
A sister and brother are waiting for their mom to get home. However, her return gets late and the girl begins to be caught up in her own imagination.
Why Should You Care
"Don't Answer to the Door" took the overall concept from the Korean legend, but it utilizes the plot to address social problems in the modern Korean society.
As the well-structured pic maximizes the audience's fear by depicting a kid's scary imaginations, the audience quickly find themselves connected to the story.
Helmed by director Jung Bum-sik of horror pic "Epitaph" (2007), the director has succeeded in bringing out the terrified look from young actress. Atress Kim Hyun-soo, who played the speech-impaired victim in "Silenced," (2011) portrayed the young girl's fear well through her two big eyes.
Endless Flight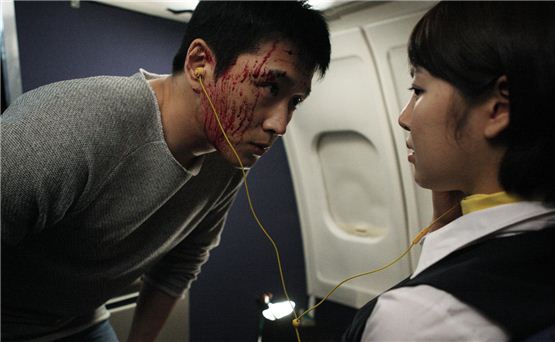 A still cut of Jin Tae-hyun (left) in "Endless Flight" [Lotte Entertainment]
Storyline
When waiting for a plane that is scheduled to carry an arrested serial killer to Seoul, a stewardess smells a rat. In the plane, an isolated place where it could become a tragic crime scene, the killer begins his own way to escape.
Why Should You Care
A horror-thriller achieved an impressive tension through the smallest space and cast among others.
Unlike how other thriller pics set in planes make the audiences guess who the killer is among the patrons, director Lim Dae-woong of slasher pic "To Sir, With Love" (2006) chose to expose the killer from the beginning to make the film reach a point of great intensity.
Along with actor Jin Tae-hyun's portrayal of a ruthless killer, actress Choi Yoon-yeong from "As One" (2012) well depicted a determined stewardess.
Secret Recipe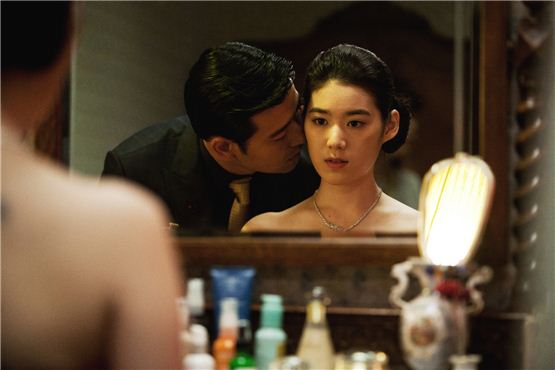 A still cut of Bae Soo-bin (left) in "Secret Recipe" [Lotte Entertainment]
Storyline
Gong-ji, who is getting married soon with a surprisingly young-looking old bachelor, feels anxious due to her half sister Bak-ji's severe jealousy. On the day of her wedding, she finds out that everything is different from the life she had imagined.
Why Should You Care
Once again, the omnibus has transformed a Korean legend into a modern horror story. The director used the two half-sisters to go beyond telling the triumph of good over evil. The story gets some twists to portray the jealousy between two young women, and their obsession with youth and beauty.
The story, which has a lot to interpret underneath the storyline, is directed by Hong Ji-yeong of romantic drama "The Naked Kitchen" (2009). Her first horror movie is successful in a sense that the materials used in the pic are some of the most controversial themes in the modern Korean society: plastic surgery and excessive parental raise.
Rookie actress Nam Bo-ra, who played a princess in "The Moon Embracing the Sun" (MBC, 2012), turned to a femme fatale who secretly wishes to beat her half sister. Actor Bae Soo-bin, a master swordsman in "Dong Yi - Jewel in the Crown" (MBC, 2010), played a psychotic doctor who is obsessed with women's beauty and his own youth.
Ambulance on the Death Zone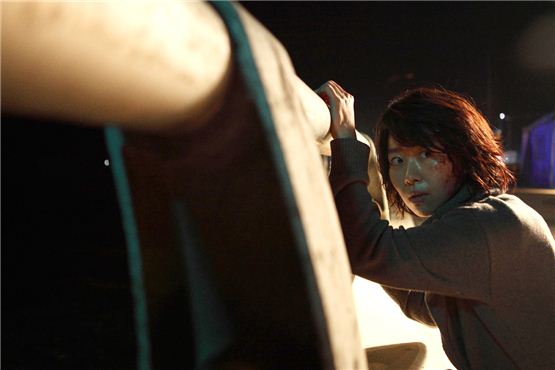 A still cut of Kim Ji-young in "Ambulance on the Death Zone" [Lotte Entertainment]
Storyline
In a world dominated by zombies, an ambulance goes around the town to rescue unharmed people on the streets. A woman and her young daughter were found safe but the girl had an unknown scar on her wrist. People, including her mom and doctors, begins to argue over the source of the wound, whether she was bitten by a zombie, on their way to the hospital.
Why Should You Care
The short film can be called the first Korean zombie flick carrying the must-elements of zombie films: the cultural catharsis that zombies offer and the instinct of human beings.
Along with giving the catharsis from running zombies chasing, the story questioned what makes human being humane.
Co-director Kim Gok and Kim Sun, who has shown their unique style of horror flicks through "White" (2011), well captured the tension between the three characters in a desperate situation and skillfully controlled the movie's flow.
The ambulance, which remind people of high speed and a closed space, is enough to guarantees thrills. Actress Kim Ji-young, who was an afro-haired supporting player in "Forever the Moment," (2007) portrays the devoted mother.
※ Any copying, republication or redistribution of 10Asia's content is expressly prohibited without prior consent of 10Asia. Copyright infringement is subject to criminal and civil penalties.
<ⓒ10Asia All rights reserved>