Actor Uhm Tae-woong [Chae Ki-won/10Asia]
10: What scene will you be shooting today?
Uhm Tae-woong (Uhm): Bidam's (played by Kim Nam-gil) rebellion. I'll go and quell the riot (laugh).
10: You'd said for several years that you want to appear in a historical drama and now you've finally got to shoot "Queen Seon-deok". How was it playing the role of Kim Yoo-shin who is a great man everyone knows about and is also a character whom the public has a very set image of?
Uhm: I'm a male actor so I had always thought I would get the chance to appear in a historical drama some day. When I first came across the character of Kim Yoo-shin, I thought it would be fun but a bit disappointed too because rather than detailing what happened in history regarding my character, Kim Yoo-shin could be seen as a device necessary in telling the story within the drama. I had a hard time portraying my character in the beginning and was confused with my lines but I got more comfortable and confident over time. More than anything, the drama itself was great and thanks to that, I think I'll have an easier time adjusting to historical dramas the next time I get to take one on.
10: Were there any other things you needed in adjusting to a historical drama, outside the technical parts such as having to learn martial arts or horseback-riding?
Uhm: In the beginning, I thought all I needed was to express the emotion's of my character, regardless of the time period the drama was set in. But I realized that you also need to have this skill, no, not skill, but the ability to set in with the atmosphere of the drama. There are these rules in the world of historical dramas which one should comply to, even if you may feel a bit awkward doing so. For example, our way of speech is different when we're in shoot so it'll become weird immediately when one person talks another way.
10: The characters you've been playing in the past are from modern day Korea -- and more free-spirited or strongly individualistic compared to average people. Hence it must've not been too easy to express the change in Kim Yoo-shin since he is someone who has lived his entire life like a model student.
Uhm: That's right. There are some characters in "Seon-deok" who are so free-spirited that they wouldn't seem awkward in modern day dramas, but Kim Yoo-shin isn't like that plus there was nothing going on in the beginning because my character had been set by the younger Kim Yoo-shin (played by child actor Lee Hyun-woo). My body was always very stiff too. It felt stifling to be in such a position but over time, I became comfortable after gradually getting a better grasp of how Kim Yoo-shin's character undergoes changes. I've come to realize that experience is what helped me hold my ground in expressing my character. He is a sturdy character, rarely seen in dramas or movies these days, and I think he'll stay the same till throughout.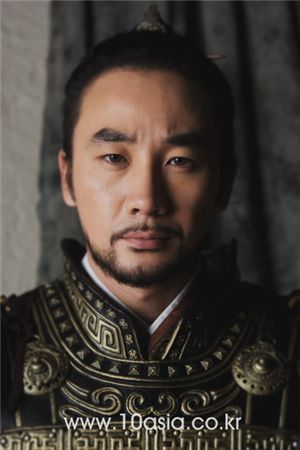 Actor Uhm Tae-woong [Chae Ki-won/10Asia]
10: You mentioned sturdiness. I understand that you're are quite tactless in person too.(laugh)
Uhm: Whatever I do, I won't be fast at it. (laugh) People say that I should be more tactful and if I were, along with being able to express my character's emotions properly, I would be a great actor. But I'm not like that so I have to do everything as close to real as possible, and because of that, a lot of the staff on the action team got hurt. I felt very bad about it but I couldn't help it because this is both my work and theirs. I too got hurt in the process but I couldn't complain over a finger I bumped into somewhere or the a bit of skin coming off. It would be a different story if one of my fingers got cut off.
10: There was some controversy about your character and acting in the beginning. I think you must've been worried not only about adjusting to the genre of historical dramas but how you should understand your character Kim Yoo-shin.
Uhm: I was actually very frustrated when we first started but it's now what I'm actually most embarrassed about. The moment an actor starts shooting, he has have his mind made up about his character and move according to that thought but there were moments where I wasn't too sure. They were in moments such as when Kim Yoo-shin has to show his weak side and start weeping but that too, it's because I'm not tactful. Actors need to know how to act even if they don't understand but for me, if I don't get my character fully, I just can't act. That's when I think I have a long way to go before I become a great actor and that's why there are some scenes which were frustrating. And I deeply regret not having been more proactive in looking for an answer but I was on such a busy shooting schedule that I didn't have time to.
10: If you include the time you spent preparing for "Seon-deok", you spent almost the entire year of 2009 as Kim Yoo-shin. How was it for you -- this was probably a first for you since you appeared mostly in miniseries or movies.
Uhm: It actually takes a long time for me to make friends. And I get shy on set too. I've always worked with great people but with 16-part series, we'd be done after I'd only got to mumble a few words to them (laugh) and with the relatively longer 24-part series, we'd be done by the time I started to get close with everyone. But "Seon-deok" was the length of two to three dramas so I became very close with the staff and actors. So I have never thought like this before but these days, I sometimes feel like I really am Kim Yoo-shin. (laugh) I usually come out of my character very quickly but I think it'll take a pretty long time this time.
10: If you're the type that needs time in adjusting or becoming absorbed with something, what do you think are the things you still haven't adjusted to?
Uhm: People's minds. I know many people like me and so they express it, but I end up avoiding them because I'm embarrassed. Of course at restaurants, when fans come up to say hi, they're all nice and say they're enjoying the drama. I wish I could be more easygoing and thank them but I'll only think it and say, "Oh, yes...." and then lower my head. When they leave, I regret what I've done. I think my acting is slow because I'm slow at getting my emotions across.
Reporter : Choi Ji-Eun five@10asia.co.kr
Photographer : Chae ki-won ten@10asia.co.kr
Editor : Jessica Kim jesskim@asiae.co.kr, Jang Kyung-Jin three@10asia.co.kr
<ⓒ10Asia All rights reserved>