From left, actor Jang Hyuk, actress Sung Yu-ri and director Ju Ji-hong pose during a photo session of a press conference for film "Maybe" at Lotte Cinema in Seoul, South Korea on October 12, 2009. [Chae Ki-won/10Asia]
Korean actress Sung Yu-ri hopes her debut film "Maybe" will heal hearts which have been broken or wounded.
The singer-turned-actress made the remark during a press conference held Monday after a screening for the melodrama pic co-starring actor Jang Hyuk which is set for release next week.
The movie, helmed by Ju Ji-hoon, is the South Korean director's first film in his home country. His activities were mostly based in France after graduating FEMIS in France and winning a scenario contest of the CNC for his first feature film "Le Mal de Dent".
Sung plays character May who returns to Korea to find her birth parents and childhood memories after being adopted overseas when she was four.
Her encounter with En-seol, played by Jang, starts the moment he grasps her hand as he is suddenly overcome with physical pain. En-seol is a taxi driver who suffers from a rare cardiac condition where the heart will stop for several seconds without any notice.
From then on, their meetings occur by chance or necessity. They occasionally meet at the right timing and En-seol at times, quite shamelessly, takes care of May who constantly tries to reject him, until the two realize their pain and sincerity.
Below are excerpts from the press conference.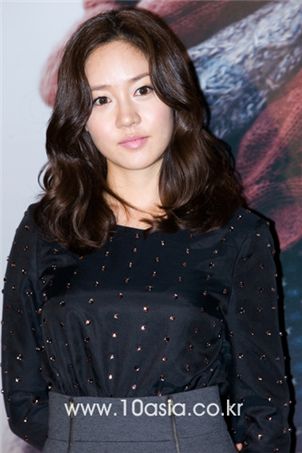 South Korean actress Sung Yu-ri [Chae Ki-won/10Asia]
Q: A variety of melodrama films are being released in time with the start of autumn. What sort of love story is "Maybe" about?
Ju Ji-hong: I think it could be called an 'emotional melodrama' which shows the process of how two souls which have been hurt, meet by fate, love each other, then start to be healed. Their suffering could have been portrayed in more of a new-school method but I personally wanted to use a new form of analysis to depict the emotions.
Q: It's quite hard to understand the setup of having En-seol, suffering from a heart disease, work as a taxi driver.
Ju: His condition is a symptom which causes heart attacks rather than itself being a disease. In En-seol's case, the symptoms appeared the moment he got in a car accident as a child, so it took 30 years for his heart to reach the extreme condition of halting during his daily life. But I wanted to portray En-seol as someone who doesn't giving up on his daily activities just because he is sick. His character is a taxi driver who rests when he gets sick and goes back to work when he feels better.
Q: You've worked with several foreign actors including Kristin Scott Thomas from "The English Patient" and up and coming French actress Laura Smet. Then you did your first Korean film with Sung Yu-ri. How was it?
Ju: When I shot my first feature film in Paris, I worked with an 18-year-old actress who was also new to the scene. She had a really hard time and was very nervous, but I realized through experience that it is much easier for the actor to work on a film if he or she really digs into the character's emotions. Sung Yu-ri of "Maybe" wasn't as nervous and I am satisfied with how she made her character May her own with her sincerity, effort and her innate innocence.
Q: What do you think, Sung Yu-ri. And how is it seeing your face on the screen for the first time?
Sung Yu-ri: I honestly was under a lot of pressure and was nervous before going into shoot because May's character was completely opposite from the roles I had played before. But I think I was able to do okay because I talked a lot with the director and everyone else on set, including the staff and Jang Hyuk helped me out a lot. In a way I still feel a bit awkward seeing myself on screen but right now, I'm very happy just with the fact that I shot a movie.
Q: I noticed that your name was under the credit for wardrobe.
Sung: I had prepared several clothes for the film and showed them to the director because it was my first film and I was very excited. Thankfully enough, the wardrobe manager allowed several of my clothes to be used for the film. I think it was because of the thought that an actor best harmonizes with his or her character when wearing the most comfortable clothes so I'm happy but also very thankful that my name was mentioned. (laugh)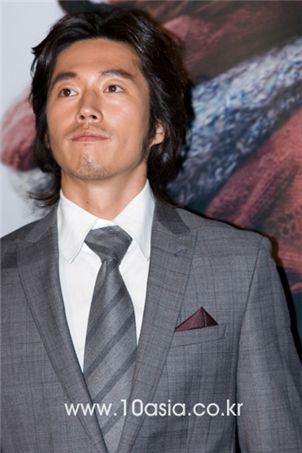 South Korean actor Jang Hyuk [Chae Ki-won/10Asia]
Q: May speaks Korean very well although she was adopted to the United States when she was only four. Is there a reason for this setup?
Sung: It was decided on after discussion with the director. I thought about it and I settled on the reasoning that May always had questions about her past and was determined to go to Korea to find memories of her parents and her past. Therefore, she would've studied Korean harder than anyone else.
Q: Jang Hyuk, your character En-seol has both humorous and contemplative sides to him. This is a slight change from the rebellious roles you normally took on during your 20s.
Jang Hyuk: En-seol's character was one that could be expressed only because he has those two sides to him. When I first decided to take on "Maybe", the director and I said we should portray En-seol as a normal person when his symptoms do not surface, rather than a patient. And I think my thoughts and tastes have changed from when I was in my 20s.
Q: You're showing us a variety of sides to you -- in your previous film "Five Senses of Eros" this year and most recent pic "Penthouse Elephant".
Jang: I shot a series of films because I wanted to play various characters but their distribution or release dates have ended up different from the order they were shot in. Since I was young, I've dreamed of becoming an actor who, in between his mid-30s to mid-40s, give off a manly feel. I'll be entering my mid-30s next year and I'd been preparing a lot for it so I think I did a lot of films this year.
Q: Towards the end of the film, the setup of having En-seol and May share the same emotional pain since they were young, may seem a bit unreal.
Ju: The 'red rabbit' that En-seol looks for in the film is part of his past memory he had forgotten about, and May's desire to look for her parents is also part of her pain in the past. I thought that that pain is the turning point in May's life so I believed I should show it with sincerity. I also wanted to let the audience know once again that the meeting between the two characters was fate from the very beginning. Their relationship starts when they hold hands. I wanted to put meaning into this by showing that setup.
Q: What would you like to say to viewers who will watch "Maybe"?
Ju: I think you will be able to love the characters's emotions more if you look into the details of these actors since this is a film which delivers emotions through eye and facial expressions rather than through the story itself or the lines the actors say. The movie was made under difficult circumstances and many people had a hard time because I shot the film in 35mm thinking it would express what I wanted to the best. Anyhow, I really worked hard to show a new form of understanding to emotions.
Sung: The first message the director told me was 'healing'. I hope those of you that watch this will able to be cured of your pains or emotional hurt.
Reporter : Choi Ji-Eun five@10asia.co.kr
Photographer : Chae ki-won ten@10asia.co.kr
Editor : Jessica Kim jesskim@asiae.co.kr, Jang Kyung-Jin three@10asia.co.kr
<ⓒ10Asia All rights reserved>