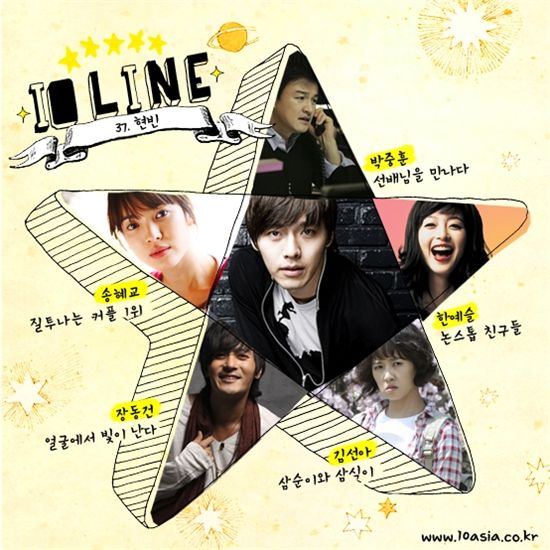 Clockwise from top center, Park Joong-hoon, Han Ye-seul, Kim Sun-ah, Jang Dong-gun and Song Hye-kyo. [10Asia]
What gets on the nerves of ordinary men?
1. When they see a handsome guy who is cast as an actor on street.
2. When this guy soon becomes a top star.
3. When people say that he is actually a very good actor.
4. When this guy dates actress Song Hye-kyo, and not someone who just looks like her.
So who is this guy? Let's find out.
Park Joong-hoon
A movie star who had recently run his own talkshow. He is Hyun Bin's senior by 16 years at the same college and belonged to the same agency when Hyun Bin first debuted as an actor. He dreamed of becoming an actor when his senior in high school recommended the career for him. His parents, who disagreed with him said, "The best school for acting is Choong-ang University, as far as we know. We would approve of you if you get accepted to that school." Since then, he studied crazily and finally got accepted to the school. So, it was evident for Hyun that Park, his senior of at the college and a top star in the same agency, was someone high up in the ladder that he could dare not get close to. When the two first met, Park told Hyun Bin that he does not have the look of an actor in his eyes. When the two met again later, Park said, "You're eyes have changed," making Hyun Bin extremely happy. Park commented on Hyun as being "full of passion but doesn't reveal it. Unlike other actors of his age who overdo it, Hyun is aware of how to be polite and cautious."
Guiyeoni
A novelist who received the most criticism in the history of Korean literature. Hyun auditioned for movies based on Guiyeoni's internet novels "He was cool" and "Romance of Their Own" during the earlier days of his career. At the audition for "He was cool," Hyun was the first candidate and gained a lot of attention for his looks from female audiences present at the time. Director Kim Tae-kyun of "Romance of Their Own," considered him as a possible candidate till the very last moment but was not able to cast him due to his lack of experience. Hyun Bin, whose acting career started with an official at an entertainment agency running up to him as saw Hyun Bin passing by on a motorcycle in high school, sure seems to have the looks that fit perfectly with the characters of Guiyeoni's novels.
Kim Jin-chul
Director of Hyun Bin's debut film "Shower" in 2002. Unfortunately, due to lack of funding, this movie has not yet been released. In this movie, it was told that Hyun played an innocent country boy who moved to Seoul to make money but ended up losing an eye from selling his organs. During his early years as an actor, he also played Lee Se-eun's stalker in KBS TV series "Bodyguard."
Han Ye-seul
Actress from MBC sitcom "Nonstop 4." She almost starred in MBC TV series "My Name is Kim Sam-Soon" alongside Hyun Bin. The sitcom is Hyun Bin's official debut work and is filled with stories of conflict between two men and a woman, Hyun Bin, Andy and Han. Thanks to "Nonstop 4," Hyun learned to do comedy and melodrama which help him gain public attention. It was in this sitcom that writer In Jung-ok of MBC TV series "Ireland," saw him and was attracted to Hyun Bin for his looks and his way of speech. She eventually recommended him to the director.
Lee Na-young
A beautiful actress who is known to make almost every Korean look big-headed because she has such a small face. She starred in "Ireland" with Hyun Bin. At the time, Hyun Bin said "Lee is the perfect lady in real life, but when acting, she is charismatic and powerful," and thanked her for helping him with his acting. "Ireland" provided a chance to upgrade himself as a good-looking startup actor to an actor with great acting skills and presence. The trait of Hyun Bin's character bearing through any circumstance, was carried on into TV series "The World That They Live In" (KBS2) and "Friend, Our Legend." (MBC) He was quoted saying that he wanted to play the role of a bodyguard of "Ireland" again when he is in his 40s.
Kim Sun-ah
Co-star of MBC TV series "My Name Is Kim Sam-Soon". Hyun Bin, who hadn't been able to go to bed without memorizing the script entirely, learned how to act more freely by working with Kim, who changed her lines depending on the circumstances and director Kim Yoon-chul who doesn't rely on scripts when shooting. "Sam-Soon" brought him not only great fame but also confidence in his acting. He successfully showed his strength, the ability to show the character's dark inner world when playing the role of an heir. At the time, director Kim commented on Hyun Bin with phrases like "it is hard to believe that he was born in 1982." Actress Kim was quoted as saying, "His acting is very stable compared to his short acting career. He seems like he's heading toward his own goal in a steady pace."
Jang Dong-gun
A legendary actor who is said to be so handsome in person that his face shines. As an actor of the same agency, Hyun Bin and Jang are players of PlayBoys, a baseball team composed of celebrities. Since Hyun Bin regularly sees Jang, he probably describes himself as an actor with "decent looks." Jang was surprised to see Hyun Bin throw a baseball properly since he had started from not being able to play at all. Besides baseball, he also enjoys other sports ranging from swimming to soccer. Other hobbies of his are card magic and assembling plastic models like robots. Jang was the one who encouraged Hyun Bin to star in "Friends, Our Legend." Also, before shooting the TV series, he watched the "Friends," the film that the drama is based on, to analyze Jang's acting and frequently asked for Jang's advice.
Kim Gab-soo
Actor who appeared alongside Hyun Bin in KBS TV series "The World That They Live In." When Hyun Bin asked Kim, "What do I do when I am confused with the acting that I learned at school and the real acting?" his answer was a simple phrase. "They are all the same."
Kim Min-joon
Appeared alongside Hyun Bin in both "Ireland" and "Friends, Our Legend". Since "Ireland" was a drama with a complicated plot and "Friends, Our Legend" could not ride itself of the impact that the original cast of the original film had left behind, acquaintances of Hyun Bin urged him not to take on the two TV series. But Hyun decided to take on both, insisting that "There is nobody who can satisfy everything 100 percent. I can't ignore what my acquaintances have been telling me, but there is no need to satisfy everyone's tastes." Of course, it is hard to guess what kind of impact that "Friends, Our Legend" would bring him, but he surely did prove himself capable of playing other characters aside from an heir. He likes to accumulate his experience with different characters and wants to enter his 30s quickly, stating that he wants more experience since he believes he is "still just too young". This is how this actor who began his career as a 'handsome startup' is slowly maturing.
Song Hye-kyo
An actress that is a hot topic along with Hyun Bin. Song and Hyun started dating after co-starring in "The World That They Live In." Hyun Bin has once said that his ideal type of woman is "one who understands my work." And he has once said that, "I heard that the externalities that make women confident are clothes, their ability to cook and the husband. Of course I like women who dress well and cook well but the man who has the ability to make such a woman shine must be a great husband." So, it seems like that he has now met his ideal woman. Of course, his acting career and dating life are two different issues, but meeting Song probably is another one of the peaks in Hyun Bin's current life. Hyun Bin, who debuted with handsome looks, gradually developed into an actor amongst other top stars, is capable of handling a whole film or drama and met a girlfriend who can completely understand his job. Like this, the handsome actor is growing, while getting on many men's nerves.
Senior Reporter : Kang Myoung-Seok two@10asia.co.kr
Editor: Linda Kim lindakim@asiae.co.kr, Jang Kyung-Jin three@10asia.co.kr
<ⓒ10Asia All rights reserved>