It has become awkward to call Kim You-jung a 'child actress.' Other than the fact that she is young, her experience and acting skill she displays on the small and big screen easily surpasses that of adult actors.
In MBC TV series "Dong Yi - Jewel in the Crown," she held onto the attention of viewers in the show's early stages playing the young version of Dong Yi (Han Hyo-joo), in KBS drama "Grudge: The Revolt of Gumiho" she showed the pitiful state her character is in as the weak one who holds deep sorrow within as well as being the protagonist of the tragic melodrama, and in MBC's "Flames of Desire" she extraordinarily pulled off the double role as the young versions of Na-young (Shin Eun-kyoung) and Hye-jin (Seo Woo) who are venomous to the point they are naughty. Hence Kim could be regarded one of the most impressive actors of the year.
Kim, who in 1999 first stood in front of the camera while still holding onto her mother's hand at the young age of five, has appeared in 13 dramas and 15 movies but is still just in fifth grade of elementary school. But it is probably no passing joke that this 'kid,' who recognized the sadness masked by the fear in "Gumiho" and instinctively recognized the subtle difference between the characters of Na-young and Hye-jin, has been given the nickname 'the Kim Kap-soo [veteran actor] of child actors.'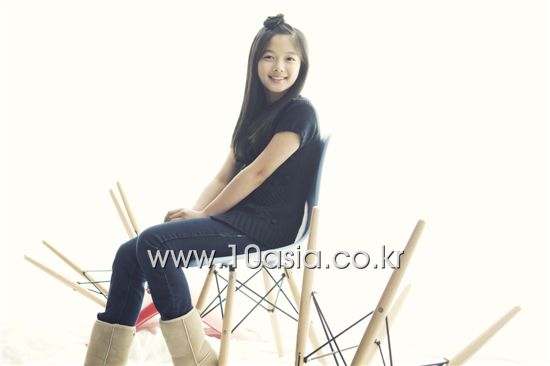 Actress Kim You-jung [Lee Jin-hyuk/10Asia]
썝蹂몃낫湲 븘씠肄
10: You haven't been working on anything after filming TV series "Happy Maker Soonjung" recently, right? Do you like that?
Kim You-jung:
I'm bored. I enjoy being busy with shoots although I do want to rest when I'm too busy. When I want to sleep.
10: What do you usually do when you have spare time, when you don't have any shoots?
Kim:
I play with my friends or watch TV from home.
10: Which programs do you like?
Kim:
Almost everything. And I watch dramas on a regular basis as well. I had fun watching KBS' "SungKyunKwan Scandal" and I'm having fun watching SBS' "Athena" and KBS' "Marry me, Mary" these days. I wanted to play a woman in man disguise, like actress Park Min-young does, after watching "SungKyunKwan Scandal."
10: Which male actor there did you like the best?
Kim:
Song Joong-ki. (laugh) We're actually managed under the same agency but I haven't been able to meet him in person yet. We almost met last time because of a certain event but he couldn't make it because of "SungKyunKwan Scandal." I do think I'll get to meet him at KBS' year-end acting awards ceremony though!
10: What are you going to say to him when you meet him?
Kim:
That I'm a fan. (laugh)
10: You worked on a lot of movies and dramas this year. Which do you remember the most?
Kim:
Hmm... Filming drama "Dong Yi - Jewel in the Crown" and "Grudge: The Revolt of Gumiho" was the hardest but "Dong Yi" was a little harder. I had to run a lot and I'd be wearing the hanbok [traditional Korean attire for women] when it was cold, in the winter, all snowing and raining. (laugh) So I'd wear a t-shirt inside my hanbok and I'd wear straw shoes over my traditional Korean socks but under the socks I wore sleeping socks covered by indoor shoes which had then been covered by vinyl.
10: How did you shoot some of the scarier scenes for "Gumiho"? Such as when Gumiho transforms or becomes possessed?
Kim:
Those scenes are scary because they've been edited that way but aren't when you're actually filming them. And it's usually a bit creepy to be on set for traditional dramas because it's so dark at night but I actually weren't all that scared working on "Gumiho." It's a sad story but all the other kids were saying it was scary. Even over Han Eun-jung wearing just three tails and it showing outside her dress that she wore them. But what's really scary is that if you go into shoot at night at the Korean Folk Village, there aren't any street lamps so you can't see anything after the snack bars there close and just follow around the crew not to get lost. There's also a cow that cries out 'moo' right next to the bathroom but in the summer, a swarm of mosquitos will attack you so you'll get bitten all over your bottom.
Actress Kim You-jung [Lee Jin-hyuk/10Asia]
썝蹂몃낫湲 븘씠肄
10: Well up till "Dong Yi," you played the younger version of someone but in "Gumiho," you are yourself, not somebody who grows up to become someone else. What was different about the acting with such a role?
Kim:
I think it was harder playing the young version of a character. With my role in "Gumiho," I could think of how I should portray my character the whole way but when I'm the young version of someone, my character will be played by someone else when she's older so I had to go with what they think and do a similar job in portraying the character. For example, my character could be cheerful when she's young but become dark when older so you need to think about these things a lot.
10: I saw photographs of you learning swordsmanship from the martial arts team for "Gumiho." Do you like action?
Kim:
Yes. The action team came to set everyday because there were so many action sequences in "Gumiho." And I tried practicing with them one day because it looked amazing and fun, and it really turned out to be a lot of fun. I'm not scared of going on wires as well because I've done it a lot and I used to be afraid of water but not anymore after filming under water. I'd like to work on a martial arts film later as well.
10: Then would you try your hand at a Chinese or Hollywood movie if you were asked?
Kim:
I'd like to try. Before, I hadn't wanted to because everybody would be foreigners but I'm sure there'll be a few people I know. My mom and manager? (laugh) But I don't want to have to use English.
10: And how was it working with Seo Shin-ae in "Gumiho"?
Kim:
We've worked together a lot since before but I really liked working with her in "Gumiho" because it was the first time that just the two of us child actors worked together. We'd go into shoot together, rehearse our lines together... But she was my enemy so she ended up eating my liver. (laugh)
10: You've been acting for a few years now but don't more people recognize you these days?
Kim:
Yes, I think things have changed after I did "Dong Yi" and "Gumiho."
10: When are you most happy at school?
Kim:
Hmm... I like break time the best. (laugh) And I like physical education and art class. I also ran so much while working on "Dong Yi" that I've become much faster. I was about 138 centimeters when I first started filming "Dong Yi" but I grew and am now about 150 centimeters tall.
10: How tall would you like to be?
Kim:
About 168 to 169.
Reporter : Choi Ji-Eun five@, Lee Seung-Han fourteen@Photographer : Lee Jin-hyuk eleven@Editor : Jessica Kim jesskim@, Lee Ji-Hye seven@
<ⓒ10Asia All rights reserved>