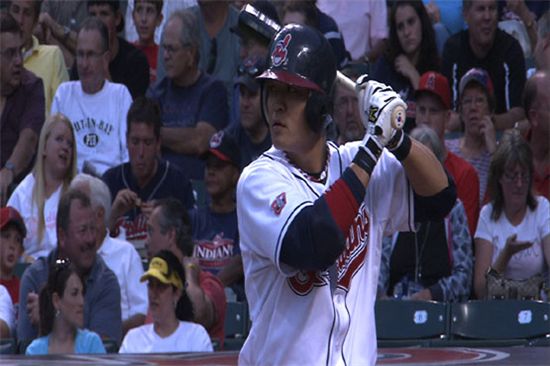 Korean baseball player Choo Shin-soo [MBC]
Premiere for MBC Special Documentary "Choo Shin-soo, Hitting Major League At Last
20 home runs-20 stolen bases. This is the record that Cleveland Indians outfielder Choo Shin-soo set in the Major League this year. The reader of this article may not know what this all means but if you are such a reader, then the upcoming documentary "Choo Shin-soo, Hitting Major League At Last" ("Choo") is the program for you. It will be the perfect beginner course for the viewer who has heard of the name Choo Shin-soo but does not know of his accomplishments, which include leading his unknown high-school baseball team to the Presidential National Baseball Championship victory, debuting in the U.S., and playing in the Minor League before making his celebrated resurrection in the Major League this year.
Prior to the show's airing on Friday night, the entire content -- minus the subtitles and music -- was unveiled at a preview screening, which was held at Seoul's MBC Broadcasting Center on November 10. The documentary, which starts with footage of a long line of people waiting to get Choo's autograph, reminds viewers, in many ways, of another celebrity-biography program, "Do You Know Park Ji-Sung" [Park is South Korea's famous soccer player who currently plays for Manchester United.] All the elements are lined up in the most familiar pattern to accentuate Choo's glory: the interviews and compliments of the coaching staff proving Choo's popularity in Cleveland, the devoted efforts of his father -- who would provide his son with the all kinds of nutritious food -- which helped him get where he is, the teachings of his old high-school coach Cho Sung-ok and the five years he spent playing in the U.S. Minor League after passing up offers from baseball teams in Korea. It will be up to the viewer to decide if such deja-vu line-up is polite or boring.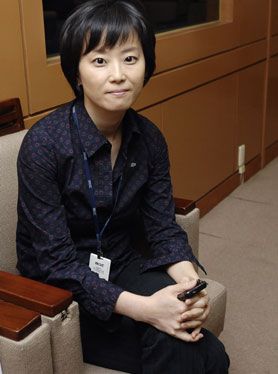 Producer Kim Sae-byul [MBC]
Q: When did you start planning and shooting this program, and how much had Choo Shin-soo accomplished at the time?
Producer Kim Sae-byul (Kim): We did the first official planning in July. Choo Shin-soo was actually doing well at back then too, but not many people knew who he was. A lot of people first heard of him during the WBC (World Baseball Classic). Then when I heard about the story between him and coach Cho Sung-ok, who passed away in July, I thought there could be something there and started digging into the story. In August, even Choo Shin-soo himself wasn't convinced he could achieve the 20 home run-20 stolen bases record and he wasn't hitting any home runs, but he did very well in the second half of the season, so we were able to air the show on a better timing than we had expected.
Q: Even in July, his stats weren't too solid, so it could have been a risky venture for you.
Kim: First of all, I'm not a sports fanatic so I wasn't too worried about his stats. And there was the part with Coach Cho Sung-ok, although it wasn't much, and I thought I could take that and lead on the emotional flow of the show with it. Judging from his column "MLB Diary", I thought that he had a great attitude and I decided that I could create a human story. People actually told my timing was off and that I was too late because I was supposed to prepare to make a documentary titled "Love" next year. But something told me I should do this so I insisted on doing it.
Q: If you are not a sports fan, what did you want to focus on in this documentary?
Kim: I'm not the kind of person who regularly watches baseball games on TV, I just know basic stuff like what three strikes mean and when you get to advance to the next base. So, from my perspective, I wanted to make something factual and something that even people who knew nothing about baseball would enjoy watching.
Q: In that sense, you might need to put in some explanation for words such as "five-tool player" that the team's coaching staff mentions.
Kim: I'm going to put them in subtitles. Because I didn't really know what it meant. I first heard about the term "five-tool" when I was making this program. We are going to put in subtitles for everything the interviewee says and also for terminology that might need explaining. And we are going to put in all the dates and locations for footage of the games.

Scenes from the documentary featuring Choo [MBC]
Q: To be honest, people who really like baseball might be disappointed because there is so little about baseball. Baseball fans these days are very knowledgeable.
Kim: Probably. But I wanted to balance out the show for the average viewer, not a baseball fan.
Q: But Coach Cho Sung-ok, who could be credited as the motivator for this documentary, appears only briefly in the program.
Kim: A lot of changes were made in terms of the flow. We focused the story on Choo Shin-soo, and I wanted to show Coach Cho throughout the show but he's not here anymore, so there were limits to what we could do in an hour-long program. So that's why he's in it only briefly.
Q: There were some scenes in the documentary that I couldn't understand. Before he leaves for the locker room, he waxes his hair at home. But at the locker room, he didn't have any wax on his head.
Kim: You have a keen eye. (laugh) It's a long story. We first tried to shoot him going to the locker room and inside the locker room as well. We talked it over with the team, but there was miscommunication with the Korean manager and when we went in there with the cameras, Choo Shin-soo was very surprised. No journalist had come into the locker room at such a time. So we couldn't shoot that day and we told him we were going to shoot him in the evening inside the locker room. I don't remember exactly, but we went there three times to shoot that scene.
Q: How does Choo Shin-soo feel about a major Korean network filming a documentary about himself?
Kim: This man is so focused on baseball that he felt very uneasy doing long interviews. It's more important for him to concentrate on baseball than to interact with the media. He's originally from Busan, but as far as baseball is concerned, he is a like an exemplary student. I could feel that he was tensed up, like a student before an exam.
<ⓒ10Asia All rights reserved>