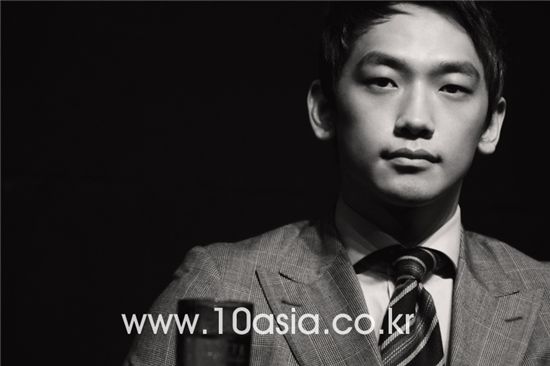 Singer and actor Rain [Chae Ki-won/10Asia]
From turning into a top Korean singer who puts on one of the best performances in the country to becoming a star across all of Asia, then from taking on a supporting role in a film by a popular Hollywood director to landing the leading role. The rising curve representing his career resembles more of a conqueror's than that of an entertainer's. But that man, Rain, spoke most frankly about the difficulties in pursuing a career in the United States and the agony and anguish he felt while undergoing training for his new film. It is not weird to expect the superstar to live in a world of his own but our interview revealed he is a 27-year-old standing on the same ground as us and putting in his best effort to overcome one challenge after the other.
10: I was actually looking forward to seeing you with long black hair, like in the movie. (laugh)
Rain: Really? I wanted to lose it. It's really hard to maintain that hair.
10: It may also be because of your hairstyle but your Asian appearance was greatly emphasized in the movie.
Rain: I hadn't intended on it. I also had almost no make-up on my face. Thankfully, I have nice skin (laugh) so I came out okay. And my hair had been closer to a brown, like the color it is right now, but the director wanted it black. This style looks better on me though, right? I prefer short hair.
10: Without question, your body was as impressive as your looks. It must've not been easy to control what you eat to all the training you had to undergo.
Rain: Everyday, I ate only chicken breast, vegetables and black pepper. Once in a while I'd get to eat beef cooked in plain boiling water which wouldn't take out the smell of the blood in it, but eating it made me feel like I won the lottery. I underwent a lot of training too. I'd start with weight routines such as bench presses or dead lifts and take a one-minute break after. After that I'd complete a total of 10 sets with eight rounds of bench presses, push-ups, sit-ups, pull-ups and dead lifts without any breaks at all. This way, you lose fat without doing aerobic exercises and your muscles even out rather than just blow up in volume.
10: In other words, you got to learn the advanced method. You'd probably be able to use it in the future.
Rain: I learned a lot and I've been teaching my kids, MBLAQ, the same workout routine. Member Lee Jun of the group, who played the younger version of me in "Ninja Assassin", underwent the same workout process as me so he's been teaching the rest of the group. When they're in training, they'll do the exact same routine I just mentioned and if one of them can't complete a certain exercise, they'll keep going until they do while the rest of the group will have to keep doing their own exercises too. Only then they're allowed to go onto the next part of the routine and they just keep repeating the sets. It's definitely hardcore. I'm planning on using the same training routine for everyone at my agency.
10: So like your workout routine which will continue on in a systematic way, your Hollywood experience with "Ninja" will help in your future connections and businesses.
Rain: I always try to maintain any connections I have. And it's definitely extremely important in Hollywood. It's been four years since I announced I would expand my career into the United States after making it on Time magazine's 100 Most Influential Person list. And the way I spent those four years? Me and my agency called up every studio in the U.S., explained how much recognition I have in Asia, tell them I want to make an album with them and then meet them to hang out with them. And then when I called them afterwards, they would say they'd sign for an album in Asia, and maybe work on expanding my career to the States after that. It means that all they're interested in is making money. In the meantime, I got rejected at audition after audition, when I finally got the part for "Ninja". From then of, I've continuously been receiving proposals for films and albums. Joel Silver went around saying my name, and although he's not sure what I'm about, the Wachowski Brothers like me. "Speed Racer" didn't do well but Hollywood producers got to know who I am.
10: Now that they know of you, you must have plans for other movies after "Ninja".
Rain: There's a film which will cost over 170 million dollars to make but we're sort of at a red light with it right now. Things are just like that in Hollywood. Nothing will happen unless you've signed on. Even if the other side says they want to make it happen with me, things could turn over anytime. That's why I can't mention the name of the film. But it's an action fantasy, sort of like "Lord of the Rings", where several soldiers protect the King who is on his way to his destination. If all goes well, I'll be playing one of the seven main characters. I'll be able to reveal the details when I sign on.
Reporter : Wee Geun-woo eight@10asia.co.kr
Photographer : Chae ki-won ten@10asia.co.kr
Editor : Jessica Kim jesskim@asiae.co.kr, Lee Ji-Hye seven@10asia.co.kr
<ⓒ10Asia All rights reserved>