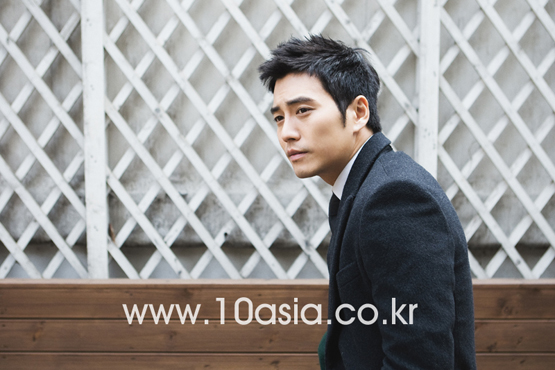 Joo Sang-wook [Chae Ki-won/10Asia]
<#10LOGO#>
I think your cheerful personality showed a bit when the eighth episode of "TEN" showed Yeo Ji-hoon's past.
Yoo:
That's right. It'll show in the last episode as well but Yeo Ji-hoon did really well back when he was a detective as well. Maybe a bit sleazy and frivolous but amazing when it comes to work. And then, long story short, he got punished for acting cute. That's why after thinking about how I should show his past, I decided to make him an easy-going guy. And it was easier to act out because it was closer to what I'm actually like and it helped me break away from the stuffiness I felt from having the image of being the type that would head a department at a company.
<#10LOGO#>
Yes, you must've thought that you want to break away from that image through "TEN." How satisfying has your experience been in regards to that?
Joo:
I was actually quite serious in SBS' "Giant" as well. So with Yeo Ji-hoon, I tried to think of the different ways through which I could break away from that image but it wasn't easy to, even though he wasn't the head of a department. Some people may think, 'What's the different between Yeo Ji-hoon and a department head? They're both serious all the time.' But I do think the majority of people would say that I wasn't like a department head this time. I do think I succeeded to a certain extent. If I didn't, oh well. [laughs]
<#10LOGO#>
I'm sure this is the case with other actors as well but it seems that you in particular think a lot about how to transform your acting.
Joo:
The roles I play are always somewhat upright or elites. That's why I think people keep saying that I'm like the department head. Even with Yeo Ji-hoon, he's an elite because he was a professor and the best player of his investigative team. In a way, I guess there really will be no way to break away from that image if I keep playing the roles I play. I'd have to play maybe a beggar to say that I'm trying to transform my image but then again, it's not like I necessarily want that either. I think I can give off different feelings by showing different expressions or acting.
<#10LOGO#>
Then I'm sure that means you must've felt that much more pressure in regards to you acting. Have you ever been in a slump?
Joo:
I had the hardest time when shooting MBC's "Kimcheed Radish Cubes." It was my first time playing the main character but I couldn't act in the way the director or I myself wanted to. There was a way I wanted to go about my acting but it just wouldn't happen. So I hated myself in regards to the acting. And I felt really bad for the director and other actors. The day I got cast for the show, I was so happy that I drank to the point that I couldn't remember how much I drank but I had a really hard time during the six months that I was on the show.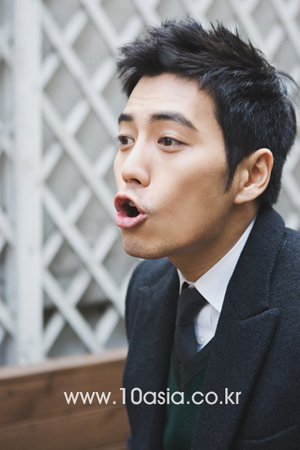 Joo Sang-wook [Chae Ki-won/10Asia]
<#10LOGO#>
And how are things now?
Joo:
I'm allowed to and can express the things I want to. But instead of thinking, 'Yes, I think I did well at expressing that in the way I wanted to. I did it properly,' I've come to pay a lot of attention to how the public responds to it.
<#10LOGO#>
Do you also look for people's reaction on your fan site or blogs? [laughs]
Joo:
I do. But oh, it's very burdening to actually write something on them. Once I start writing something, I realize I don't really have anything to say so I have to think hard about what to write. Really, when I sit in front of the computer to write something, I have to think for about an hour or two. And I don't want to write, "It's cold. Be careful you don't catch colds. And I'm actually working on this project these days" because I think such messages seem fake. Also, I always write "I'll write more often from now on" at the end of the messages that I write every few months or so but man, it's just really hard to write something. [laughs] I think there's something inside me that is repulsed to such action. If it's not that, I can't think of what would make it so difficult to tap the keyboard. I can speak well but why can't I write well? [laughs] Hence I think the solution is to show myself to them through good projects.
<#10LOGO#>
Is that why you work on one project after another?
Joo:
To start with, I want to work on a lot of projects. It's not easy not taking breaks but so far, it's been to the point that I can bear with it. And because of that, people sometimes tell me whether I'm not showing myself too much which I wouldn't disagree with. Because I too sometimes wonder what I'd show next if I showed too much of what I have. But this is what I think. That taking on a lot of projects and continuously acting isn't me revealing myself but is rather my way of getting ready to really show something later on.
<#10LOGO#>
You'll be shooting MBC's "Supper of the Gods" (translated title) as soon as you're done with "TEN" as well.
Joo:
The character Choi Jae-ha that I'll play in it is a bit unique. He's a regular employee at a company but you won't really see him work and I can't tell what he does. I also don't think he's particularly important. Also, his parents are supposed to be wealthy but they won't appear on the show either because they're supposed to be in the U.S. [laughs] Nonetheless, he'll be the epitome of friovolous. People wouldn't call say I'm like the head of a department after this, would they? [laughs]
<#10LOGO#>
You said you may appear in another season of "TEN" if it got made. How do you think Yeo Ji-hoon will change in it?
Joo:
I think I'd be able to show more complex emotions to him. Either him slowly tiring out or becoming stronger, or becoming smaller or maturing, as he fights against crimes. There'll will have been some changes to his emotions so I think viewers will get to see that. But he won't seem dreamy and fantasy-like anymore. Because from that point onward, he would have left his past behind and really stand up against reality.
※ Any copying, republication or redistribution of 10Asia's content is expressly prohibited without prior consent of 10Asia. Copyright infringement is subject to criminal and civil penalties.
<ⓒ즐거움의 공장 "10 아시아" (10.asiae.co.kr) 무단전재 배포금지>