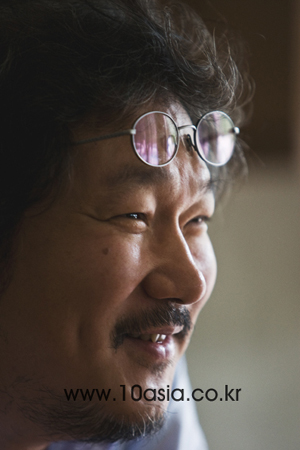 Hong Sang-soo [Chae Ki-won/10Asia]
<#10LOGO#>
You've gone black-and-white with "The Day He Arrives," the second time for you to do so after "Virgin Stripped Bare By Her Bachelors." And I remember you saying in an interview that it was because you were "concerned that the large amount of information delivered through color may dull the delicate emotions portrayed by the characters." Does the same reason apply for why you went with black-and-white for "The Day He Arrives"?
Hong Sang-soo
: It may have just been a notion when I said that back then but I don't know if it's actually true. I shot "The Day He Arrives" in color and tried switching it to black-and-white just to see what it's like but it looked better. And I was lucky. You need to shoot black-and-white films a bit differently, such as with the lighting and all, but the contrast was already strong thanks to the structure of the lights for the scenes shot indoors and the clothes that the cast wore, Kim Bo-kyung's white blouse in particular, looked nice in black-and-white. It goes down to personal taste but I guess I thought that winter in Seoul went well with black-and-white. "Virgin Stripped Bare By Her Bachelors" too was set in Seoul in the winter.
<#10LOGO#>
When I watch your movies, I sometimes suspect that your characters might be based on actual people. The male characters in particular are very much like you on the outside and their jobs are film directors or professors of film major. What's the reason you make these choices which could easily be misunderstood by people?
Hong
: There may be certain characteristics of someone that I may use for my own characters but I never use someone in my movie in his or her entirety, whether it's me or anybody that I know. I too am just an ingredient to a movie. And no matter how hard I may try to depict on that person as close to who that person actually is, it just won't happen. Because even if you used something that somebody said, it'll be different when said by someone else since the actor will be the main ingredient but the context in which it is said will not be the same. The character that is created after an actor comes in touch with the character I had in mind, will both try to pull the other closer to themselves, and a new character is created from that tension. So I'm not pressured when someone says they're reminded of someone after watching my movies. I actually don't like to get too close to a real-life character to the extent it makes me feel uncomfortable. But the ingredient itself will lose power if it strays too far from reality and will self-destruct itself when it gets too close to it so that's why there's the struggle of power. If there's one standard I go by, all that's important is that that person who served as a model isn't offended after watching my movies.
<#10LOGO#>
And luckily it looks like nobody has complained so far. (laugh)
Hong
: There was once. Some time ago, there was a professor who after watching "The Power of Kangwon Province," half jokingly said that my movie copied the gatherings him and his fellow professors have. But I had never even thought of their gathering. I guess that's just how typical of a gathering it is. (laugh)
<#10LOGO#>
I may be jumping to conclusions but the scene where Yu Jun-sang tells film students, "Why do you keep following me around!" reminded me of when it was said that all film students in Korea are imitating your movies.
Hong
: I did not think of that at all when writing that. Now that I think about it, I guess some people could see it in that way. But I have better things to do than say such crazy things in my movie. (laugh) Those students were that guy's excuse to go to his ex-girlfriend's neighborhood but he wanted to get rid of them since he no longer needed them. Normal people would've come up with more natural excuses but he isn't someone who can think like that so he said something stupid.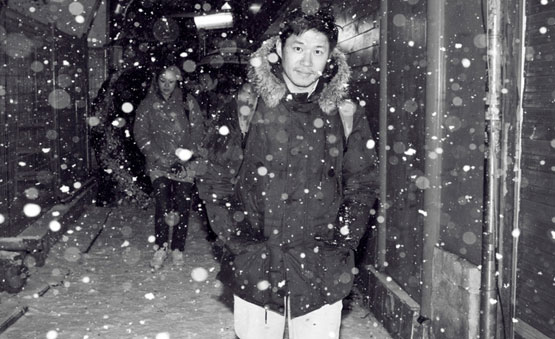 Scene from "The Day He Arrives" [JEONWONSA]
<#10LOGO#>
You surprised many people by working with French actress Isabelle Huppert on your next film "In Another Country" (translated title). How did you come to work with her?
Hong
: There was a different vibe about Isabelle Huppert compared to other French actresses. While I felt distant from other actresses although they are beautiful, I felt very close to Huppert. I had met her once in Paris before and she had recently come to a dinner a Paris cinematheque retrospective. And we talked about how we like each other as director and actor and said we should work on a movie together if the opportunity ever came around. Then she held a photo exhibition in Korea in May and she contacted me so we were having lunch when I asked if she could appear in a movie of mine that I'm shooting in July. It was more of me just asking her with the mindset of too bad if she can't, rather than an official proposal, but she said yes right away. And that's when I thought it must be fate! (laugh)
<#10LOGO#>
Did she adjust well to your unique style of directing? She's known to be quite a particular actress.
Hong
: She wasn't particular at all. You should meet her yourself some time. I like her. She works so hard. And she's cute as well. Of course, she's firm in receiving the protection she needs to in order to act. But she's not the type that asks of a lot of things unnecessarily. She worked really hard. So hard!
<#10LOGO#>
The preview and both the title and credits to "The Day He Arrives" are someone's handwriting. Is it yours?
Hong
: I used to shy away from writing things myself in the past. That's why I've tried using other people's handwriting or fonts that already exist. But from a certain moment onward, I started thinking that the fonts don't go with my movies. That's why I tried writing things myself and people told me it looked okay so I just went with it.
<#10LOGO#>
From what I remember, you wrote the titles for "Hahaha" and "Oki's Film" in your handwriting as well, but I think that's when the tone of your movies started changing a bit. I also thought that the relationship between the director and the characters in your movie is gradually becoming close.
Hong
: Hmm... That's true in a way. And in my own way I think that's the way things should be. I think the dark feelings, or feelings of being in debt, that had accumulated in my heart since I was a teenager, are being released through my movies one by one and as they reveal themselves under the sunlight, I think I somewhat break away from the memories in my past. And that has helped me depict on what is closer to who I am right now.
<#10LOGO#>
I think that's why your movies have become more fun and at ease recently.
Hong
: Is that so? Well that's good for me. (laugh)
※ Any copying, republication or redistribution of 10Asia's content is expressly prohibited without prior consent of 10Asia. Copyright infringement is subject to criminal and civil penalties.
<ⓒ즐거움의 공장 "10 아시아" (10.asiae.co.kr) 무단전재 배포금지>