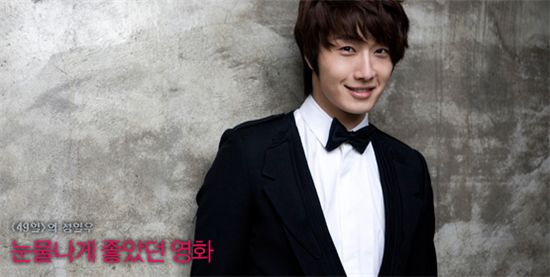 Jung Il-woo [10Asia]
"I'm the first one that makes an appearance in the first episode. That too while singing to no music. (laugh)" The Jung Il-woo on the set of SBS' Wednesday and Thursday TV series "49 Days" may have been worn out from his shoots but his face was full of joy. He was sick so he had to take his medicine in the midst of the interview but he did not hide the excitement he felt over working with an actress he has probably ever had the best chemistry with and how fun the show's script is. The Scheduler (Jung Il-woo), who hates the word Death Messenger and is adorned with a smartphone, the latest headphones and a motorcycle, is the only one who will help Ji-hyun (Nam Gyu-ri) come back to life after dying when it was not her time to. Of course, he is infinitely finicky to human beings and hates his schedule getting messed up.
But the Scheduler that constantly bickers with Ji-hyun is the role closest to Jung's actual age after his role in MBC's hit sitcom "High Kick" as Yoon-ho. That may be why Jung, who has been told he has become more at ease while working on "49 Days," was the very sight of a 24-year-old who is happy and excited to introduce the movies he likes. Deeming himself to be "quite a fan of movies," Jung was simply a fan of movies before being an actor himself, when he laid forth the list he drew up himself and reminisced on each and every one. "Do I have to recommend just five movies? There's a short French film called 'Le Diner' I recently had a lot of fun watching which I really want to tell you about. It only lasts about 13 minutes but I loved the director's wittiness and it's an extremely solid movie which incorporates comedic elements up to the twist, very well in 13 minutes. I really hope you'll look it up."
Jung, also the promotional ambassador for the 12th Jeonju International Film Festival (April 29 to May 6), speaks of the films he had no choice but to cry while watching. Oh, the song he chose himself and sang yet viewers were unable to hear because of the background music, was Damien Rice's "Blower's Daughter" from movie "Closer" that he said he likes so much that he watched seven times.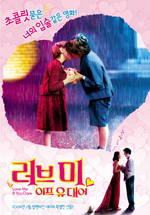 1. "Jeux D'Enfants"
2003 | Yann Samuell
"I came across this movie by chance about two years ago but I like it so much that I've watched it six times. When I become engrossed with something, I become engrossed with it deeply. I've also seen a video on how they made the film and noticed that it was shot using a unique technique. The two characters' unrealistic yet romantic love left an extremely strong impression on me, as well as the ending being unique. I liked how it ended tragically but not straight-up tragically. It was fun because it contained comedic elements as well. I became a fan of Marion Cotillard's after watching this movie so I looked up almost all of her movies as well. (laugh) If Korea ever decides to do a remake on this, I'd definitely like to be in it."
Betting and dating are actually alike. Doing your best to win your opponent is similar to doing your best to win the other person's heart and the loser being weak in front of the winner is similar to how the one who loves more is always the weaker one in a relationship. Guillaume Canet and Marion Cotillard, now fully matured, add to the freshness by showing how they are at loss between betting and loving.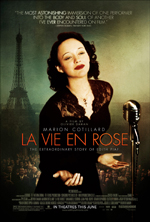 2. "La Mome"
2007 | Olivier Dahan
"It was mostly actresses that recommended this? (laugh) I came to watch 'La Vie En Rose' because it's another film that Marion Cotillard was in. I became absorbed with the movie a lot because to start with, it was based on a true story and a true character. And Marion Cotillard's acting was different from film 'Love Me If You Dare' so that was interesting as well. I really enjoyed it a lot and bought the soundtrack to the film as well. And of course, I cried buckets. I'm not a very sentimental guy but the tears just sometimes flow out. (laugh)"
There are people whose lives themselves become works of art. This was the case for French singer Edith Piaf. "La Vie En Rose" shows how this woman was born on the streets to how she became the best singer and the tragedy that followed thereafter, lived a far from 'a rosy life.'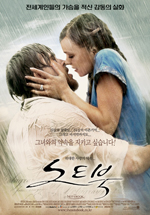 3. "The Notebook"
2004 | Nick Cassavetes
"I cried a lot while watching this movie as well. It's about such a sad love story. I couldn't relate too much to the background or characters of the movie because they're all from a long time ago but for some reason, this movie has lingered in my mind for a long time. Maybe it's because I want to be in love too after watching this love story? (laugh) I hadn't felt this way before but I'll be turning 24 this year. So I feel different about love from how I did in the past now that I'm in my mid-twenties. I think I've become more serious about it."
It is said that first love is more beautiful because it does not come true. Instead, you can keep it as an untarnished memory forever. However, there is one man who loved his woman throughout his entire life. Even if she may no longer remember him. The movie effectively stimulates viewers' tear ducts by showing a love where a man is willing to lay down his life for his love for one woman.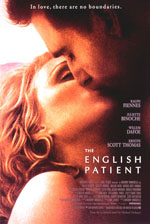 4. "The English Patient"
1996 | Anthony Minghella
"I cried while watching 'The English Patient' as well. It's strange that I only remember the movies I've cried over. (laugh) Anyway, in this movie, the main male character gets into an accident while being in sort of an affair. And then he wanders in a desert to save the woman he loves but... The sort of love where one can sacrifice his life for the one he loves! It was so touching. And of course, it's needless to talk about the performance the actors showed."
A man who waits for his death with only memories of love, tells his story to those who do not believe in love or are trying to avoid it. Critically acclaimed actors from around the world, including Ralph Fiennes, Juliette Binoche and Willem Dafoe bring the emotions of love to life. The movie won nine awards at the 69th Academy Awards including the prizes for best picture and best director.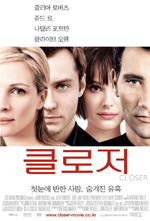 5. "Closer"
2004 | Mike Nichols
"I think this is a film that shows how two couples' love changes and how they deal with that change through the portrayal of couples whose love lives are entangled. I was so into it that I watched it about seven times in-a-row. The scene that left the strongest impression on me was when the main male and female character meet. Damian Rice's 'The Blower's Daughter' plays in the background when they do... and it was so good. I still listen to that song and like it so much that I sang it for my drama."
When you first fall in love, you may think you will never fall in love again but it is like a life that moves on its own. Even even after having died out, in can come back after a period of incubation or it can branch out to another. This is a sad and beautiful account of lovers who waver and are in conflict over such properties regarding love.
※ Any copying, republication or redistribution of 10Asia's content is expressly prohibited without prior consent of 10Asia. Copyright infringement is subject to criminal and civil penalties.
Reporter : Lee Ji-Hye seven@Photographer : Lee Jin-hyuk eleven@Editor : Jessica Kim jesskim@
<ⓒ10Asia All rights reserved>