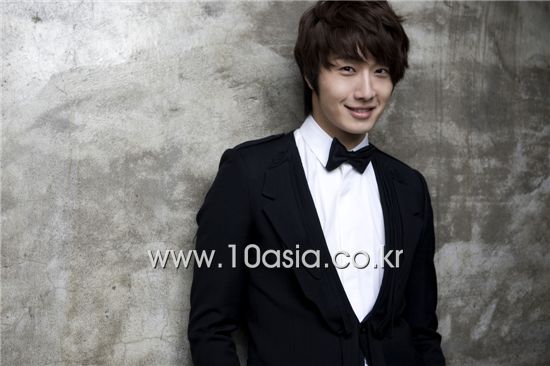 Jung Il-woo [Lee Jin-hyuk/10Asia]
"I'm the first one that makes an appearance in the first episode. That too while singing to no music. (laugh)" The Jung Il-woo on the set of SBS' Wednesday and Thursday TV series "49 Days" may have been worn out from his shoots but his face was full of joy. He was sick so he had to take his medicine in the midst of the interview but he did not hide the excitement he felt over working with an actress he has probably ever had the best chemistry with and how fun the show's script is. The Scheduler (Jung Il-woo), who hates the word Death Messenger and is adorned with a smartphone, the latest headphones and a motorcycle, is the only one who will help Ji-hyun (Nam Gyu-ri) come back to life after dying when it was not her time to. Of course, he is infinitely finicky to human beings and hates his schedule getting messed up. But the Scheduler that constantly bickers with Ji-hyun is the role closest to Jung's actual age after his role in MBC's hit sitcom "High Kick" as Yoon-ho. "10Asia" met with the Jung who has been told he has become more at ease while working on "49 Days," six hours ahead of the first episode of the show going on air. The song he chose himself and sang yet viewers were unable to hear because of the background music, was Damien Rice's "Blower's Daughter" from movie "Closer" that he said he likes so much that he watched seven times.
10: The first episode of "49 Days" will go on air in just a few hours. How does it feel meeting with viewers for the first time in a while?
Jung Il-woo:
I haven't slept for three days. I lost five kilograms for my role but I think I lost more while filming the show. And this is my first acting role for the first time in a year and a half so I'm excited as if this is my first acting role and I can't wait for the first episode to go on air. In the past, I would've worried about the ratings the show would get and wonder whether people enjoy it but I don't have such thoughts this time. I'm just really looking forward to the drama a lot for my own sake.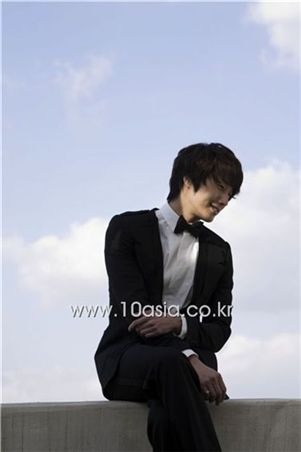 Jung Il-woo [Lee Jin-hyuk/10Asia]
10: Your role as the Scheduler is sort of like a Death Messenger who in a way seems to have secrets but is also cute when bickering with Ji-hyun. He's not a very simple character.
Jung:
I work well with Lee Yo-won and Nam Gyu-ri, Lee Yo-won in particular. I don't think I've ever had such great chemistry with an actress before. It's not like we have to try things out -- everything's just so easy. And the scheduler isn't a character that is all serious, I rather have to act him in a relaxed state so I think that's why I'm having an easy time with the acting. (laugh) The director told me that I look more at ease as well so I'm working hard to show people that my acting has improved.
10: The Scheduler's fashion and manners have already become popular which I think must've been burdensome for you although it's people's way of expressing their anticipation for your new drama.
Jung:
That's how I would've felt in the past. (laugh) But I'm not like that anymore. There is a bit of pressure involved but I came to realize that gets in the way of my acting. I think viewers will like me better and I'll act better if I let my mind go of such thoughts and just wait for my time to come. I do still get stressed a lot and become sensitive which it used to show on my face in the past (laugh) but I release that through my acting now. Bit by bit I'm learning how to overcome and hide certain things.
10: You've been through a lot for your short career and young age. You shot to stardom through "High Kick" as well as watch that popularity disappear. I'm sure that such experiences must've influenced your acting and daily life a lot.
Jung:
Of course it has. It's been over five years since I've debuted but I've only worked on a total of four projects including "49 Days." (laugh) I'm going to try to work on a lot of projects from now on and show people how I'm changing. I used to think that the time I spend not working on a project would be more important than when I do, so I told myself it would be okay if I'm on a break for a long time as long as I work hard during that time. But I'm 24 years old now so I'd like to show a different side to me, someone that's more manly than young, through various roles. I'm going to take on a lot of roles from now on! (laugh)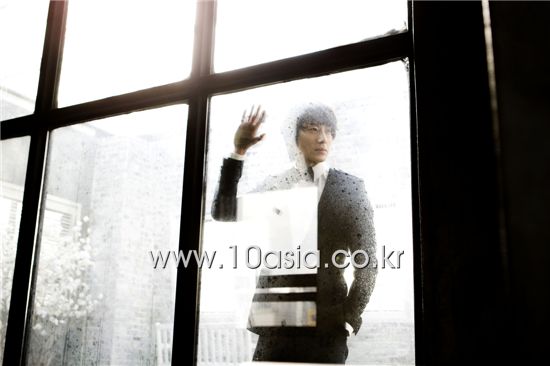 Jung Il-woo [Lee Jin-hyuk/10Asia]
10: I'm sure you've come to think a lot of things about love while working on a melodrama like "49 Days." You're at the age where I'm sure you want to fall in love. (laugh)
Jung:
That's right. I totally want to fall in love. (laugh) I hadn't felt it before but I'm 24 now, in my mid-twenties, so I've come to relate to the love stories that appear in movies and dramas and feel that they're likely to happen. I think I've changed from how I felt when I was young. I've become serious about love and meeting people.
10: Any words for the viewers of "49 Days"?
Jung:
Please leave your reviews after watching the show. (laugh) It's 20 episodes long but there are a lot of characters and a lot going on that story... there's enough for the story to be made into a 50-episode drama. We're filming the sixth episode now and I'm starting to see the Scheduler's past and his what his presence is about. I think he'll past will fully be revealed around the tenth episode. It should become increasingly fun. (laugh)
※ Any copying, republication or redistribution of 10Asia's content is expressly prohibited without prior consent of 10Asia. Copyright infringement is subject to criminal and civil penalties.
Reporter : Lee Ji-Hye seven@Photographer : Lee Jin-hyuk eleven@Editor : Jessica Kim jesskim@
<ⓒ10Asia All rights reserved>