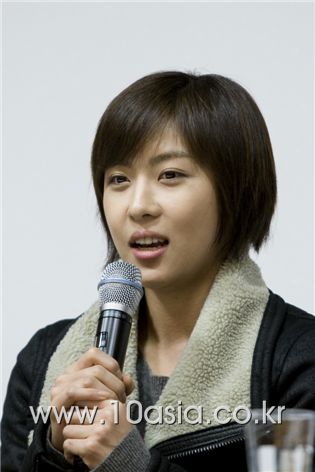 Actress Ha Ji-won speaks at a press conference for SBS TV series "Secret Garden" held at the Maiim Vision Village in the Gyeonggi Province of South Korea on December 8, 2010. [Lee Jin-hyuk/10Asia]
Q: Yoon Sang-hyun, if you could, who would you want to switch bodies with?
Yoon Sang-hyun:
I've said this before but I'd like to switch with Hyun Bin.
Hyun Bin:
We talked about what would have happened if Oscar took the magical liquor bottle from Kim Ju-won and he had drank it as well ? what would have happened if the three of them all switched together. (laugh)
Q: You have always talked about wanting to play the role of a singer. What do you think about your current role?
Yoon:
Singers are usually portrayed as cool and charismatic characters in dramas so I had wondered why that was the case when I was given the script for "Secret Garden" where I'd get to play a completely new type of singer. I felt that it would be fun if my character was simple-minded and straightforward, as well as wondering whether I'd be able to be Kim Ju-won's rival since I'd be a Hallyu star. I felt that I needed to shine a bit too (laugh) so I tried to add some fun to it. I'm happy that the viewers are having fun watching the show.
Q: There was no emotion involved in Oscar's kissing scene with Kim Ju-won but it seems like some sort of romantic relationship may form between Oscar and Sun. What are your thoughts on that?
Yoon:
I'm both curious and scared. Nothing has emerged on the surface yet but I heard it'll develop later on in the show. I'm scared because I don't know in what way their relationship will develop. (laugh)
Q: In the drama, Oscar and Kim Ju-won's house and the scenery is amazing. How does it feel to be shooting the show in such a location?
Hyun Bin:
It's great. But there's one downside to when we're filming. When my character is talking to Oscar, we both raise our voices in many of the scenes but the ceiling is so high that our voices echo so we sometimes have to wait in between our lines. But we're filming in a beautiful house so it feels good and there's no stifling feeling either.
Yoon Sang-hyun:
I wondered how much the bill would come out to for this sort of place in terms of electricity and heating. And what you would spend your time doing in such a large house. (laugh) But the house is so nice and pretty that I'm still in awe and I get to look at a lot of nice things.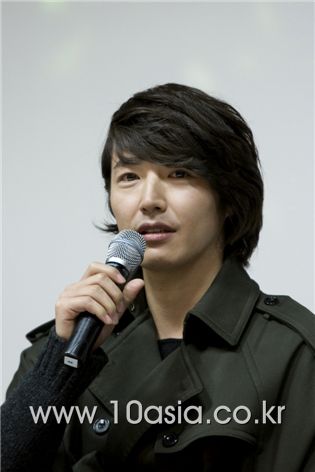 Actor Yoon Sang-hyun speaks at a press conference for SBS TV series "Secret Garden" held at the Maiim Vision Village in the Gyeonggi Province of South Korea on December 8, 2010. [Lee Jin-hyuk/10Asia]
Q: What do you think is the most memorable line that Kim Ju-won has said and Ha Ji-won, is there a line you too would feel nervous to hear?
Hyun Bin:
Well, they're not lines that are that great to hear… (laugh) There's a lot but what comes to mind right now is when he says, "It's the sort of place you'd see in the 'National Geographic' but with flies flying around and pitiful people inside," and "poor and alienated neighbors." They were fun because they're expressions I had not even imagined of. Oh, and I do think there was a behavior that could make women's hearts flutter. The scene where he does sit-ups. I heard a lot of people were doing sit-ups in the gym after that scene went on air. (laugh) I think my heart would pound over such scenes if I were a girl.
Ha Ji-won:
I heard that a lot of people's hearts pounded in the scene where Oscar meets Gil La-im for the first time in a while but he remembers her name and asks, "You're Gil La-im, right?" I think it's the small things that he remembers that moved women's hearts. And Kim Ju-won says, "Since when have you been so pretty Gil La-im?" when Kim Ju-won is doing the sit-ups… I personally like that line. (laugh)
Q: "Secret Garden" is much more popular than its ratings show. Do you feel this too?
Yoon:
I felt this for the drama I worked on before as well but when we went out to shoot outside our set, people would call me by the name of my character from the show. With this drama as well, I see ladies sometimes call out "Oscar!" while they're driving past our set and that's when I realize that they're enjoying the show. I'm still popular with the middle-aged ladies. (laugh)
Ha:
A lot of women in their fifties and sixties at the sauna or gym I've been going to for a long time come up to talk to me. And I feel happy when they tell me that they get excited when they're watching our drama. My close friends call me Gil La-im as well instead of Ha Ji-won so that's how I can tell they're into our drama.
Hyun Bin:
While we were filming yesterday, 'assistant Kim' (Kim Sung-oh) told me that people like me now more than they did when I was Sam-shik in MBC TV series "My name is Kim Sam-soon." I said that was odd because our show posts only half the ratings that "Kim Sam-soon" did but he said there's a difference because I was nobody back then but I'm someone established now.
Strangely, I felt a sense of responsibility after hearing that and I found out that a lot of people are watching our show. I also feel that it's receiving a lot of love when I hear about people in the entertainment industry wearing the clothes that Kim Ju-won and Gil La-im wear and singing the songs that Oscar sings.
Reporter : Choi Ji-Eun five@Photographer : Lee Jin-hyuk eleven@Editor : Jang Kyung-Jin three@Editor : Jessica Kim jesskim@
<ⓒ10Asia All rights reserved>