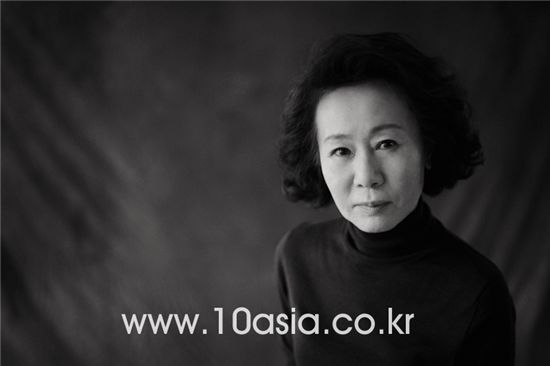 Actress Yoon Yeo-jung [Chae Ki-won/10Asia]
To some generations, Yoon Yeo-jung may be just another elderly actress whom they cannot quite tell apart from the late Yeo Woon-gye or Jeon yang-ja. But to most viewers or moviegoers, Yoon is an irreplaceable actress. And with such a coarse voice too! "Many people have unique voices these days but back in the days, [my voice] was considered very bizarre. I heard this later on but people had said I won't make it because of my voice. Now that I think of it, I've overcome quite a lot of obstacles. (laugh)" But Yoon is an actress who has proved that what an actor needs is not perfect eyesight but the tentacles to sense even the drop of a needle, and not a clear and ringing voice but even if it is a single line that is spoken, a sound which will sound alive and move people's hearts.
She has continuously walked the path of an actress but there has never been a time that it has been easy for her. Her face too is far from being smooth -- she herself joked, "I have nothing to say if they'll cut my pay because of my skin." "I once was not proud of the fact that I was an actress. It wasn't what I had wanted to do and I don't know if it's because there were so many successful people around me, but I detested the job too. When I made a comeback after getting a divorce, I think that's when I felt like I had become an actress. Do you think a large company would have taken me back after ten years, no matter how competent an employee I was? No such organization exists. But dramas and movies did, they gave me work, and allowed me to raise my two children. I think that's when I felt grateful about being able to act. And I wasn't picky about my roles."
She played a femme fatale rather than someone's first love, a coquettish lover than a foolishly devoted wife and mother, and a trouble-maker mother rather than giving off the image of the typical mother figure. In "The President's Last Bang" she was the narrator who calmly tells of the story of men who self destruct themselves while fighting over power, in "A Good Lawyer's Wife" she was a modern woman who could confidently say "I also have sex," and an actress who does not hide her feelings of envy and complex in "The Actresses" by asking who was cast before her for a photoshoot. Kim Soo-hyun, Roh Hee-kyung, Kim Ki-young, E J-yong. It may just be that the various sides to Yoon that we see today were created by these writers and directors. But despite her having such a bad eyesight that she "might not even recognize my own parents without glasses," her eye for recognizing the artists who have rejected the conventional dramaturgy may be her secret to the survival of her career till today. Yoon is an actress who is closer to a cool moon than a flaming sun. And the films she said left long-lasting impressions in her mind where not far from the vibe that the actress herself gives off.
1. "The Pianist"
2002 | Roman Polanski
"The reason I felt that the director is such a great commander is because of the last scene in the film where the main character so placidly plays the piano. His expressionless face tore up my heart, more than it would have had he played it passionately due to his pent-up anger. People usually like to see so-called 'possessed acting.' And I guess it's an issue of taste but I don't like that kind of acting. For example, it's much better to see an actor who expresses grief by turning around and shaking his shoulders as he tries to hold back from bursting into tears, rather than him wailing out loud and beating his fists on the ground. It just makes it look like that person is really hurting. And I too am someone who wants to do such acting. That's why from time to time, I'm asked to show more sincerity when I act. (laugh)"
"What's your work?" "I am... I was a pianist." Jewish-Polish musician Szpilman, engulfed in World War II which drowns all forms of art, barely stays alive by hiding in a ruined building after losing his family and friends. The film, based on the true story of pianist Władysław Szpilman, won the Palme d'or at the 55th Cannes Film Festival.
2. "The Sound of Music"
1965 | Robert Wise
"I can't sing and I wouldn't even be able to dream of doing musicals but I really like people who sing well. I envy them the most too. And with "The Sound of Music," no matter how many times I've watched it, if it's on TV I'll just watch it in awe all over again. I like it when the children sing goodnight all together too. I guess those are what classics are about. There's nothing that is that special about them nor are they being witty in particular they just have an unchanging power."
The story about a cheerful and warm-hearted nun-turned-governess Maria (played by Julie Andrews), a man with firm principles yet infinite love for his children captain Georg von Trapp (played by Christopher Plummer) and seven loveable children. The short-lived yet enjoyable time they spend living together becomes increasingly threatened due to World War II. But the green hills of Salzburg where they sing the "Doremi song" and the energetic appeal which Julie Andrew gives off in the film with her tomboy image, shuns off the gloomy circumstances the family is put under due to the war.
3. "The Fall"
2006 | Tarsem Singh
"This is a movie I watched with director E J-yong and actress Ko Hyun-joung. The main character of the film was a very young girl but she really did an amazing job with her acting. She also didn't have the typical tone that young actors have where they try to act pretty and smart. Director E said he was watching the movie for the second time to watch that child's acting and said, 'Will I ever get to work with an actress like her?' to which Ko said, 'Oh, I do so wish to get to work with a director like him.' It's been a while since I've watched the movie but I still can't forget that child's face."
The man's story is shown on the screen through the girl's eyes. Tarsem Singh, originally a TV commercial director, had already provided moviegoers with a visual shock in his first directorial pic "The Cell." "The Fall" goes a step further. The beautiful scenery from 26 locations around the world that mankind has discovered, not produced with computer graphics, confirms a film's identity as visual form of media.
4. "Love Letter"
1995 | Shunji Iwai
"I think it's because I'm growing weaker but I think a lot of about aging rather than growing stronger. When it comes to movies too, I like the ones where I can be observant rather than the ones I become completely immersed with and fall into a daze later. In that sense, "Love Letter" was a film where the viewer watches the movie from a distance but leaves long-lasting traces. And when I see the eyes of the female character when she says, 'Ogenki desu ka?' it reminds me of the look I used to have in my eyes when I was young. Sadly, my eyes don't give off such a vibe anymore. (laugh)"
Hiroko Watanabe (played by Miho Nakayama), who had shut off her heart after losing the man she loves, one day finds out about the existence of Itsuki Fuji (also played by Nakayama), a woman who has the same name as her dead fiance. Through the letters exchanged between the two women whose letters contain two stories which transcend time and place, one restores the first love she had not realized until then and the other sends messages of healing to the love she had not been able to let go of. The film, which stood at the forefront of popular Japanese films during its times with its main actress Miho Nakayama, who plays a double role in the film, is the sweetest way to head into director Shunji Iwai's world.
5. "The Widow Couderc"
1971 | Pierre Granier-Deferre
"I have never really liked melodramas, even when I was young. But this movie seemed to be quite different from typical melodramas. The love story between a young man and an old woman could seem strange but for some reason, the love between the old and fat woman and the pretty young man did not seem ugly at all. The scene where Simone Signoret proudly washes Alain Delon's underwear has left a lasting impression on me in particular. This movie actually doesn't contain that many passionate scenes for a melodrama but I actually prefer such metaphorical forms of expression."
Mrs. Couderc (played by Simone Signoret) lives with her father-in-law and sister-in-law after her husband passes away when one day, a stranger named Jean (played by Alain Delon) comes to their house. The young and handsome Jean, who hides his identity as an escaped prisoner, starts working at Couderc's house as a laborer who quietly starts to stir this worn out divorcee's heart. A film adaptation of a book by French mystery novelist Georges Simenon.
Editor in Chief : Beck Una one@
Photographer : Chae ki-won ten@
Editor : Jessica Kim jesskim@
<ⓒ10Asia All rights reserved>