Lee Sun-gyun is an actor who has built up his acting skills through single-episode dramas. From playing the swimmer character Lee Dong-gyung in the "Taereung National Village" episode of MBC's "Best Theater" series, a role that many people remember, to student Jin-goo studying for a national examination in the "Romance" episode of KBS "Drama City," he began learning the craft of acting from single-episode dramas. The reason that Lee Sun-gyun gained acclaim for his dramas including MBC's "The 1st Shop of Coffee Prince," "White Tower," and SBS' "My Sweet Seoul" and was able to win the lead roles in MBC's "Pasta" and film "Paju" was because he had built his acting career, one step at a time, from single-episode dramas. Lee Sun-gyun himself admits, "Single-episode dramas got me where I am today." 10Asia met with actor Lee Sun-gyun in Sokcho, Gangwon-do where he was shooting the "Our Slightly Risque Relationship" episode for KBS Drama Special, and talked about the importance of single-episode dramas and why they should continue to exist.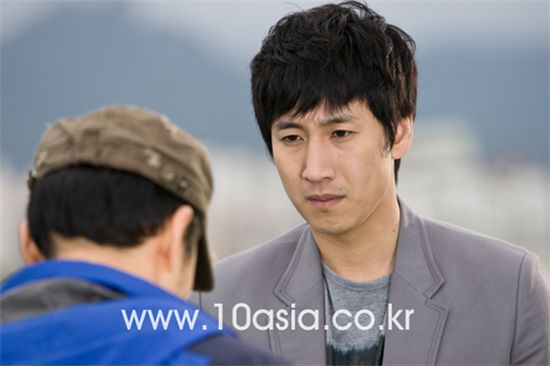 Actor Lee Sun-gyun takes part in a shoot for "Our Slightly Risque Relationship" at the KBS building in the city of Sokcho of Gangwon Province on May 16, 2010. [photographed by Chae Ki-won/10Asia]
Q: Why did you choose to shoot a single-episode drama when you could have gone for other regular dramas and films?
Lee Sun-gyun (Lee): Because I really believe that single-episode dramas should be revived. They have disappeared from the three public networks for about two, three years. It is saddening. Not only is it necessary for newcomer actors, but also for writers and directors to improve through single-episode dramas and now it feels like the steppingstone is gone. In a way, you could say that I was the last actor to have benefited from doing single-episode dramas. I did a lot of single-episode dramas when I was starting out as an actor, and it really helped a lot. If I hadn't done single-episode dramas, there probably would be no me. When I heard that KBS was bringing back single-episode dramas again, I decided that I would do it if they offered me a script. I thought I would grow impatient if I started worrying and calculating about it, so I just read the first script I got and decided to do it right away. It wasn't that hard.
Q: There must be a unique charm to doing single-episode dramas that is different from doing a mini-series or a movie.
Lee: Actually, single-episode dramas are shot under poor working conditions. Being back on the set of one for the time in a long time, I am realizing again how bad it is. (laugh) But the best thing about working on a single-episode drama is that there are many experimental scripts. The variety of characters is even broader than in movies. Even when you compare it to doing a mini-series, which you get used to after a while, there is a difference both content and structure-wise. That's the fun stuff, really. If I could hope for something more, I wish they would bring the late-night air time of single-episode dramas closer to earlier hours, and increase the production budget. A good drama comes from having better working conditions.
Q: As an actor, how did shooting single-episode dramas help you?
Lee: What helped me was that I had a lot of opportunities to play a variety of characters. It is hard for a newcomer actor to be part of the main cast right away. These days, many idol group singers become the main actors in dramas. I think it has now become difficult to reach that level unless you have such recognition and celebrity. I started by playing small roles. Sometimes I would play lead roles in single-episode dramas but even then I didn't get a lot of attention. But playing the main character helped me as an actor in itself, and doing single-episode dramas became a learning opportunity for me. But now that opportunity has completely disappeared. Just like writers and actors, directors have lost the opportunity to create and actively contemplate their work.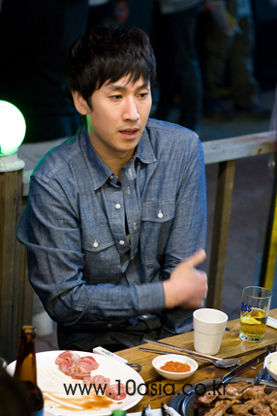 Actor Lee Sun-gyun [Chae Ki-won/10Asia]
Q: It must be hard for you to give advice to young actors.
Lee: It is. They ask me what they should do and I don't really have an answer for them. It is hard to get supporting roles through auditions, but these days the path of supporting actors advancing to main actors has been cut off. In other words, there is a clear distinction between leading and supporting actors. With a limited set of characters, the actors who play them keep on repeating as well. In the old days, they said that opportunity would surely come if you work hard.. in theater or whatever.. I am not saying that playing lead roles is always a good thing, but I am disappointed that actors are getting less and less opportunities.
Q: The "Taereung National Village" episode of MBC's "Best Theater" was a breakthrough role for you.
Lee: My fondest memories of doing dramas and movies are from shooting "Taereung National Village" because it made me feel that I could be happy while working on a drama. I love it and I was happy. It was the first time since I took up acting that I bragged to people about my work. I wasn't the main character in it but I went around telling people that it was my drama and that they should watch it. I'm sure I looked great in the show because the director did a good job. (laugh) But I felt great when I was shooting it and I loved the final version too. At a time when I was doing one-episode dramas, this drama made me feel the joy of being an actor more than the responsibility.
Q: Are there any single-episode dramas that you remember watching?
Lee: I couldn't go see movies at the theater when I was young, so I didn't have much to do for fun except to read books. And I used to enjoy watching MBC's "Best Theater" because they had many unique dramas that I remember for their visual images. I particularly loved the "Shampoo Fairy" episode. "Best Theater" was part of the reason that I worked on "Taereung National Village" with director Lee Yoon-jung. Director Lee made her directorial debut through a drama called "Magic Alcohol Power" and it was so entertaining that I asked around who the director was. And they told me that it was this female director at MBC who had great taste. Just when I was wondering about this director named Lee Yoon-jung, the people from "Taereung National Village" called me up and I ended up appearing in the drama.
Q: You are currently shooting the "Our Slightly Risque Relationship" episode for KBS Drama Special - how are you feeling?
Lee: Not bad. There is a certain vibe you see in single-episode dramas and it's that there are many funny lines or situations. There is a dark side near the end but the dialogues are incredibly entertaining. I don't know if it could be categorized as a romantic comedy but I feel that it sits closely to the reality seen in dramas. It is not too over-the-top and the way the show deals with its happenings is interesting.
Q: KBS' single-episode drama has returned but its popularity is not as high as one expected.
Lee: All the directors and writers believe that single-episode dramas must be revived. But, at the same time, they are worried that they could go off the air anytime. So they have a considerable amount of pressure to shoot it well. They need to start work feeling relaxed and unburdened, but their concerns could make them anxious. You know how you tend to do too much when you are trying to do a good job? I hope they can work on their dramas feeling comfortable. If they get rid of the pressure to make a big hit or a good drama, won't they be able to make a good drama?
Reporter : Won Sung-yoon
Photographer : Chae ki-won ten@
Editor : Lee Ji-Hye seven@
Editor : Lynn Kim lynn2878@
<ⓒ10Asia All rights reserved>