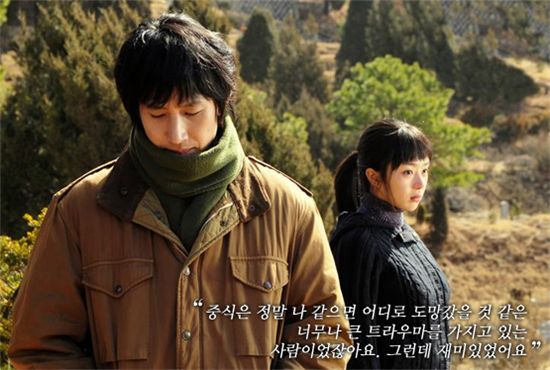 "He was someone who had experienced trauma so huge that if it happened to me, I would have run away somewhere. But it was fun." [Myung Films]
Beck:
I think you must have not had an easy time playing your character Joong-shik in "Paju." He was sort of like someone in the fog -- he was quite hard to define.
Lee:
It was difficult. But it was fun. He was a character who doesn't express himself a lot and it always very serious. He was someone who had experienced trauma so huge that if it happened to me, I would have run away somewhere or hid myself in a temple. Strangely enough though, the script for "Paju" was very easy to read. How should I put it -- it was as if I could feel the atmosphere the movie was in. I had a confidence in the director and the film itself. I had also been wanting to work on a more cinematic film at the time.
Beck:
You had mentioned before that you really want to work on a Hong Sang-soo film and you ended up working with him on several films. How has it been working with him?
Lee:
It was really good. He called me one day and asked to meet. I didn't know what he wanted to do, what sort of acting he wanted from me, whether he'd pay me, what the name of the movie was. All he told me was that he wanted to sort of sketch winter, that if his previous works had more of an oil painting-like feeling to them, he wanted to do one which seems just like a sketch this time, in a very easy way. But he said there would only be four staff for the movie in total and I would only have to go into shoot once or twice a week. Although he also doesn't know till when filming would last. I actually felt a lot of pressure but I was drinking when I called my manager and told him that I think I should do the movie. Filming actually turned out to be a lot of fun. I would feel a queer sort of tension when I get my script in the morning and I had quite a lot of lines but I memorized them quite quickly because it was easy to focus. I felt that Hong Sang-soo is almost like a great acting coach. It was fun just looking at the monitor. I have high expectations for this movie because I think it'll be very unique and completely different from his previous works.
Beck:
You have a voice that everyone says is mellow but I think there is also as much criticism about it. Has it ever been a complex for you?
Lee:
Of course. I didn't hear it directly but when I was in college doing short films, the staff had said amongst themselves that I'd have a tough time acting because my voice is very limited. A lot of people had said at the beginning of "Pasta" too that they couldn't hear my lines properly. There were many times, up till the third episode, that I was putting on a one-man show and I noticed later on while watching it on air that it sounded like I was mumbling. I only became aware of it later on but my voice had become muffled because I was the only one using a wireless mic but I hadn't taken that into consideration and just shouted away. I made up for it later on. I'm not saying I'm trying to come up with excuses though, I'm just saying that I had to go through trial and error. That's why I was wavering in the beginning and very sensitive.
Beck:
Marrying or becoming the father of a child is a huge change for a human being. Has such changes in your personal life brought any change to your mental attitude as an actor?
Lee:
I went on a belated honeymoon after shooting drama "Triple" and there was a moment I felt what it would feel like to be a dad. We usually like to ride around on motorcycles when we go on trips but once my pregnant wife hopped on behind me, I suddenly became overcome with fear in having to ride on unpaved road. I was also scared we might fall over. Is this what becoming a husband is about? This is what marriage is -- having to be careful and trying not to fall over. The next day I found myself waking up early and riding around the village myself. I wanted to figure out which roads we should take and it also felt very free riding alone. (laugh)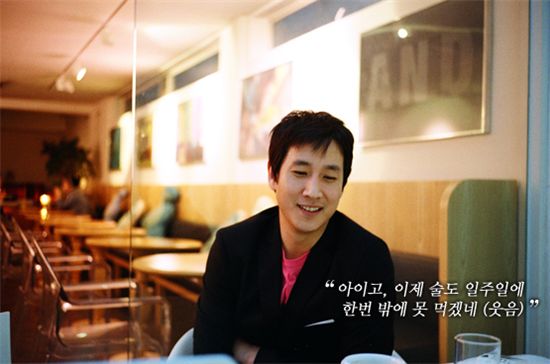 "Oh, now I'll only be able to drink once a week. (laugh)" [Beck Una/10Asia]

Beck:
You once said in an interview that it's your dream to run a cafe somewhere in Southeast Asia, receive scripts over the Internet and shoot one when you please. I think however, that a variety of factors surrounding you won't let you do that.
Lee:
That's not true. I don't think much has changed in that aspect. I do think I should work harder so that I won't be shameful of what I do. There actually is no answer to married life. There are times it's good and times it's bad. But I think having a child was the best thing I've done in my life. I watched my child being born and it was the first time I cried in such a way. The tears just kept coming. It was an emotion I had never felt before. Actor Oh Man-seok, who's my friend, has a nine-year-old daughter and I didn't realize it before but these days I think he's amazing. I heard that my son, who is just a little over four-months-old now, would turn his head to the TV when he heard my voice in "Pasta." He stops crying within five seconds when I hold him. He likes me more than his mom. (laugh) He's so beautiful. (shows photograph of son) This is how these things change you. (laugh)
Beck:
That's why your recent soy sauce commercial instills an image of you as a good dad but when it's on right after "Pasta," it had the effect of immediately ruining the fantasy we had of you as a lover. (laugh)
Lee:
Of the dramas that I've been in, "Pasta" was the one [Jeon] Hye-jin watched the most and had fun watching. She would always ask what happens next. And once she started to become absorbed with the drama as a viewer, she used to mention how much she hated seeing that commercial right after. (laugh)
Beck:
Because it's so realistic.
Lee:
Yes. That's why the staff of our drama used to make fun of me and say that was the reason we couldn't reach ratings of over 30 percent. (laugh) But I actually really like that soy sauce commercial. The president of that company and their staff, they're all like a big family and like a school... it's quite unique. It didn't feel like I was working when I recently was out on a promotional event. I exchange text messages with him from time to time... I really want to re-sign with them! (laugh)
Beck:
You should take a break since your kitchen is closed now.
Lee:
I'm looking at a couple scenarios but nothing has really hit the spot yet so I don't want to rush it. I do think it would be hard to work on two dramas in year but, who knows. I'm going to work out a bit this time. I have the painful memory of having asked to have a swimming pool scene taken out in the first two episodes of "Pasta" because I was just not in shape for it... (laugh) I also don't think it's good for me as an actor to settle for the fact that I'm married and let myself become the typical middle-aged man -- that it's not good to neglect my body as I have been doing. And I used to not think maintaining a physique by working out was that important but I now think I should be more prepared in order to be able to take on a larger variety of roles. It's not really about getting into shape but rather a test on myself. I want to try taking on the challenge for at least three months. Oh, now I'll only be able to drink once a week. (laugh)
Editor in Chief : Beck Una one@10asia.co.kr
Editor : Jessica Kim jesskim@asiae.co.kr, Jang Kyung-Jin three@10asia.co.kr, Lee Ji-Hye seven@10asia.co.kr
<ⓒ10Asia All rights reserved>