Interview with boy band MBLAQ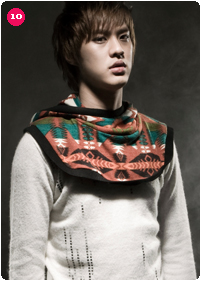 MBLAQ member Seung Ho [Lee Jin-hyuk/10Asia]
My name is
Seung Ho.
I was born on October 16, 1987.
I am the leader of the group and also the eldest.
I have a brother four years younger than I am.
And all my relatives are all guys too. Hence, I naturally grew up in an extremely military-like atmosphere where I was often the guy in charge. I think I've carried that personality into this group. The members who are younger than me don't mind it but I thank G.O. and Joon who listen to me despite being the same age as me.
The reason I was continuously picked as my class representative
was probably because I was smart? Hahahaha. I'm kidding.
All members of my group have blood type A.
But none of them show the characteristics of being the typical type A. If there really had been a narrow-minded person amongst us, I think one of us would be dead by now. But we all say what's on our minds if we get mad at each other, even if it is in an indirect way. Instead, I do think we all get hurt easily.
I graduated from Anyang High School of Art
but my mom had initially been strongly against me attending the school. My grandfather, who was set to undergo a big surgery, said I should at least be allowed to take the entrance exam for it and I got in with his support. I'm very much alike my grandfather and he said it was also his dream to become a celebrity when he was young.
When G.O. first joined our agency, rumor spread that a very good-looking guy had joined.
But I knew it the moment I saw him. The word 'mischievous' was written all over his face. Hahaha. I was waiting to see when he would cause trouble and he's been meeting up to my expectations so far. It's amazing to see the pranks he pulls off on the female trainees at our agency. Even if you don't know where it's coming from, if you hear a scream, that means G.O. is there. For sure. Hahaha.
The first, second and third most important points that Ji-hoon [Rain] stresses
is cultivating a proper human nature. He is always telling us that we can only succeed by being well-mannered toward others.
And when he's encouraging us, he always does so by giving us the examples we can easily relate to.
That even if we're having a hard time, we will be able to buy a house if we put on an extra smile while on stage and that we will be able to buy a car if we suck it up at an extra time.
I'm the type that will immediately put my thoughts into action.
For example, I'll sign up for an academy and think later about whether I did the right thing. And I can't stand it when there's a gadget that I want. I'll dream about it. But I won't be swayed by the i-Phone boom because I already have an i-Pod touch and a Blackberry. I don't like it anyways because you can't change batteries for it. Hahaha. But I control my desires better now than I used to in the past since there are times I'll want to buy hats or t-shirts although they are desires I can stand having.
MBLAQ member G.O. [Lee Jin-hyuk/10Asia]
My name is
G.O. My real name is Jung Byung-hee.
I was born on November 6, 1987.
I'm the same age as Seung Ho.
I had actually been thinking of debuting as a solo.
Being a singer is about developing your own capabilities so I wanted to become someone who shines with his own aura like Rain or Justin Timberlake. But I now really like the cool vibe we give off when all five of us walk together. I guess I could say I sort of have a new dream after becoming a member of MBLAQ.
Before joining this agency
I did a lot of research and auditioned after finding out that they would be creating a boy band. I was looking forward to seeing what the group would be like if Rain's performance was divided five-way. And we make up for each other's shortcomings in many ways.
I still go around showing off to people about the things I've done with Rain.
Even my parents still show off about the time they ate with him or when they went to Japan.
The celebrity I was most happy to meet was
Hwang Jung-min. I ran into him at the hair salon and I said hi and gave him our CD. I really like his film "Secret Sunshine"... It's a very special movie for me which I cried while watching with a guy friend at the movie theater.
I'm personally happy because I sing more in "G.O.O.D Luv"
I also made my voice sound coarse in "Oh Yeah" on purpose but it was better the clearer I made it sound with "Luv". I did have a hard time trying to put on a cute face with my moustache though. I wanted to shave it off but Rain said I should try and go with a single image during the first album so I've been trying to bear with it. I have wholehearted trust his taste.
Rain revealed a demonstration of the choreography for "Oh Yeah"
He really didn't have to... We felt even more pressured when our fans posted up the video in sync with a video of us dancing to the song but it was also good stimulus. I was amazed at how our dance looked when he did it and I think Rain must've posted it on the web to show fans how good of a job we did. (Seung Ho: It's common law that group dances should not be done alone. But the fact he could look so cool alone!) Mir: We practiced the choreography day and night while he managed to look like that after a few goes at it. He'd kill it if on top of that, he had really practiced the moves.)
The nicest out of the members is Mir.
He listens to us very well and never gets annoyed. Although we would not know what he might be saying behind our backs. I think I'd hate being the youngest amongst guys like us. Hahahahaha.
I'm actually the most mischievous in our group.
I'm such a goof that I can't stand being curious about something and I've always had everything my way. I pulled a lot of pranks on my younger sister in particular -- shooting BB guns into her room if the door was left open or I would pee in her room. I once also let crabs run loose in her room after catching them at the beach. Hahahaha. I know it may seem like I'm crossing the line at times but I'm just helping them discover their true self. No matter how quiet someone may be, their true personalities will come out when they're with me.
Reporter : Yoon Hee-Seong nine@10asia.co.kr
Photographer : Lee Jin-hyuk eleven@10asia.co.kr
Editor : Jessica Kim jesskim@asiae.co.kr, Lee Ji-Hye seven@10asia.co.kr
<ⓒ10Asia All rights reserved>