He is just 21 years old now. So it could be due to his youth, but Kim Bum is a young man with the face of a boy who never takes a break. Last year, he led the beginning of MBC TV series "East of Eden" and after spending the first half of 2009 working on KBS' "Boys Over Flowers", he finished filming "Emergency" and went straight to shooting SBS "Dream", which aired starting July 27. His new name is Lee Jang-seok, a pickpocket-turned-combative sports fighter. In a world where twenty-something actors complain about the lack of good work and producers about the lack of good actors, Kim Bum is a rare young actor who continuously works hard on his career. What has this young man, the one with a shining smile and passionate eyes, been up to lately? 10Asia met for an up close and personal interview with Kim Bum at the press conference for "Dream" in July.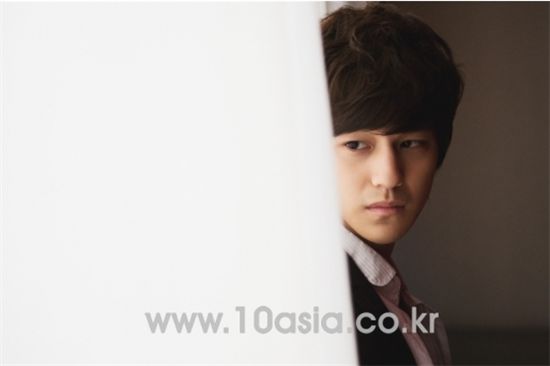 Actor Kim Bum [Chae Ki-won/10Asia]
10: Do you feel different after doing "East of Eden" and "Boys Over Flowers", in terms of your popularity, for instance?
Kim Bum (Kim): I actually don't really know because I'm always engrossed in my work. But I'm grateful that fans in Japan and other Asian countries have shown so much support for "Boys Over Flowers". And I feel that Korean fans have also become more active. The senior actors in "East of Eden" taught me a lot of things, and even till now, I call up director Kim Jin-man and the cinematography director to ask about things I want to know about acting. And I've become very close with the F4 brothers in "Boys" and Koo Hye-sun, who played Geum Jan-di, so we all got together for my birthday recently after wrapping up work early. I was disappointed that Kim Jun couldn't join us because he was working in Japan.
10: You must have had a lot of jobs offered to you after "Boys". Can you tell us the reason you chose to do "Dream"?
Kim: I actually had finished shooting "Emergency" in between the two dramas which I think is going to open around the Thanksgiving Chuseok holidays. "Dream" will be the first different role the public will see take on after playing So Yi-jeong in "Boys". I keep getting great parts, and some people might worry that I'm doing too much too fast, but it's not like that. I thought a lot about it before I chose to do it, and I tried to concentrate as hard as possible in a short period of time. First of all, I was attracted by the drama's portrayal of the world of professional athletes and sports agents. In fact, "Dream" is not so much a combative sports drama but a human story about one character meeting good people and how much he changes and grows through that experience.
10: Tell us about your character, Lee Jang-seok.
Kim: He has the nature of a fighter, but he is actually very soft-hearted and lonely. He grew up in poor family surroundings and his pickpocket father taught him how to pickpocket after making him quit middle school. He ended up going to a juvenile reformatory in place of his father, so he has a lot of wounds because of him. He is sick of his father, but he also longs for paternal love and so he acts tough in order to protect himself. He's similar to the character So Yi-jeong in "Boys", who looked dashing, cool and glamorous on the outside but also had complex family issues. Personally, I feel compassion for the two characters and there are aspects of them that I respect as an actor.
10: But this character is completely different from So Yi-jeong on the outside. (laugh)
Kim: Truthfully, I was pressured and worried that the fans who liked So Yi-jeong wouldn't be able to relate to this character. But now I'm so into Lee Jang-seok's character that all I can think of is how to express this guy. An actor has to keep changing and not settle for one image, so I hope the viewers will be able to free themselves of the fantasy of "Boys" and see me as actor Kim Bum. I can't live as So Yi-jeong of F4 forever, so I want to leave it as one of my great memories.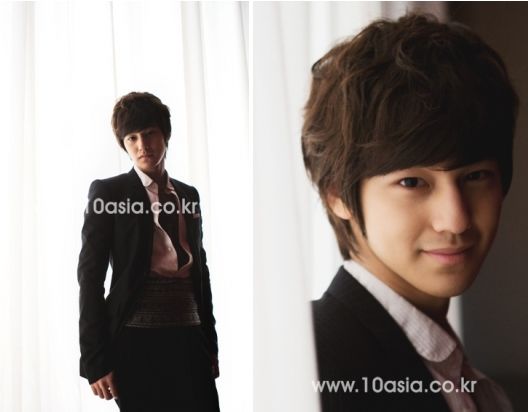 Actor Kim Bum [Chae Ki-won/10Asia]
10: What kind of responses have you received about your transformation in "Dream"? (laugh)
Kim: I actually hadn't really been aware of it, but on my birthday, somebody told me that I seemed colder than I was when I did in "Boys". I took it as meaning that I'm that much more into the character, so it was a good thing, but 'colder'? Come on. (laugh)
10: The process of transforming must be interesting -- turning from a pickpocket to nightclub waiter and to a combative sports fighter.
Kim: After he does serves at a reformatory in place of his father, he comes out and looks for a job but he can't find any because of his bad record. So he gets a job at a nightclub, gets caught up in a violent fight, and sports agent Na Jae-il (played by Joo Jin-mo) who was at the scene helps him debut as a combative sports fighter.
10: How did you prepare to play the role of a combative sports fighter?
Kim: I don't have much time to learn these days because we are shooting all the time. I did learn the basics from a real combat sports fighter before going into shoot. But no matter how hard you practice, everything changes once you actually go into shoot so we just go with the flow. I haven't filmed the fighting scene yet.
10: What's the atmosphere like on set?
Kim: I was in shooting in Ilsan until dawn and came down here and I'll have to leave for Japan again tomorrow for a press conference. It's a full schedule so everybody is tired, but Mr. Oh Dal-soo, who plays the father of my character, really livens up the set with his ad-libs. One time I was in a scene with my eyes closed and it was so funny just listening to his ad-libs that I started laughing and made a blooper. (laugh)
Reporter : Choi Ji-Eun five@10asia.co.kr
Photographer : Chae ki-won ten@10asia.co.kr
Editor : Jang Kyung-Jin three@10asia.co.kr
Editor : Lynn Kim lynn2878@asiae.co.kr
<ⓒ10Asia All rights reserved>