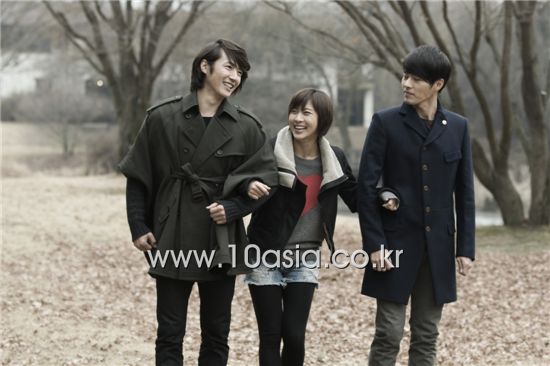 From left, actor Yoon Sang-hyun, Ha Ji-won and Hyun Bin take part in a press conference for SBS TV series "Secret Garden" held at the Maiim Vision Village in the Gyeonggi Province of South Korea on December 8, 2010. [Lee Jin-hyuk/10Asia]
썝蹂몃낫湲 븘씠肄
What does Kim Ju-won (Hyun Bin) think of his kissing scene with Oscar (Yoon Sang-hyun)? Of the phrases said by Kim Ju-won who has been swaying the hearts of female viewers on weekend evenings, which made Gil La-im's (Ha Ji-won) heart flutter the most? How will Oscar deal with the romantic relationship he develops with Sun (Lee Jong-suk)?
Like Kim's tracksuit did, SBS TV series "Secret Garden" is a show that arouses all sorts of curiosities and interest in its viewers. Of course, it is not easy to get a busy CEO, an A-class stunt woman and a Hallyu star together. So that may be why the press conference for the show with the three main actors, held at the Maiim Vision Village in the Gyeonggi Province, the so-called 'Secret Garden,' was relatively short.
But Hyun Bin naturally called Kim Sung-oh's character 'assistant Kim,' Yoon Sang-hyun constantly smiled at the reporters while occasionally throwing in a witty remark, and Ha Ji-won repeatedly said 'I'm having fun,' just like the cute female fan she turns into in front of Oscar. Below are excerpts from the press conference with the three.
Q: What do you each think of as the secret to the popularity of "Secret Garden"?
Hyun Bin:
I think it's the same reason I chose to take on this drama ? the fact that you can enjoy yourself with a light and carefree mind for an hour.
Ha Ji-won:
The script is very entertaining and the cast and crew of the drama have good chemistry on set so we have fun filming which I think helps make a good drama. And a lot of people have said our drama is most appealing in the sense that it makes their hearts flutter.
Yoon Sang-hyun:
I think the director has done well in capturing the heart-fluttering moments between a man and woman who fall for each other at first sight but Oscar will appear once in a while and act all funny to ease that tension so I think the drama has a way with the viewers in keeping them on the edge of their seats but letting that go at times. (laugh) It's also fun to watch each of the very distinctive characters and I think it's a drama that reminds viewers of their first love.
Q: Hyun Bin, right now you're probably as popular as you used to be at the height of your career. What do you think?
Hyun Bin:
I am? (laugh) More than anything, I think a lot of people are watching our show and I heard that they love the clothes I wear or books I read. I guess that's proof that I'm popular right now but honestly, I don't really know.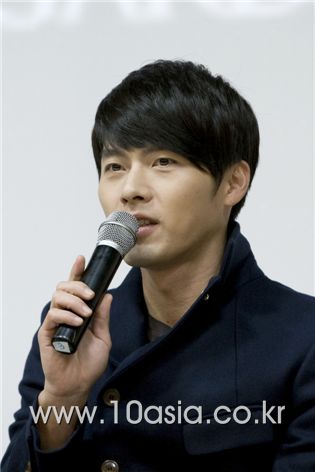 Actor Hyun Bin speaks at a press conference for SBS TV series "Secret Garden" held at the Maiim Vision Village in the Gyeonggi Province of South Korea on December 8, 2010. [Lee Jin-hyuk/10Asia]
썝蹂몃낫湲 븘씠肄
Q: Weren't you worried when you first read the synopsis for the show? The plot of a man and woman's body changing could have easily come off as being infantile.
Ha Ji-won:
I had always been curious about how bodies switch because I'm into fantasy. Before going into shoot, I felt that I'd have so much fun and even after our bodies have changed, I told myself that I'd be as serious as I can with my role without overdoing the acting because it has really happened to my character, no matter how much others think it's fantasy and fiction. But I realized that it really isn't an easy character to act and I guess I had been very stressed about how to portray her because I even dreamt about my body changing into that of a man's. But I've had a huge amount of fun with the filming.
Hyun Bin:
I chose this drama because it wasn't like any other character I had played before and I felt that I could show something new but it was much harder than I had expected it to be once we went into shoot. Portraying Gil La-im was more difficult in the seventh episode than the sixth, and even more difficult in the eighth episode than the seventh. Things were supposed to improve and be resolved but I got increasingly worried. It's so comfortable being Kim Ju-won again. And I had felt that I had used the best choice of acting and expressions for episodes six to eight but I realized that I had miscalculated a lot of parts as well when I later monitored my acting. So there are some things I'm disappointed about and other things that I think I did okay with. Moving forward, I don't know how the story will develop but if I get to change bodies with Gil La-im again, I want to remedy the parts I miscalculated and really be like her.
Q: What is the scene you remember the most from when your bodies were switched?
Hyun Bin:
I tried to express more of Gil La-im's feminine side than how she actually is because I thought I may just come off as another 'man' which I think I did a satisfying job of in some parts and disappointing in others. After transforming into Gil La-im, I got to shoot a lot of scenes with Oscar but she's usually acts more girlish in front of him so I remember the scene from the bedroom and when I kissed with Oscar in the fifth episode. How could I forget it. (laugh) In a way, it's a relief because I didn't have to deliver any emotion through the kissing scene and I felt less pressure since I didn't have to shoot the scene with an actress.
Ha Ji-won:
All the scenes I shot as Ju-won were difficult but fun. The scenes where I had to share a room with Ah-young (Yoo In-na) or be with assistant Kim (Kim Sung-oh) after our bodies had changed but nobody knew about it were a lot of fun, just for the situations themselves. Especially the scene where as Ju-won, I have to sleep in the same bed as Ah-young and get startled after looking at her body. (laugh)
Q: Are there any things that you realized about yourselves in terms of habits or how you behave after filming scenes where Kim Ju-won and Gil La-im switch bodies?
Hyun Bin:
I noticed that a corner of Ha Ji-won's mouth turns upward when she's expressing Kim Ju-won. That's how I had expressed him, in my subconscious, of when he's in a bad mood so the fact that she noticed that shows she had quietly studied my character a lot. (laugh) And for episodes six to eight, we acted out each other's lines for the other person so we could imitate that person's way of speaking. But it became a problem for us from the ninth episode onward, after we returned to our own bodies, because we had gotten used to the other person's form of speech and actions so we'd act our lines as the other person. (laugh)
Ha Ji-won:
I observed how Kim Ju-won speaks and behaves when I'm on set but it was still difficult for me. That's why I watched our show focusing mainly on Hyun Bin to see how he puts on his facial expressions, gazes at people, how he speaks, and how he moves, down to how he crosses his arms. I'd practice everything and when even that wasn't enough, I asked Hyun Bin to act out the lines I was having difficulty with. We sometimes laughed because I was surprised at how similarly he expressed my character to me when our bodies switched. (laugh)
Reporter : Choi Ji-Eun five@Photographer : Lee Jin-hyuk eleven@Editor : Jessica Kim jesskim@, Jang Kyung-Jin three@
<ⓒ10Asia All rights reserved>