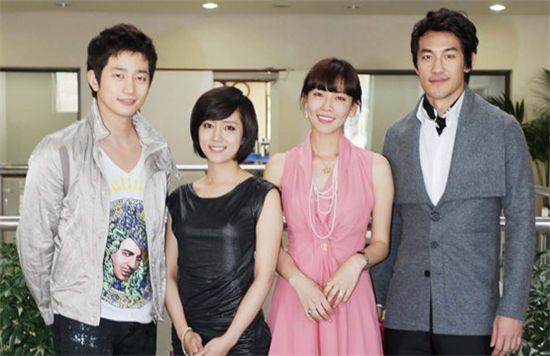 The cast of TV series "Princess Prosecutor": (from left) actors Park Shi-hoo, Choi Song-hyun, Kim So-yeon and Han Jeong-su [SBS]
Press conference for SBS TV series "Princess Prosecutor"
On the first week of the battle amongst Wednesday andThursday evening dramas by three broadcasting networks, SBS TV series "Princess Prosecutor" came in third in viewership ratings. But the figures are not the absolute criterion of how entertaining or well-made the show is and the transformation Kim So-yeon has made -- who played a female warrior in KBS' "IRIS" and came back as an innocent prosecutor Ma Hye-ri who has no clue about working in an organization -- is a success. The comedic acting by colorful supporting characters also catches the viewers' eyes. The district attorneys in "Princess Prosecutor" -- Prosecutor Ma (played by Kim So-yeon), Prosecutor Yoon (played by Han Jeong-su), Prosecutor Jin (played by Choi Song-hyun) and lawyer Seo In-woo (played by Park Shi-hoo) -- met with reporters at the press conference, held at SBS Academy in Ilsan on April 7.
Q: How do you feel now that the first episode has aired?
Kim So-yeon (Kim): I like it because I have been really wanting to play cheerful characters but I wasn't getting many offers to, and now I can change my image. When I ask my mom, "Do you like Sun-hwa or Hye-ri?", even she doesn't hesitate to say she likes Hye-ri because of her cheerful character.
Park Shi-hoo (Park): I really like my role because Seo In-woo is a charming character you don't get to see often, so I'm having fun shooting the show. I have gotten the nickname "Mystery In-woo" and I think it suits me well because people have been telling me I have a look that makes it hard for them to figure out what I am thinking about.
Han Jeong-su (Han): I felt good even though the ratings for the first episode came in last, I mean the third [out of three Wednesday/Thursday dramas that premiered on March 31.] A lot of people called me after watching the show and told me that it was the most entertaining. And after the second episode aired, I liked that our show was the only Wednesday/Thursday drama from the three networks whose ratings went up a bit. The whole show is entertaining but Prosecutor Yoon is so cool in it. Not me, Prosecutor Yoon! (laugh)
Choi Song-hyun (Choi): People say that the show is fun to watch because it's fresh and speedy. Even I feel that Prosecutor Ma Hye-ri's unique character is expressed in a pretty and appealing way, and the color of the film looks different. The ratings went up for the second episode, so wouldn't it keep going up in the future?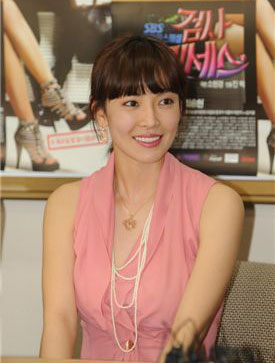 Actress Kim So-yeon [SBS]
Q: People are responding well to the acting transformation of Kim So-yeon and some are even asking if it is your real personality.
Kim: In my opinion, my character and I are alike in over 90 percent of our ways. Sometimes I say my lines in the way I talk in real life and show my real habits in the drama like using big hand motions when I talk. My mom, dad and friends have fun watching me, saying that my character is "just like me". But when she talks to grown-ups in an immature way, that is a little different from me! (laugh)
Q: You had a pretty long hiatus since starring in MBC TV series "All About Eve". But after appearing in "IRIS", you seem to be enjoying a renaissance, playing the title role in "Princess Prosecutor."
Kim: I have always had my concerns when it comes to acting, but back then I don't think I had the ability to make myself feel comfortable. I only thought about having to be comfortable in front of the camera, but even I myself can see that I was awkward and bad. I watched a lot of work by other actors and documentaries when I was on a break, and I think I have learned to let myself go after such hard times.
Q: You wear a lot of mini-skirts in the drama -- did you go on a diet for the show?
Kim: Actually, the muscles in my thighs didn't go away easily, so it was a little burdening to wear mini-skirts at first. But I worked really hard on getting my body into shape with things like a leg massage machine, almost to the point that I was shedding tears. (laugh)
Q: I heard that you suffered a lot of little injuries during the shooting.
Kim: For the dancing scene in the first episode, I had to crawl on the floor and so the bruises on my knees lasted for quite some time. And when I recently stayed up a few nights on a hill shooting scenes for the third and fourth episode, rolling on the ground and falling and getting beat up, I was covered in dirt from head to toe and got a lot of scratches.
Han: In the third and fourth episode, there is a scene where Ma Hye-ri gets into a dangerous situation and Prosecutor Yoon comes running from afar, in his white shirt and flapping neck-tie, beating up several guys and rescuing her. I've always had action scenes in every single drama that I have worked on and it is so exhausting and painful. And I didn't feel like doing them because when you sweat in cold weather, your sweat freezes and it feels even colder. I thought I wouldn't have any actions scenes in this drama but once I did them, it felt good and familiar like I was wearing the right clothes.
Q: Your character has various characteristics -- she loves designer goods, she is immature and daring. What do you think is the most representative trait of Ma Hye-ri?
Kim: Of course, there were days when I was so into designer brands that even I called myself 'shallow and vulgar.' But I observed my niece a lot to play my character. When you ask little kids, "Am I pretty? Or not pretty?", they answer honestly, "Not pretty!" but it doesn't make them less lovable. So I thought up my character as someone who seems to have no manners but is actually a bit clueless, like a child.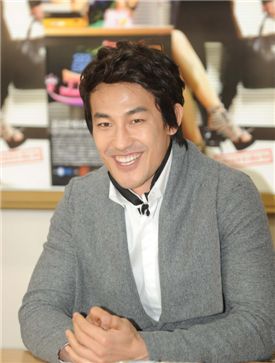 Actor Han Jeong-su [SBS]
Q: The dancing scene in the first episode stirred a lot of talk. Is it how you really dance, or did you dance awkwardly on purpose?
Kim: I actually tried to dance well. The script said that I was supposed to dance 'a sexy hip dance' so I was thinking about how I should do it. Then when I heard my mom laughing loudly in the living room, I came out and saw a young kid dancing to "Sonata of Temptation". I thought, "That's it" so I practiced a lot watching videos of [Korean pop singer] Ivy... I was surprised too when I saw the episode. I can't believe it came out like that! Haha.
Q: How did other people on set feel about the scene?
Choi Song-hyun (Choi): All the actors were so surprised because she showed off-the-wall charms of Ma Hye-ri so well. It is not easy for an actress to do something like that and somebody on set said, "That is either a truly masterful acting or she is dancing passionately for real." I think she did a very thorough analysis of her character.
Han: I used to dance a bit when I was in my early twenties and dreamed of becoming a dancer. (laugh) I don't dance now but I can tell if someone is dancing well or not. But when I saw that scene that day, wow, I thought.. I don't know what that is, she is either a genius dancer or a really bad one. I didn't know if she is such a good dancer that she was pretending to be bad, or if she really did her best but it came out like that. It was difficult to get my reaction shot because I was trying hard to keep from laughing. It didn't look (as bad) on the screen as it did on set, but it was really funny. But in the future, I think it would be better if she refrained from dancing.. (laugh)
Q: Choi Song-hyun, your father and sister are in the legal profession. Did they give you any advice or help you in playing a prosecutor?
Choi: My father used to be a prosecutor so I heard a lot of stories about his work, and my sister introduced me to a lot of female prosecutors around my age. I went to the district attorney's office and saw them working, like investigating suspects, and talked to them a lot. I watch the show at home with my family and my dad enjoys watching because it 's about his profession. My dad says that with the new generation, there are prosecutors who don't feel as committed to their job as the previous generation, and he likes that our drama sheds light on such aspects.
Reporter : Choi Ji-Eun five@10asia.co.kr
Editor : Lynn Kim lynn2878@asiae.co.kr, Lee Ji-Hye seven@10asia.co.kr
<ⓒ10Asia All rights reserved>