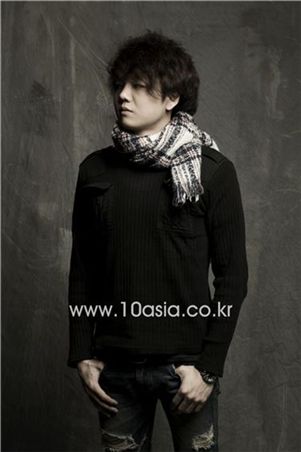 Koxx member Park Sun-bin [Lee Jin-hyuk/10Asia]
썝蹂몃낫湲 븘씠肄
10: Who was the happiest after your name was announced?All:
We all jumped up and down.
Lee Soo-ryun:
People who were there to perform or watch, they all gave us a weird look.
Lee Hyun-song:
It's because our name was the first to be called. If the first winners had gone out quietly, we would've done so too. But regardless, it was just such a huge prize for us and we were called first. We were screaming and jumping up and down, then feeling a bit awkward once we actually went up on stage. (laugh)
Lee SR:
The auditions were tough in particular that month. To the extent that I didn't dare think 'How did these guys get picked?' To think what it would've been like if we didn't make it or didn't sign up for it. We got really lucky.
Shaun:
We got picked for "Hello Rookie," then released our first EP in June... It feels like things moved forward easily. And thanks to that, the public has responded very quickly to us within the short time.
10: What was the audition itself like? You went for it because the audience signed you guys up for it but they must've been unfamiliar with your performance.Lee HS:
About 100 people came which is the largest number of audience we had seen. (laugh)
Lee SR:
About 60 to 70 people usually turn up when we perform at clubs. They didn't stand up and jump about or anything but they're eyes were saying, 'Oh my, oh my.'
10: It was actually surprising to see that a group which originated from a party would release an album. Wouldn't it have been enough for you guys to just have fun by performing at clubs and throwing parties?Lee HS:
When we first formed Koxx, our ultimate goal was to release an album. Of course, in the beginning, it was to become an indie band that performs regularly at clubs in the Hongik University area. But even if we perform at a set tempo everytime, it's bound to change. So it felt good to release an album because it felt like we finally had a sound source which would serve as the standard. Of course, it wasn't easy turning music for performances into a single sound source, but it didn't take long. Maybe about one or two months?
Shin:
You may think it's difficult to release an album after having only having performed but it was rather easy working on the album because we had done so many performances.
Lee HS:
It's just that we didn't know anything about recording so the producer taught us about that.
Park:
When the five of us talk about different things, the producer would mediate in between and sneak in his opinion as well, saying 'What do you think about this?' (laugh) Sometimes we'd follow his opinion or he's go with ours.
10: How have things been for you Shaun, having joined the group the latest? You're also the youngest and work with the synthesizer so you must've had a lot to think about in terms of tuning it with rock sounds.Shaun:
The reason I contemplated on whether I should join Koxx or not at first was because I was worried I would ruin Koxx's character. But once I joined, I realized things are the same with or without me. (laugh) I'm just kidding. In the beginning, I was very worried because I was under the notion that I have to 'coat' the rock sound with the synthesizer. Then I tried avoiding the rock sound and thankfully, both sounds came out well. It's something I need to keep thinking about.
Shin:
He's a junior we'd been eyeing because we were thinking it would be nice to have an electronic sound join our group since the rest of us are based on garage rock. We do electro rock now but like Shaun said, we thought we would be coating garage rock with the synthesizer and the two ended up clashing a lot. But tuning the sounds is one thing. I think even that became a bit easier to do after becoming comfortable with each other on a personal level.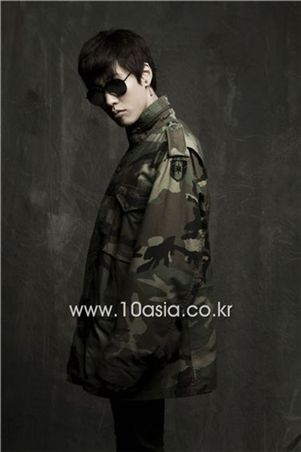 Koxx member Shaun [Lee Jin-hyuk/10Asia]
썝蹂몃낫湲 븘씠肄
10: When do you think Shaun and the rest of you started feeling comfortable around each other?Shaun:
Well, the thing is, hmm... I think we were very comfortable around each other.
Shin:
Starting two days ago? (laugh) I'm joking.
Lee HS:
At the end of last year? No. I thought, 'Oh? I didn't know he cares for me this much' while working on our EP album together this year.
10: Your title song "Over And Over" definitely seems easier to listen to than your other songs. Did you work on it keeping in mind the fact that it would be the title track?Lee SR:
For the first time, we made music for a reason. After making all our other songs, we realized everything contained too much character. And garage rock is actually a genre that the public isn't familiar with. That's why it's major.
Lee HS:
And here, by major, he doesn't mean indie versus the major music market but the genre. It's a genre that's cheerful and mellow and easy to listen to.
Shin:
We wanted to make a song that people could jump to. That's why when we set the tempo to the drum in the first part of "Over and Over," we stood up and tried jumping to it ourselves.
Park:
We had already finished working on the other songs.
10: You've become very busy after releasing your EP album including having to go to festivals, go on televisions and do interviews with media outlets. I'm curious to know what you guys were like back when your activities were surrounded around club performances.Park:
Back then we thought all we would have to do is not feel any pressure and just have fun.
Lee SR:
That's why we used to go on stage even after a bit of drinking. (laugh) And the audience has been drinking so we drank just enough to get us excited.
Park:
And then we caused trouble. We were supposed to perform at 2:30 a.m. but our performance got pushed back by an hour. So we were sipping on our drinks while waiting for our turn and then... We totally screwed up the show.
Lee HS:
I lent a helping hand in it as well.
All laugh.
Lee SR:
I was the only one who hadn't drank that day because I had taken some cold medicine. Had I drank as well, our performance would have not been able to take place at all.
10: Garage rock is actually a genre that Koreans aren't familiar with. In that sense, I think foreigners may have responded to your music more than Koreans.Lee HS:
What made us known publicly was the "Hello Rookie" but we were able to go from performing on weekdays to weekends thanks to our foreign listeners. At clubs, you get moved to performing on Fridays and Saturdays if the response is good. And foreigners were raving over our performances on weekdays so I think we went straight to performing on weekends after playing on weekdays just twice. (laugh) It's not like they help us promote online through fan clubs or anything but they respond great offline.
Reporter : Lee Ga-on Photographer : Lee Jin-hyuk eleven@Editor : Jessica Kim jesskim@, Lee Ji-Hye seven@
<ⓒ10Asia All rights reserved>