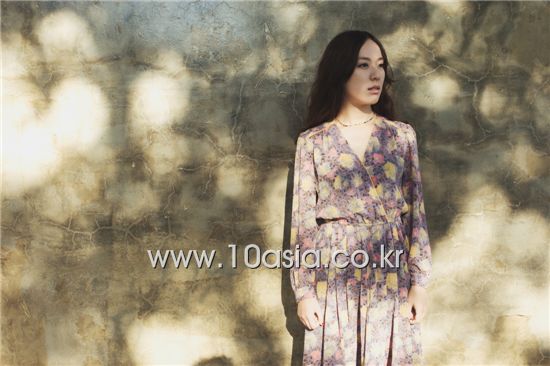 Yozoh [Chae Ki-won/10Asia]
Yozoh takes her time in getting things done. During her interview with 10Asia, instead of coming up with a well-polished speedy answer, this indie pop singer started by piecing the questions together first. "I'm not good when it comes to speaking," she says but it is that extra time which gives the interviewer the time to concentrate on who she really is. As she revealed how she much she loves to drink, how she laughed at others' dirty jokes and even laughed at herself for posting too many fancy pictures of herself online, it became easier to look past the facade of "Yozoh the singing goddess of Hongdae district" and see what Yozoh herself is really about.
10: You were invited to the Pusan International Film Festival (PIFF), the biggest film festival in Asia two years in a row with your first film "Cafe Noir (2009)" and latter film "Come, Closer (2010)." You must've become more used to being an actress now. (laugh)
Yozoh: The second time wasn't any easier. I felt a huge amount of pressure this time around as well. I'm familiar with feeling jitters from performing music because that is what I always did. But the pressure I get from acting goes far beyond that. Add to that, I had to travel to Busan so it became almost unbearable. It was so serious last year that I ended up rushing to the hospital in the midst of watching my own movie. Then I had to read all those articles saying 'Yozoh left in the middle of the premiere for her own film because she got bored.' (laugh). I had the same symptom this year so I was going to go afterwards but when everything was over I felt just fine (laugh). Because I still get so jittery before stage introductions and press conferences, I end up seeking a cup of beer beforehand. It's hard to just stand still and harder to pose for photos -- kudos to all the actors and actresses. I can already think of enough embarrassing photos I've taken but the number of those only continues to grow.
10: In film "Come, Closer" the omnibus love story of four couples, the segment that your part as Hye-yeong and your partner Joo-yeong, played by actor Yoon Hee-seok, went really well with the season. Having good chemistry must've been key to your segment since it was just you and him walking up the mountain decorated with rich colors of autumn.
Yozoh: Well, I guess there isn't much to say about the other movie [Cafe Noir] with director Jeong Seong-il because I didn't get to play much of a role there (laugh). But it was different this time because I had a partner to act opposite. And actor Yoon helped lessen the burden in a way. There was a part where we had to sing together and Yoon, despite having a different singing style because he was a musical actor, full-heartedly followed my style and was also very considerate when we were acting. He was my first male partner in acting and I have to say, I was more than lucky to have him.
10: Many people who watched the movie thought that the girl you played [Hye-yeong] resembled your real self a lot, being a musician and even performing on the stage just like you.
Yozoh: I think I identified myself a lot with Hye-yeong too. I couldn't help it because we were similar in age, had similar careers and even similar sentiments. Because she was kind of a nonchalant character, director Kim Jong-kwan told me to speak in my usual tone of voice. But I had trouble acting indifferent to Yoon's character who was nitpicking all the time like a spoiled brat. I'd have lost it if that was the real me (laugh).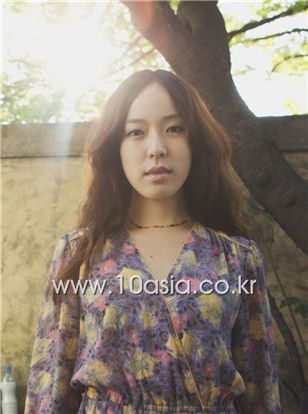 Yozoh [Chae Ki-won/10Asia]
10: Film directors do that, taking what they see in the actor and inject it into the character in the movie. What else did director Kim want you to maintain other than the voice tone?
Yozoh: Hmm… the crown of my head? (laugh) I have this habit of scratching it which always leaves the hair there disheveled. So before going into shoot, my coordinator would straighten out my hair but my hand would find itself to my head again during shoot. But the director liked it that way. He said I have now gone from being the singing goddess of Hongdae to the messed-up hair of Hongdae. (laugh)
10: The conversation that Joo-yeong (Yoon) and Hye-yeong (Yozoh) had showed how differently a man and woman view a relationship, leaving much for viewers to ponder on.
Yozoh: I stand by much of what Hye-yeong said. But I agree with the male side of the view too. Do all women like being in a relationship where they feel comfortable around the man? Not me. Joo-yeong is always pursuing something new, saying that it feels like she's known the other person for six years after spending just a single night with the man. I can identify with that somewhat although I would prefer that the man wouldn't think about me (laugh). It's the typical I-can-do-it-to-you-but-you-can't-to-me argument. (laugh)
10: You also participated in the music for this film. There must be a difference between doing your own music and working on a soundtrack.
Yozoh: When making my own music, of course the record company wants me to follow with the trend but I still do what I want. Yet in making the soundtrack, it has to strictly be focused on the film not to mention needing to get approvals from both the film and the music director. But I felt less lonely in regards to the process than when I make my own music. From writing the lyrics to composing the song, everything was done as if I was working a big band.
10: People can read you not only through your music or acting but also via online channels like websites and Twitter. Have you ever felt burdened by this?
Yozoh: I can't be completely free of that. And there are times when I feel like I'm putting on an attitude -- when I act like someone I'm not, for instance. When I get that feeling I refrain from writing in my diary, updating my Twitter account and web pages or whatever. But after I calm down I slowly go back to writing things for myself again. After all, I like it when people respond to my story and tell me their views. It helps to re-organize my thoughts and material even if there's still a bit of pretentiousness to it. It's even fun to pretend sometimes. For example I would upload some of my best photos online then write a comment below about how horrible I look - just to fish out a compliment or two that disagree with me. (laugh). Yes, I think I can be pretentious as well but fooling myself is another part of the fun to it.
10: You said you'd like to continue acting if there's a good role. Does that mean you'll keep doing movies?
Yozoh: I've only been in two movies so it may be too early to say anything. But so far I've learned that shooting a film is not something that goes as easily as you planned it to be and it is sometimes a choice which is not even mine to make. It got me thinking that making a movie itself has a character of its own. I feel like I have encountered two different individuals during my two experiences with film. If fate allows it, I'll be working on another film, if not, I won't be able to even if I want to -- it's just like encountering the love of your life.
Reporter : Lee Ji-Hye seven@Photographer : Chae ki-won ten@Editor : Heidi Kim heidikim@
<ⓒ10Asia All rights reserved>