"Cold revenge, fiery ambition, fatal love" The catch phrase for new SBS TV series "Bad Boy set to first air on May 26 is strong. The story of a man and a woman who dream of climbing the social ladder and the children of a conglomerate family who fall for their temptation. But at the press conference for this passionate melodrama, one could feel the charm of each actor which increased the anticipation for the show, rather than being a somber setting. Below are the excerpts from the press conference for "Bad Boy" with Kim Nam-gil (as Shim Gun-wook) who created the mood with his constant jokes, the well-mannered and honest Han Ga-in (as Moon Jae-in), the experienced 20-year veteran actress Oh Yeon-su (as Hong Tae-ra) and Kim Jae-wook (as Hong Tae-sung) who would give clear distinctive subjective answers to questions.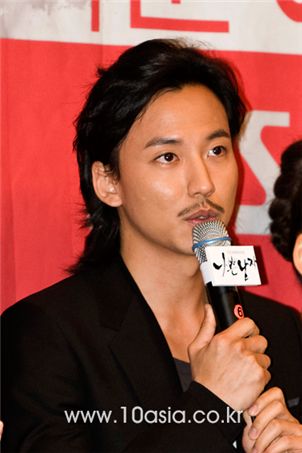 Korean actor Kim Nam-gil at the press conference for TV series "Bad Boy" [Lee Jin-hyuk/10Asia]
10: Character Shim Gun-wook is introduced as a 'Mr. Perfect.' I think it would have been inevitable to keep telling yourself that while in shoot. Was there anything in particular that you prepared for this character?
Kim Nam-gil (Kim NG): To be frank, Gun-wook is the type of person who has gained his abilities by working hard at them, instead of being someone who is just 'good' at everything, and they include things such as sky diving. I liked the action in "Queen Seon-deok" and "Lovers" and I enjoyed it too so I think people thought I was good because I didn't really pull back from doing such scenes. But for this production, I'm planning on focusing more on my acting abilities rather than such external elements. I think no matter what I do, I can't break away from my role in "Seon-deok" and it's a bit sad that I have to be talking about myself like that but I want to act with depth because this job doesn't accept excuses. It's the same for the other actors as well. Everyone is working really hard because Han Ga-in is returning to dramas after a three-year hiatus, I want to break away from my previous character Bidam, Oh Yeon-su wants to go beyond her role in "La Dolce Vita" and Jae-wook wants to break out of the gay image.
Han Ga-in (Han): I've been getting less sleep because the premiere date is just around the corner and I'm very worried because it's been three years since I've acted. I met with director Lee Hyung-min during the time I had kept thinking to myself that 'I have to do this now' and I really liked the role and synopsis of the drama, which was unlike any of my previous work and I decided to take the role after I found out Kim Nam-gil was going to star in it as well.
Kim NG: I heard that lately you've been regretting it...(laugh)
10: Your character Moon Jae-in was always first place in school and graduated from a prestigious college which fits right in with the image the audience have of you.
Kim NG: I think Han herself probably thinks that way too! (laugh)
Han: Ah...I did study hard with a goal of getting into a good school. So I agree. (laugh)
Kim NG: That is why there is this big gap whenever we talk. Han worked really hard in high school to reach her goals of going to a good school while as for me I'm far from that...
10: It seems that your character is not a 'pretty' one.
Han: I don't think she is a pretty person. The more I study her, the more violent she seems (laugh). To the point that I ask myself 'Is it okay if I do this?' But I don't have any worries about not looking pretty. I'm a lot different from how I look in commercials and I want to break free from that image.
Kim NG: It's a confidence that can only come from people who know they look pretty no matter what they do.
Han: Kim Nam-gil thinks that he is cool whatever he does! (laugh)
10: Oh Yeon-su, you mentioned you might want to break away from MBC's "Sweet Life," but in a way, the two shows could be seen as having similar flows.
Oh Yeon-su (Oh): It is same in that I fall in love with a younger man but it is completely different as well. My character Yoon Hye-jin in "Sweet Life" was a boring woman who loved her husband too much and lost her place. But Hong Tae-ra is a strong woman. She's the kind of woman who has never fallen in love and got married out of convenience but after falling deeply in love with Gun-wook she feels this emotion where she would be even willing to abandon her family and child.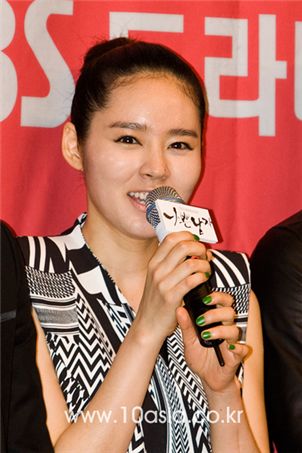 Korean actress Han Ga-in at the press conference for TV series "Bad Boy" [Lee Jin-hyuk/10Asia]
10: Kim Jae-wook, you play a strong character as well, unlike your previous roles.
Kim Jae-wook (Kim JW): The gay character I played had a much long-lasting effect than I had expected it to, to the point that I thought 'Did I really seem that gay.' (laugh) So I was looking for an opportunity when I was given this role. I would be lying if I said that I didn't feel any pressure about my gay image but it wasn't that bad. I felt it was more important to pull out what I have inside me through "Antique" and this production instead of trying to solidify my determination to break away from the gay image. The show is called "Bad Boy" and no one is certain whether Gun-wook or Tae-sung is the bad boy. It will be fun creating this character because there has never been a role where the two men are similar and different at the same time and who have worked with many women.
10: Gun-wook and Jae-in are determined to climb the social ladder and Tae-ra wants to love. What kind of person do you think Tae-sung is and what does he want?
Kim JW: I think the most important thing that Hong Tae-sung wants and needs in life is love -- he is desperate to be loved by a family in particular. But he is unable to obtain love no matter how much he desires for it and causes trouble like an attention-deprived child by expressing it in extreme ways like biting everything, similar to a dog that is left home alone. That is why those around him grow further away from him and that is when he slowly begins to approach the smart and charming Jae-in who is unlike any of the other girls he has met in his life. Of course Tae-sung doesn't know that is was set up by Gun-wook and I think unconsciously he believes that through Jae-in, he can heal himself and be able to show his family a new image. He's not the kind of person who calculates things so in the long run, I think he just wants love.
10: I recently heard that during the shoot, Kim Nam-gil and Han Ga-in were sick.
Han: I was rushed to the emergency room during the shoot because I had a very bad stomachache and then I heard two hours later that Kim Nam-gil was diagnosed with having a hernia. I heard he hadn't even been able to walk properly and it would have affected our shoots if we were in the latter half of drama but it hurt before we started, as if I had the measles.
Kim NG: The director and cast had been hoping to make a film-like drama but things are busy on set because the premiere date has been moved up and Han and I were sick. And it was when I had my hernia that I was invited to attend Jang Dong-gun and Ko So-young's wedding. I couldn't not go because they called me directly to invite me to the ceremony but if you see the pictures I have a scowl which made it seem like I was jealous of them. (laugh)
Reporter : Choi Ji-Eun five@
Photographer : Lee Jin-hyuk eleven@
Editor : Lucia Hong luciahong@
<ⓒ10Asia All rights reserved>