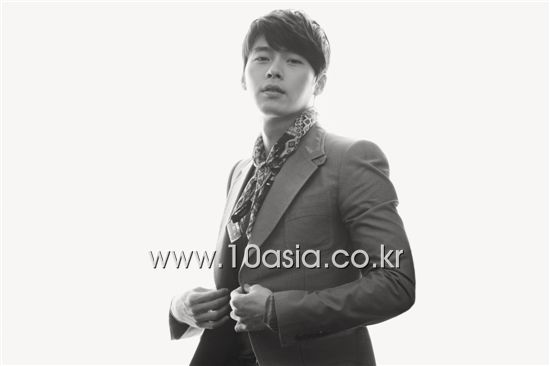 Hyun Bin [Lee Jin-hyuk/10Asia]
When asked to express what color film "Late Autumn" is, Hyun Bin answered 'grey.' Partly because the movie is set in a foggy or rainy Seattle but the emotions portrayed by Anna (Tang Wei), who has shut herself off from the world after suffering from pain and loneliness, sometimes feels like a plastered wall. Hoon (Hyun Bin) is the one that squeezes in through the cracks of that wall and shakes her. In every scene, Hoon will smile, make jokes at and run the streets of Seattle, with Anna who will not answer to him nor show any emotion. Their encounter is a brief one but Anna comes to hold a memory that will last her a lifetime due to Hoon.
"Late Autumn" did not leave much space for Hyun Bin to show his acting. He does not stand out from the beginning of the story, being the one that is always the partner of Anna who plays the critical role to the movie. But he gains presence with every smile he shows to Anna and then kissing her with mournful eyes, to become embedded in the viewers mind. And that is not just because of Hyun Bin's gorgeous looks. Hyun Bin depicted Hoon as someone whose sincerity you will have to question even when he smiles. He is a male host who makes others laugh in return for money so one is left to wonder what the truth is. Below are excerpts from the press conference for "Late Autumn."
Q: The film is being released about a year after it went into shoot. It must feel different watching the movie again.
Hyun Bin:
The first time I watched it was at the Pusan International Film Festival which is when I was hoping for it to get released. It felt like my acting would become outdated with time and I think I would produce something different if I got to film "Late Autumn" again now. Of course, in a way, it may be better that it's getting released this month because there'll be an effect on the number of moviegoers it attracts. The problem is that they'll be going because of "Secret Garden." (laugh) I'm hoping that won't have a negative influence on watching the movie. And I don't know for sure but I'm pretty confident. I'm hoping it'll have a positive effect. (laugh)
Q: What did you pay the most attention to in creating your character Hoon?
Hyun Bin:
Hoon is as closed off as Anna. He has issues at home and feels hurt and lonely over his situation but he still thinks of Anna before himself. I think it's because he's a host which receives money from the other person and does whatever that person wants to keep her happy. It was Hoon's goal to be like a gift to Anna.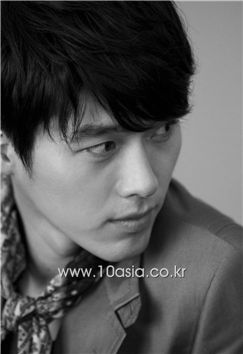 Hyun Bin [Lee Jin-hyuk/10Asia]
Q: Tang Wei said yesterday that both you and Hoon are like angels. How was it working with her?
Hyun Bin:
There were things that were more difficult to deal with at first because of our cultural and linguistic differences. There were many walls we had to overcome but we became close while working as Hoon and Anna. Hoon constantly comes up with ideas to talk to Anna and make a move on her and in the process, we became close enough to play pranks on each other. Tang Wei is an actress who immerses herself extremely deeply into her roles so she probably said I'm like an angel because she felt that Hoon was an angle. (laugh)
Q: Actor Kong Hyung-jin called you a 'straw' on television because he said you are good at absorbing the strengths that other actors have. Which abilities of Tang Wei's would you want to absorb?
Hyun Bin:
There's a lot of things I want to take from her. But it's not like I can suck them out of her. (laugh) I want to learn how she immerses herself so deep into her character. Even when we were just reading our lines, we had to stop mid-way because she would actually cry in the parts she has to show sad emotions. She said she wants to learn how to act in a stable manner but there were many moments I became astounded by her movements or the way she acts out her lines. I want to learn the instantaneous power she gives off.
Q: It must've not been easy, as the leading actor of the movie, to adapt to a set with an unfamiliar co-star and space. We heard you went to Seattle before the movie cranked in?
Hyun Bin:
I went in advance because I wanted to do well. I was going to be working on a set where over 90 percent of the crew was from a different cultural and linguistic background from me so I wanted to narrow the gap by learning their culture. I went to the office of the production company as if going to school to learn English and I constantly did work related to the movie. For about two and a half months I talked with the director about the movie, I translated the script into Korean, added touches to my lines and then changed them back into English. I also talked to Tang Wei about a lot of things so that we could rid ourselves of our differences.
Q: You're famous for putting a lot of effort into choosing a project ? it's not easy to decide to work with some of the most famous scenarists and directors in TV and film in your twenties. How was it working with director Kim Tae-yong?
Hyun Bin:
Director Kim is someone who is greedy in a nice way. And he speaks similar to me, quietly and slowly. But even with his slow speech and smile on his face, he ends up producing what he wants because of his affection for his work. The American system is different from that of Korea's so you can't film for more than 12 hours in a row. I know for a fact that Kim didn't wear a watch in the beginning but he did starting from a certain point onward. I felt sorry for him having to do that but he managed. And he's very delicate. Even after we finished making the movie in Seattle, he did post-production work on it for a very long time when we returned to Korea. He constantly edited it and worked on it all the time. I was told that the version you see now is different in music and edits from the version that was shown in the Pusan International Film Festival. He's amazing.
Q: Are there any changes or additions you made in terms of your lines or the scenes when you were on set?
Hyun Bin:
We made the script together, from the very beginning. After reading the English script the first time, we change the lines so they would suit Hoon's personality. Hoon is someone who hasn't been in the U.S. for a long time so we looked for words he would use at his level and expressions someone with his job would use. Then we translated everything back to Korean and changed them again, keeping in mind what I would have said if I was in his shoes. Then we translated each and every line back into English with a scripter. Even with rehearsals, we worked on each and every point, as if we were rehearsing for a play. We discussed on the scene in the bus in the beginning of the movie with me, Tang Wei, the director, cinematographer and art director in chairs that had been arranged to resemble the inside of an actual bus. We started by checking on whereabouts we'd sit. We only had 12 hours to shoot each day so we could only shoot at ease by being ready to completely.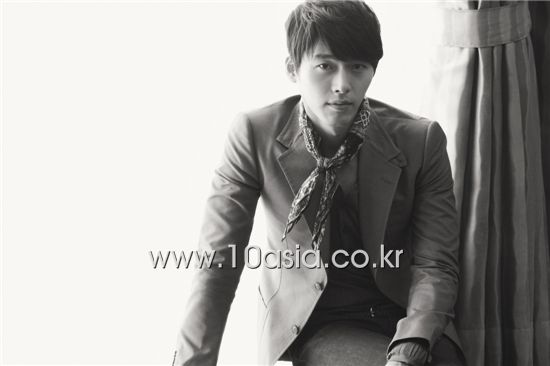 Hyun Bin [Lee Jin-hyuk/10Asia]
Q: You started acting when you were in high school and have now become an actor with eight years of acting experience. Do you have a personal theory when it comes to acting?
Hyun Bin:
I'd be able to approach acting more easily if there was an answer to it, like math, but the fact that it has no answer is most difficult. But I'm increasingly feeling the joy that comes from acting these days. My goal is to become an actor who does not regret on what he see of his own acting while monitoring it. After I act out a scene, for which I'm sure I've done my best, I'll go to the monitor to see it but my first question is always 'Why did I act that scene like that?' So I'm wondering when I'll be able to think 'This'll do it' while looking at the screen.
Q: It seems like you're seldom satisfied with your own acting. You seem to be greedy to do well.
Hyun Bin:
I am. And in a way, I'm also very selfish. But I want to be. I think I need to be. There's money on the line [from investors] and people who watch the movie so I think it would be irresponsible of me not to be greedy. That's the only way I can hold my head up.
Q: Your popularity is at its peak again with the success of your drama "Secret Garden" which was your first romantic comedy after MBC's "My Name is Kim Sam-soon" in 2005.
Hyun Bin:
I've always worked on the projects I have wanted to. And those decisions were of course made on the fact that I felt many people would enjoy watching those projects but while some have done well, some have not. This made me wonder whether I had made the wrong choice or if the choice I made was not what the people were waiting for in seeing in me. I came to realize that other than "My Name is Kim Sam-soon" and movie "A Millionaire's First Love," I had always taken on projects that make people think afterwards. So I thought that maybe I should do one that is light and cheerful when I was asked to do "Secret Garden." That's why I chose it but some articles say, 'I did what my fans wanted me to do' or 'I've done what I've always wanted to do so this time I'll do one that you guys want.' That's not true though. A lot of things just worked for me.
※ Any copying, republication or redistribution of 10Asia's content is expressly prohibited without prior consent of 10Asia. Copyright infringement is subject to criminal and civil penalties.
Reporter : Lee Seung-Han fourteen@Photographer : Lee Jin-hyuk eleven@Editor : Jessica Kim jesskim@, Lee Ji-Hye seven@
<ⓒ10Asia All rights reserved>