MBC's "Dong Yi-Jewel in the Crown" is a big obstacle for new dramas "Giant" by SBS and "The Nation's Orders" (tentative title) by KBS that are premiering next Monday. "Dong Yi," which took off to a slow start with low ratings, has solidified its position after the airing of several episodes to see its ratings breach the 20 percent mark. The drama full of distinctive characters including Chun-soo (Bae Soo-bin), Dong Yi (Han Hyo-joo) and Jang Hee-bin (Lee So-yeon) have been main driving force behind the show's recent surge in popularity. Below are the excerpts from the interview on the open set of "Dong Yi - Jewel in the Crown."
10: At the first press conference, you were worried about the cold. How is the weather now?
Jung Jin-young (Jung): It's the same as it was before. The weather was below zero two weeks ago.
Korean actress Lee So-yeon (left) and actor Bae Soo-bin (right) [MBC]
10: Doesn't Chun-soo have the hardest time, even though the rest of the cast has a rough time too.
Bae Soo-bin (Bae): The most difficult scene for me was when I fell from the cliff. In the show the shot of me falling only lasted for 5 to 6 seconds but we had to re-shoot the cliff scene because we had to shoot me falling into the water and it was all done on the water set at the Magic Studio in Ilsan. Because the fog wouldn't clear up for two days, we also had to climb up to shoot for an extra day because the cliff was at the peak of the mountain. So it took a good three days to film that scene. That is the most memorable moment.
10: Ji Jin-hee said that "Chun-soo is most scared of the passages in his script." Is this true?
Bae: Even in scenes where I appear after having disappeared, I have to emerge from water. I immediately went into the water after obeying to him where it said, 'Scoop out from the center of the water.' But I knew what I would be getting myself into when I had decided to take on my character so I emptied my mind when I shot the scene.
10: The actresses must experience a lot of difficulties too such as not being able to remove their make-up. Their fatigue shows on the screen too.
Lee So-yeon (Lee): For me personally, this is the least busiest drama that I've done. But I normally don't sleep a lot at night and I haven't had to shoot overnight so it's upsetting to see how my fatigue shows on screen.
Park Ha-sun (Park): I have been drinking pumpkin and ginger juice because my face gets bloated easily. That's how it hasn't bloated to the point of me becoming upset.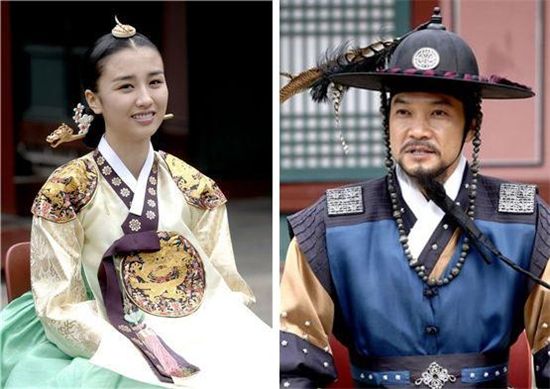 Korean actress Park Ha-sun (left) and actor Jung Jin-young (right) [MBC]
10: How do you spend most of your free time stranded on set here in Yongin?
Lee: It feels very comfortable on set and we spend our free time talking with one another. It's the most fun when we spend time together.
Park: I usually sleep or memorize my lines. Right now I'm trying to become close with Lee Kwang-soo because ever since I've watched "High Kick 2," I've wanted to become his friend.
Jung: To be honest, the shooting itself is the hardest part. Nothing is as fun as being on set. I like everything about being on set minus the shoots. (laugh)
10: Fourteen episodes of "Dong Yi" have been aired so far. What are your thoughts on the filming so far?
Lee: I was worried a lot at first. I think it's because the public recognizes Jang Hee-bin as someone who has a very strong personality, but the Jang Hee-bin that I portray is different from that. I'm relieved that my acting has been received well by the viewers because I was worried that they might see it as a problem in my acting. I have much more to show the audience and I think a new type of Jang Hee-bin may emerge.
Jung: This drama is fun even in my own eyes. I think towards Dong Yi, I will always be someone who is soft and help her out as an assistant to a historian. So far, a lot of stories have been played out but I think they will become intense until they reach a peak.
Park: I was glad to have shown a differently interpreted Queen Inhyeon . It was refreshing to show a queen who is tenacious and can scold meanly because before, the audience was used to seeing the nice and tender queen. I almost cried when I received good responses. I will continue to show the humane qualities of Queen Inhyeon and also more of her toughness. In the end, I hope she dies a good death.
10: Does that mean Queen Inhyeon's death is imminent?
Park: There is not much time left before she is dethroned. The producer explained beforehand that there will be a dramatic scene regarding the 'upcoming dethronement.'
10: Lee So-yeon, what kind of death do you think best fits your character Jang Hee-bin?
Lee: An extremely cool death. The original Jang Hee-bin dies after having been a spiteful character but I think the Jang Hee-bin that I play will die a different kind of death.
10: Some say that Jang Hee-bin is similar to Mi-shil from "Queen Seon-dok."
Lee: Jang Hee-bin is different from Mi-shil. They are different because Mi-shil is the kind of person who reveals everything on the outside through her expressions and speech, while I think Jang Hee-bin will become the type that calculates everything on the inside and then torments Queen Inhyeon.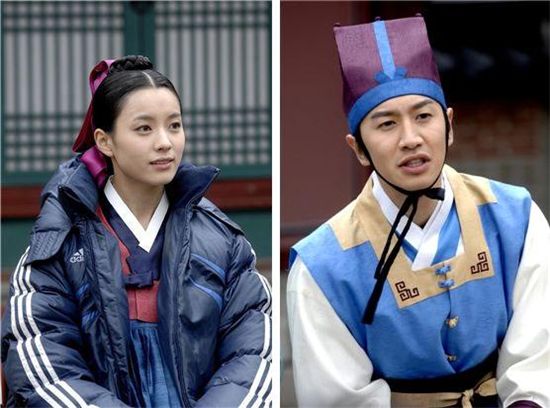 Korean actress Han Hyo-joo (left) and actor Lee Kwang-soo (right) [MBC]
Q: Producer Lee described Dong Yi as a Candy-like person, in the sense that she is always cheerful and plucky. What kind of character do you think she is?
Han: Someone who doesn't calculate. She is so innocent that in a way, it could seem that she lacks in concept, so I'm trying my best to bring out the vibe about her that she puts in her best for every moment of her life.
Q: Lee Kwang-soo, this is your first time appearing in a historical drama. How has it been so far?
Lee Kwang-soo: In the beginning I felt a lot of pressure and worried over whether I would do a good job. But my seniors have taught me a lot and helped me to feel more at ease so I'm enjoying myself these days.
Lee Hee-do: I've been surprised a lot while [acting] with him. I'm rather the one that's learning a lot from Kwang-soo these days. (laugh) He will take the lead at the most unexpected moments. Even in the scene that we shot just now, we were supposed to cry in each other's arms but he even knocked me down. I was surprised.
Q: When we look at your acting, it seems as if you thrive on making ad-libs. How often do you use them?
Lee Hee-do: I use them a lot. Even the producer expects us to use them after we finish acting out our lines so he keeps the tape rolling. I'm on the edge for every scene we shoot these days though because the ad-libs are on Kwang-soo. And he'll throw completely unexpected ad-libs, not the obvious.
Lee Kwang-soo: He knows he can do them but he gives me the chance to shoot mine.
Reporter : Lee Gaon thirteen@
Editor : Lee Ji-Hye seven@, Lucia Hong luciahong@
<ⓒ10Asia All rights reserved>