She was once nicknamed "Randy Shin-hye (Randy Jackson + Park Shin-hye)" for the left-handed fastball pitch she threw as the first ball at a game in 2006. Between her as "Randy Shin-hye" and an actress, and the reason why viewers can quite easily close in on the gap between the Go Mi-nam in SBS TV series "Minamishineyo" as a girl in disguise as a guy always causing trouble versus the main lead actress stuck in a love triangle, is because that is who the true Park Shin-hye is. That is why 10Asia's interview with this girl -- one who is more delighted to watch the Korean pro baseball series than eat dinner after an overnight shoot -- was that much more delightful. Below is the conversation with the 20-year-old actress who, better than anyone else, knows where she came from and where she is headed.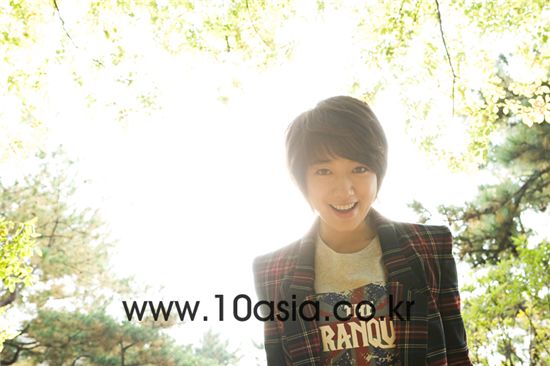 Actress Park Shin-hye [Chae Ki-won/10Asia]
10: You were in shoot early this morning. What was the scene about?
Park: It's a scene where Mi-nam becomes heartbroken after U Hae-ee and Tae-kyung become officially recognized as a couple at U Hae-ee's film premiere. I know we were in shooting but I sort of felt a bitterness too -- I think I'm really becoming assimilated with my character. (laugh) And Uee is so pretty and beautiful that I really do think 'Wow, all guys must really like pretty girls like her'. Even the staff on set don't see me as a guy anymore. (laugh)
10: But the reaction from female fans are hot. (laugh)
Park: I'm lucky. There can be anti-fans when there is one female actress amongst four actors but I think "Minamishineyo" is getting good response because it's about a story where a girl tries to live amongst guys as a guy. I recently was in Gapyeong for a shoot in front of a high school and I had fallen asleep while waiting for my scene when I heard several hundreds of girls scream at me. And they were shouting "Mi-nam oppa! (a title girls use to refer to older guys)" They weren't calling me "Shin-hye unni! (a title girls use to refer to older girls)" Oh, but that doesn't mean I don't have anymore guy fans. I was once shooting in downtown Seoul when businessmen in suits recognized me and said I was cute which made me feel good. Another man I met while shopping for props for the drama, remembered me from the first episode and called me a nun. I was happy because he said he enjoys watching the show.
10: Your character though, is actually very different from what we had expected her to be like. How did you approach Mi-nam's character who is a girl in man disguise but is actually not even manly or easy going in personality?
Park: I think that's because of the images that were fixed from previous dramas where women disguise as men. There actually are a lot of feminine guys too, even amongst my own friends or stylists and artists that I know. So if I pretend to be a guy, it doesn't mean I have to be manly and my character is originally very ladylike so I thought she would become someone different altogether if she suddenly became really manly. The producer and writers too thought that I need to pretend to be a guy, not actually become one, so they asked that my tone of voice be somewhere in the middle where it would be bright as a girl but not too low or boyish as a guy. That was really hard (laugh). I know the viewers probably also thought my character was weird in the beginning because they've never seen anything like it before but I think they've come to like Mi-nam for who she is and start to understand the character.
10: What's the atmosphere like on set? You're acting with actors your own age in comparison to other dramas these days where the average age of actors is pretty high.
Park: A lot of things which would never happen on other sets happen on ours. (laugh) It probably would've been quieter if our seniors were here but we make a lot of bloopers because we laugh a lot. (laugh) If one person thinks of the prank he played on another person and his lips start quivering, then the other person will go off and start laughing. And each character has his or her own lingo which we keep copying and that really sets us off.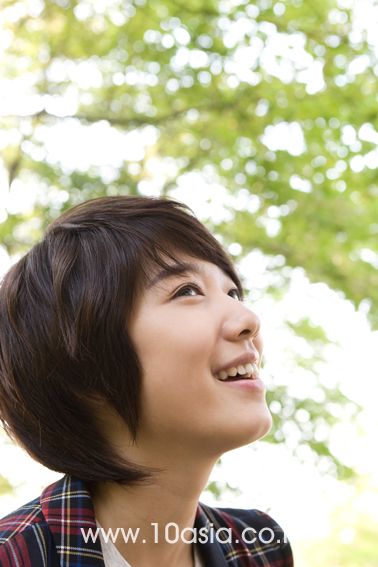 Actress Park Shin-hye [Chae Ki-won/10Asia]
10: The scene where you danced a parody version of Girls' Generation's "Genie" in the epilogue became a sensation.
Park: We shot various versions for Girls' Generation, 2NE1, Roo'ra etc all in one day. If you look at it closely, you'll notice that the choreography is wrong in parts. (laugh) Oh, by the way, I did Jung Yong-hwa's make-up for "Genie" as well as mine. I thought the guys wouldn't put on make-up but Jang Keun-suk and Lee Hong-ki were so I told Yong-hwa that I would turn him into Tiffany and used pink eye shadow on him. How everyone looked so pretty!
10: Wasn't it difficult becoming close with your fellow actors as the only actress?
Park: It wasn't as hard as I thought it would be. I have an older brother at home and my cousins are mostly guys so all my memories from my childhood are of me playing soccer, basketball or tetris with them. I think that's why I have a lot of guy friends at school too. Both Jang and Park are quite friendly and Lee was a little shy at first but everyone soon became surprised at how quickly we became friends. He says he's not even worried about being misunderstood as dating me even if we went on a trip together! It's sort of sad in a way. (laugh)
10: You had shot a TV commercial with Jang before and you're working with him again. It seems that you two seem to hold the drama together.
Park: I think Park is probably doing it better than I am. He's very playful and likes to pull pranks but is also very sweet. You'd think he'd be more individualistic because he's very ambitious about acting but he is good at controlling the atmosphere on set and takes good care of the team. I think I know why so many producers and writers like him so much. And I get goosebumps when I see him concentrate. I guess we do work together pretty well. When he throws lines at me which weren't in the script, I'll throw lines back at him and our acting will keep flowing. I think he knows how I'll respond to what he does.
Reporter : Choi Ji-Eun five@10asia.co.kr
Photographer : Chae ki-won ten@10asia.co.kr
Editor : Jessica Kim jesskim@asiae.co.kr, Lee Ji-Hye seven@10asia.co.kr
<ⓒ10Asia All rights reserved>