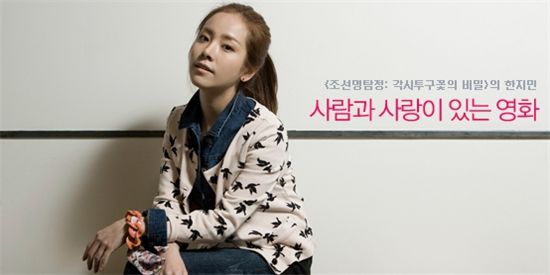 Actress Han Ji-min [Lee Jin-hyuk/10Asia]
썝蹂몃낫湲 븘씠肄
Han Ji-min is a kind person. So was the character Song Yeon she played in drama "Yi San" (MBC, 2007) and her character Oh Yeon-ji in "Cain and Abel" (SBS, 2009). Han took part in various voluntary activities whenever she got the time to and published her own book that described her experience with children living in the wilderness of the Philippines. She then donated all the royalties to educating children of the third world. But a life that could be summarized as being good and pure may seem beautiful but hardly interesting. And just when people just started to believe they know Han well enough - as being a nice, pretty young lady who is a role model to all -- her acting career took an interesting curve with the latest film "Detective K: The Secret of Virtuous Widow" (2011).
In "Detective K," Han plays a role of a woman named Han Gaek-joo, the head of merchants whose mind remains obscure to everyone. Just by heightening her voice by half an octave and erasing the usual warmth contained within, the familiar image we have of Han drifted off into oblivion. "It's the kind of role I've never done before, luring men with my beauty and seeming strange and mystical. I decided to take on the role because I was taken by her charisma," Han said. But instead of stressing on the sexiness or charisma her character held, Han interpreted Han Gaek-joo as being an enigmatic figure who continually confuses the detective. "In a way she looks like a villainess and she also displays charisma but the most important part was who she was inside. The process of making Gaek-joo into someone that keeps the detective -- acted by Kim Myung-min -- constantly in question was much more fun. I agonized over what tone of voice I should use to keep someone in constant curiosity and suspicion." This may be part of the reason -- aside from the good script -- Han Gaek-joo was able to avoid becoming the typical femme fatale and instead turned into a lot more interesting figure that leaves characters wondering till the last minute.
Han has been off the screen since the SBS series "Cain and Abel," only to return with the most interesting role possible. When asked what inspired her to take the role, Han attributed it to 'fate.' "It's not that I hadn't been preparing to take on other roles. There were just roles that ended up not working out when circumstances weren't good and I'd end up going on a break. I didn't feel very comfortable about that. But I believe that if it weren't for such change of events I would not have been able to take this role. Just like it is fate to meet certain people in life, I think there's fate when it comes to roles too. It made me feel like this was the reason I went through that time." Explaining that she treasures each encounter made through her work as well as her relationships with other people she makes there, Han also highlighted the same point for the five films she chose in particular, describing them as "movies about people and love." So here are those movies which are filled with good people which may make the films obvious choices but are too interesting to miss, just like actress Han, herself.
1. "Love Affair"
1994 | Glenn Gordon Caron
"It's a film I saw with my mom. I like the calm flow of music and the imagery so much that I still like it despite having watched it repeatedly. The two people fall in love with each other although engaged to someone else. But then I wondered if their love is good simply because the main characters were played by Warren Beatty and Annette Bening. (laugh) It made me wonder what choice I would make in a situation like that and gave me a few things to think more about love. The two actors actually married each other."
Playboy Mike Gambril (Warren Beatty) meets beautiful Terry McKay (Annette Bening) during a forced landing for a flight. The attraction that began like a flirt develops into something of a fate as they fly together to Tahiti on a Russian passenger ship. The two lovers promising to meet up at the tower of Empire States Building three months later may look cliche but desperate as well for what they are facing is an uneasy decision. The movie actually succeeded in bringing together the real Hollywood playboy Warren Beatty and Annette Bening through a real marriage.
2. "The Blind Side"
2009 | John Lee Hancock
"It's a film based on a real story. You see, I was always interested in welfare and that was why I majored in the department of social welfare. I was quite impressed with this film. The mother played by Sandra Bullock looked truly amazing. I'm also very much interested in babies and adoption but I had to wonder whether I could show as much love as she did. It's the case where love has triumphed."
A night before the Thanksgiving, Leigh Anne (Sandra Bullock) sees Michael Oher (Quinton Aaron) who is heading toward a gymnasium wearing only a short-sleeved T-shirt. Michael who was forced to separate with his drug-addict mother when young, had been moving from one family to the other since then. He had talent for football but no place to sleep. Leigh Anne and her family who were enamored by Michael's innocence, came to claim themselves as his legal guardian and helps with his study and football practices. Sandra Bullock who took the role as mother Leigh Anne, a woman with a strong character, won the Academy Award for Best Actress with this movie.
3. "La Vita E Bella"
1997 | Robert Benigni
"The love the father showed to son and his wife in spite of plight and hardship was beautiful. Two weeks ago I became an aunt. I always thought I wanted to be a good mother but after seeing my sister giving birth, I was left to think once again, what a big responsibility it is to become a parent. So when 10Asia asked me to recommend a movie, this movie 'La Vita E Bella' which portrayed a father's love came to my mind right away."
Guido (Roberto Benigni), the good, easy-going fellow managed to make Dora (Nicolette Braschi) his wife through consistent persuasion and also got a son. Guido who was dragged to the Nazi concentration camp with his family, tries to instill hope into his son Joshua by explaining to him that the given situation is all part of a game and the winner of the game can receive a tank later. It is a story of fatherly love, about a man who forced himself to smile despite walking amid piles of corpses because he was a father.
4. "Love Actually"
2003 | Richard Curtis
"I wasn't expecting much when I watched 'Love Actually' but I liked the fact that it included different love stories. My favorite was the love between youngsters. When the boy ran to catch a girl at the airport I thought my heart was going to burst (laugh). I also liked the part when Keira Knightley gave a kiss to her husband's friend who confessed his feelings to her. Were I in her shoes, I would have still felt uncomfortable no matter how earnest the other person was. I think the character she played is quite something too."
It would be unfair to remember this movie as being for romantic lovers only, when the movie explicitly starts with the narration (by Hugh Grant) that "Love actually is all around." There is love in Karen's (Emma Thompson) heart even when she was unable to get downright mad at the infidelity of her long-trusted husband (Alan Rickman) as well as that of Sarah (Laura Linney) who could not enjoy a single date because of her mentally-challenged brother. Whether it is sweet or bitter and whether it is toward a person of your dreams or toward your family, or someone who is not your lover, love can be found everywhere. It is just that we have not found it.
5. "Crash"
2004 | Paul Haggis
"This is a movie that deals with racism. I visited Africa once. This may be an extreme example but even among Koreans, there are people who call black people 'darkies' and complain of them smelling bad. After I returned back from Africa I contemplated on my experience there and concluded that to me, love is the most important thing of all. When in work even if I don't express it explicitly, having a warm relationship among people is the most important thing."
A white couple who gets their car stolen by black youths are irritated by just about everything in life. At the same time a black couple is interrogated just because their car happens to be the same kind as the white couple's. One white police lets out the agony he feels from nursing his sick father by ridiculing black people. People who are sick and tired of life clash physically with those of different skin color, then get hurt all over again only to break down. "Crash" which depicts on the long road one needs to go to reach happiness, makes one re-think the meaning of a person encountering another person in multi-racial society.
※ Any copying, republication or redistribution of 10Asia's content is expressly prohibited without prior consent of 10Asia. Copyright infringement is subject to criminal and civil penalties.
Reporter : Lee Seung-Han fourteen@Photographer : Lee Jin-hyuk eleven@Editor : Heidi Kim heidikim@
<ⓒ10Asia All rights reserved>