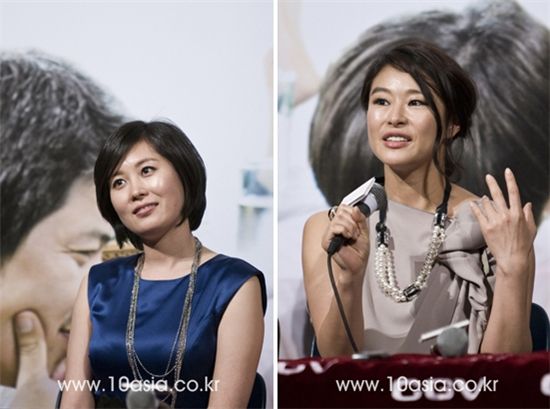 Actresses Moon So-ry and Ye Ji-won [Chae Ki-won/10Asia]
10: Yoo Jun-sang, you stood out the most [in the film] with your cuteness. The most memorable scene was when sobbed while holding the dog.
Yoo Jun-sang (Yoo): The director was writing the script for the film when this dog walked past him and that's when he decided to use the dog. (laugh) I had so much fun filming that scene because earlier in the afternoon the director and I had a drink in the middle of the day. When I think about it now, I wonder whether I have ever done that before and how I actually pulled it off. It was fun because things I had never imagined would come out, did it was interesting to see how everything else surrounding that shoot was just falling into place. It was also a lot of fun because of the unexpected situations that arose during the filming. There was a blooper when I fell down some stairs during shoot and the next day the director took me to the oriental medical clinic to get acupuncture for my hip but that scene was added to the movie too. He told me that I might as well just lie down [for the shoot] while getting therapy for my hip. (laugh) Those times were really fun. Who would film the scene of their actor falling and getting hip treatment the next day? I really laughed out loud while filming.
10: I heard you also kept a daily journal while you were shooting.
Yoo: Whenever I'm working, whether it be theater work or movies, I keep a diary, take photographs or write some kind of record but this time, we were in Tongyeong so I drew a lot and even wrote about the conversations I had with the director. I had forgotten about that diary for a while though but had fun reading it recently. There's a poem that only I know about written by the director titled "Golden Sea Gull." (laugh) The director is embarrassed about the poem but the more you read it, the more meaning you realize there is to it. I think I will keep it to myself and maybe reveal it 30 years from now?
10: Moon So-ry, you had a natural command in speaking with a regional dialect.
Moon So-ry (Moon): My hometown is Busan. I lived in Busan until elementary school and even though I moved to Seoul in sixth grade, it's hard to forget that dialect. We didn't plan on using a regional dialect in the beginning but right before we went to Tongyeong for filming, the director said I didn't have to speak in a regional dialect but asked if I knew how to, so I told him I was from Busan and that's when he said I should use it. All the other characters in the film were from Seoul so I thought it would be good to mix up my character's dialect. When I'm drunk, I would naturally start speaking in the regional dialect and when I want to look good in front of someone I would use the regular speech. (laugh)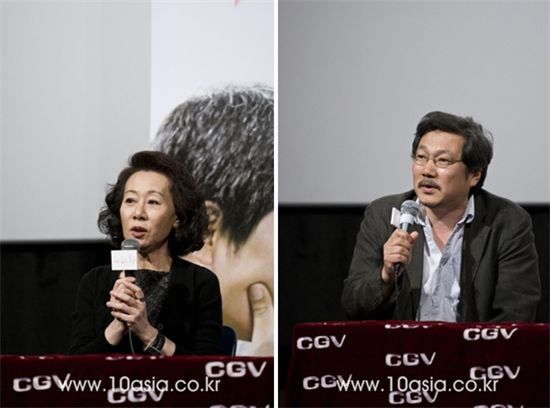 Actress Yoon Yeo-jung and director Hong Sang-soo [Chae Ki-won/10Asia]
10: There seems to be special meaning to how the phrase 'see only the good things' kept being repeated throughout the film.
Hong: It's a phrase that is still slightly beyond me too but at the same time, something I would like to hold onto. The reason for that is because I think it will help me evolve. I'm not at that level yet but I think there is something to that phrase. I think about it constantly so I think I naturally popped up while I was working on the film.
10: The director perceives female characters in "Hahaha" in a positive light. While men are still loser-like and immature, there is a purity about women and they take care of men.
Hong: I hadn't planned on shooting it in that way but I think it just comes out in my work because I'm just that much older and have changed. I think my portrayal of female characters or changes in the film reflect the natural changes that have occured within myself.
10: A lot of your recent productions have been shot in Jeju, Jecheon and Tongyeong. I think the locations you shoot your movies at must have a lot of significance. What significance did Tongyeong have to everyone?
Hong: I went to take a look because it's my mother's hometown but it turned out to be nice. The people were different too and I could feel its culture. I also thought it was interesting to see how it's such a small place but had so many nice things about it and how so many great people are from there. Of course, when working on the film, what each member of the cast gave for the film was ten times stronger than what Tongyeong provided for the film. I really thank everyone for being part of my film.
Yoon: These guys did it drunk and I was the only one who was acting on a sober mind. My body just couldn't handle drinking and then acting. Everyone else was saying filming was like being on a school trip but to me, it was like undergoing training. Tongyeong is so far and it made me irritated that I had to spend so many days in a motel room. I felt lonely and it was tough work. It even felt like I was making my acting debut. These guys would all be quite drunk so they'd stumble around on set, I'd do my own hair in my motel room and get hurt here and there... I think everyone enjoyed the experience and that I was the only one who didn't. I think I was the director's least favorite actor. (laugh)
Moon: That's not true. The director always used to say, "Isn't she so cute? How could she be so cute at such an age?" when she leaves for Seoul. (laugh) And him calling somebody cute is the highest form of praise he will give. I know I'll never get to experience what I did during the month I was in Tongyeong but it was so much fun. [Ye] Ji-won and I looked around the different islands too. I realized during shoot for "Hahaha" that there is nothing more fun than having fun and playing while working.
Ye Ji-won: I went to Tongyeong for the first time but it was a very beautiful place. I think I only saw good things while I was there. The typhoon, wind, watermelon... I think I would be happy working with such great people.
Yoo: A lot of things happened during the month of July that we were in Tongyeong. I felt a huge variety of emotions -- to the extent that I still wonder how it all happened in a span of a month. After we finished filming, Kim bought abalone so we ate it over three bottles of soju [Korean liquor] starting 11 a.m. I was the most happiest then and I recently had abalone again but it just didn't taste the same. I wonder when I'll get to taste it again. And it's not easy to drink soju in the morning but really, it was even better than water. (laugh) It's a moment that would never come again so I was both sad and very happy.
Kim: I watched the news today and saw that there was a lot of wind in Tongyeong. Before, I would have just walked by it but today I stopped to watch. Tongyeong is a meaningful place to me now.
Reporter : Lee Ji-Hye seven@
Photographer : Chae ki-won ten@
Editor : Lucia Hong luciahong@
<ⓒ10Asia All rights reserved>