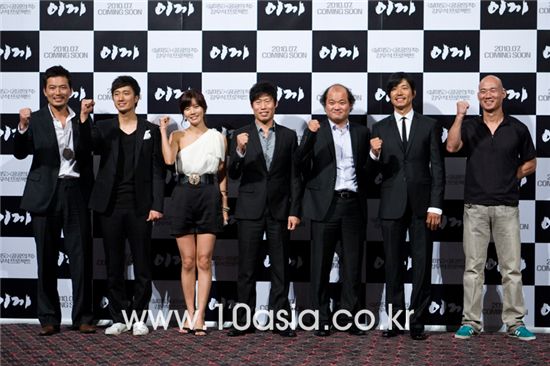 The cast of film "Moss" - (From left) Actors Jung Jae-young, Park Hae-il, Yoo Sun, Yu Hae-jin, Kim Sang-ho, Yu Jun-sang and Kim Joon-bae. [photographed by Chae Ki-won/10Asia]
Press conference for film "Moss"
- Director Kang Woo-suk says "didn't make 'Moss' to show off"
The film "Moss" is based on a popular online comic series that heated up the web in 2009 and recorded a total of 36 million hits during its run. That is why the film must face and compete against the original story of "Moss," known for its many tight plots, before facing moviegoers. The code of humor inserted into the film is certainly the style of a Kang Woo-suk film, but the biggest difference between the film and the original series is the plot twist in the ending. How will the creative ambition of director Kang Woo-suk, who says "If I can't make my story better [than the original], I might as well not make the movie," be evaluated in the future? Below is a summary of what director Kang Woo-suk and the film's lead actors talked about at the film's press conference, held June 29 at Seoul's Wangshimri CGV multiplex.
Q: "Moss" is very different from the "straight-style" of filmmaking seen in your previous films.
Kang Woo-suk (Kang): I did not make the film thinking that I wanted make a transformation as a director or to show people that I too know how tell meaningful and profound stories. I had no desire whatsoever to show off. And I didn't want the audience to think that I wanted to receive an award. Growing old as a filmmaker, I just wanted to avoid doing something I had done often. What I tried to do while I was shooting this film was to make a film that makes people think while they are watching. That is also my desire [as a filmmaker]. I tried to tell a story that was not easy to tell. Even though I was shooting a comedy, I wanted to make a comedy that makes people tense up.
Q: It is actually a thriller-genre film but you can see comic elements in various places of the film.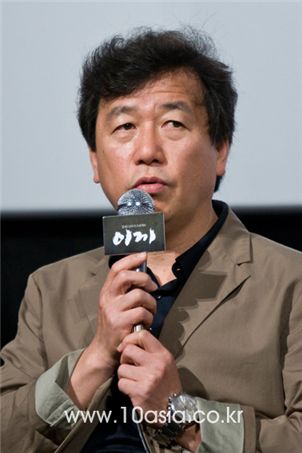 Director Kang Woo-suk [Chae Ki-won/10Asia]
Kang: It was burdening. Whenever people who knew the comic series "Moss" asked me if there was humor in the movie, I would sigh when I see the comics. I had the compulsive thought that this is a film that is very difficult to add humor into. This film is not a somber horror movie but I thought we needed to put some breaks in the story to keep the tension alive. There are things that we created on the set. I felt like I would die if this doesn't work. I threw a comical code into characters played by Jung Jae-young and Yu Jun-sang and it was really difficult to shoot. The atmosphere on the set was brutal and the staff wouldn't even laugh when it was funny. I felt so lonely doing it. If I try to create a laughter here and people don't react to it.. I thought it would be the end of my career as a director.
Q: So you are saying it was harder to make a film that is based on an original story. Were there any parts in the original comic series that you wanted to change?
Kang: I wanted to tell a story that was the same but different from the original. The original comic series got such great reviews and it had a huge fanbase who were manias. So there were a lot of people who were attacking me by writing comments. When I saw posts like, "There are a lot of other great directors.. why you?" I thought I really had to go head-to-head with myself. So my first target [to beat] was cartoonist Yoon Tae-ho [who wrote the original comic series "Moss"] because I thought to myself, "If I can't make my story better than yours, I might as well not make the movie.' I predicted that I would be showered with all kinds of negative criticism in the beginning if I can't convince people who loved the original series. This tortured me all throughout while I was making the film. I wanted to top the original series. The roles played by Yoo Sun and Yu Hae-jin were particularly hard to compete with the original characters in the comics. So I put a lot of pressure on the actors. Yoo Sun was baffled because I made her character Young-jae different from what she had thought. I told Yu Hae-jin what I wanted to do and even he told me that we should start shooting two weeks later because he wasn't ready. Park Hae-il didn't even look at me straight in the eye up until the twentieth shooting. When I would call him over, he wouldn't even come over right away. He later confessed, while we were drinking, that he had a very tough time. There a lot more stories about how I tortured my actors, but I'll just leave it here.
Q: What is more, the final ending in the film is different from the one in the original story. Why did you make the ending the way you did?
Kang: That is a very difficult question for me to answer. I want to leave it to the audience because I want them to see the ending with an open mind. I was actually baffled by the ending in the comics because it happened very suddenly. I told Yoon Tae-ho that I was going to make the ending this way and he readily approved. He even wrote me the script for my ending. There are some parts I took from his script and others I deleted. In any case, the ending was set up this way from the beginning of the production and I created the rest of the story by making changes in order to fit the ending.
Q: That must not have been easy to do.
Kang: First of all, I was in a hurry to get the movie made. There were so many stories from the original work that I wanted to tell but it was hard to cut all those stories short. And I had to make the stories valid too. I was trying to make a movie that made sense and the whole time I felt like I was up against the deadline.
Jung Jae-young (Jung): This is my third time working with director Kang Woo-suk. Out of all the movies he has made, he worked the hardest on this film and he had to prepare the most too. I think it was a good adventure, whatever the outcome may be.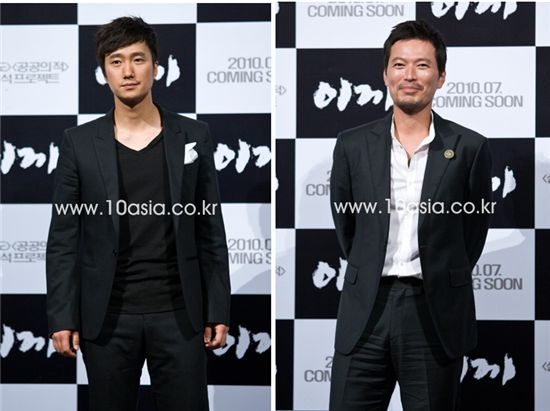 Actors Park Hae-il (left) and Jung Jae-young [Chae Ki-won/10Asia]
Q: It must have been just as hard for the actors. How did the director Kang Woo-suk torture you?
Park Hae-il: If director Kang Woo-suk started making this film because he was attracted by the original comic series, I was attracted by the original story and director Kang Woo-suk. I was very nervous because this was my first time working with him. And in the beginning of the shooting, it was not easy for me to adjust [to Kang's filmmaking style.] I had not worked with director Kang Woo-suk before so I needed the time to learn about his working style. Looking back, working with him allowed me to learn how to see, hear and feel the energy on a new film set. I think it was a good experience, like I had taken a class or something.
Q: Yoo Sun, you were the only female actor on the set. Wasn't it hard for you to act?
Yoo Sun: I think everyone wants to know about that. On the set, I thought of myself as a member of a village rather than an actress. So much so that older actors told me I was like a fellow soldier. It was a unique experience where I felt a strong bond with the other actors.
Q: It must have been hard for you to portray the character Lee Jang, who is much older than you.
Jung: I felt very burdened because there was a lot of controversy when I was first cast for the role. I was able to pull it off because director Kang Woo-suk gave me a lot of support. And I had hypnotized myself too -- telling myself that this is a role for Jung Jae-young.
Q: An old Lee Jang and a young Lee Jang give off a different vibe -- how did you set the tone for character?
Jung: Actually everything [about the character] was written in the scenario and I just did what the director told me to do. I didn't have any special emphasis on playing the two versions. For the younger Lee Jang, I tried to make him feel stronger, faster and more unstoppable and stubborn while for the older one, I tried to make him seem more still and sharper.
Q: Last question. How should we interpret the title "Moss"?
Kang: When I first saw the title "Moss" and the original comic series, I thought it was a really great title. This is something I felt while I was making the film and it's that the word 'moss' feels very friendly when you think of it. The viewers can see who the actors are and who the director is when they watch the film, so all you have to do with the title is deliver the vibe of the film. Personally, I think the word 'moss' has a hidden meaning for the film -- like a moss that grows on a rock, something hiding out. But it is not a title that I created, so I will call Yoon Tae-ho and ask. Then I will tell you.
Photographer : Chae ki-won ten@
Editor : Lynn Kim lynn2878@
<ⓒ10Asia All rights reserved>