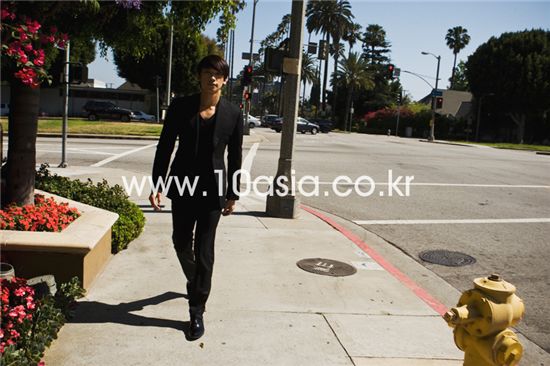 Korean entertainer Rain in Los Angeles [photographed by Chae Ki-won/10Asia]
Rain says "really want to brag about this one," referring to his win at the 2010 MTV Movie Awards
It was only a year ago that Rain was overwhelmed after winning a trophy at an awards ceremony which looked a lot like the MTV Video Music Awards. Of course, it was a television commercial for a Korean mobile telephone company. When Rain gave his acceptation speech at the fully-packed venue amidst the applause from the crowd, the sight looked so unattainable that it felt like "a miracle" or "a fictional news event." But this young man, who claims that "a miracle is something you create, not something somebody hands you," has eventually grabbed that very dream in his hand. Instead of uttering some unknown magic words, Rain endured extremely demanding, five-hours-a-day training sessions and kept on running like "a tiger on the verge of starving to death" to make it to the 2010 MTV Movie Awards. At the Four Seasons Hotel in Beverly Hills, 10Asia met with Rain -- a man who, like his name, exudes a freshness to the desert-adjacent, hot city of Los Angeles.
10: In your acceptance speech, your comment about your "ass" [as in "Biggest Badass Star"] was very witty. (laugh) Still, I have to ask you once again how you feel.
Rain: I feel really great. More than anything, I am glad that I was able to fulfill the promise I made to my mom. Ten years ago, I said I would win an award in the U.S. with something great and that promise was kept. So personally, I am overwhelmed. Secondly, I think it will help me a lot with my future activities. I can't believe that I was a part of such a huge and entertaining award show like the MTV Movie Awards. In a way, you could say that it is something that would happen on fictional news. (laugh) So I'm really happy.
10: At the MTV Movie Awards, you said to the audience, "Why so serious? Enjoy." and you even wanted to do 'the otter dance.' [One netizen in Korea recently posted an animation video in which an otter imitates the dance routine in Rain's "Love Song" while holding up a fish. After the video became popular among fans, Rain publicly said that he would do 'the otter dance' if his song reaches No. 1 on a televised music show.] Recently, it seems like you have loosened up and become humorous in dealing with the public.
Rain: I don't think I need to be serious anymore. It has been ten years since I started working under the name Rain and I have really been through all kinds of things during that time. I often thought that there is no point in going though all that if I am not enjoying the process. And this is something I have felt for a while but I think it is best to be honest with the public. And that is how [I came to talk about] the otter performance as well. Honestly, what good is winning No. 1 for me? Of course, I would be very grateful and happy but I think it is better for idol group singers or other people to win. I wanted to pay the fans back for still paying so much attention to me. It was like a promise or a special fan service. (laugh) I had seen the otter video, so I was going to prepare a mackerel and perform with it on stage, but my manager forgot about the fish. I said that I would do it next week, but I was disappointed because somebody else took No. 1 the following week. (laugh)
10: You said so yourself that enjoying the process has become important. It wasn't that long ago that you seemed restrained when performing "Rainism." But you definitely exude more confidence on stage when performing recently songs like "Love Song" and "Hip Song."
Rain: Something is different for sure. You could say that "Rainism" itself was a very restrained performance. That is part of the reason. For "Love Song," I added dance moves to a ballad track but I think people might feel that it is too in-your-face because of how I expose my bare skin. (laugh)
10: After a certain point in your career, particularly after "Ninja Assassin," many people predicted that you would be working more overseas. But you are still releasing an album in Korea, leading a busy career not only as a singer but you also decided to appear in the drama "The Fugitive." What does Korea mean to you at this point in your career?
Rain: If I wanted to make money, I wouldn't have worked in Korea. Rather, I would have performed concerts in China, Japan or U.S. and shot dramas or movies there. But I don't think a person should forget where he comes from. I think that is more important than making money. Like the saying goes, that a frog should remember his tadpole days, one should not forget where he saw his first success. It is a part of my life and what I do in Korea, where I first became successful, could still spread throughout Asia. What I did recently is the same as me returning to my original house. (laugh) It is useless to achieve great success outside when you can't take care of your family first. Of course, the American culture is still at the center of the world but it will gradually shift to China and Asia. And the center of Asian culture is Korea. If I always keep my family intact, I will get along fine with my first cousins and then with my second cousins as well. (laugh)
10: Is that why you chose to do "The Fugitive"?
Rain: I want to live a fun life. The biggest reason being that I really wanted to work with writer Chun Sung-il and director Kwak Jung-hwan. Director Kwak Jung-hwan was an assistant director on [Rain's previous TV dramas] "Sang Doo! Let's Go To School" and "A Love To Kill," and he is truly a genius. He has so many ideas and a great imagination too. And I wanted to go back to saying my lines in Korean. (laugh) I also wanted to present my Korean fans with another television drama. That is the first reason.
10: You are not a just a star. You have a strong image as someone who works incredibly hard and achieves enormous success on your own. So your fans call you "Rain The God" and support you 100 percent, but the general public feels a distance from you because of that very image.
Rain: Actually that is part of the reason I am working harder in Korea. Because I don't want to become too distant from the public. Of course, it is not because I am worried my popularity will decrease or that I will be forgotten. I have become a professional entertainer in Korea, which has allowed me to work in bigger waters. So I don't think it is right to disappear from the public and promote a mysterious image after I have made it. I would rather be the kind of celebrity who seems familiar and close, someone who talks and greets his fans when they talk to him. It is only when Korea approves of me that I can do well out in the world. Somebody said that the human race is not categorized as blacks, whites and yellow people but as the blood types A, B, O and AB. The old racial distinctions are going to disappear and I want to represent Asia and even more, I want to be able to work regardless of race. And in order to do that, I think that there should be no distance between myself and my family -- my fans, that is.
10: So then, this win is going to help you a lot in representing Korea and becoming a global star.
Rain: Chinese stars like Jackie Chan and Zhang Ziyi have won at the MTV Movie Awards before, but I am the first Korean to win so I really want to brag about this one. (laugh) In the past, I always said that I was incredibly lucky to achieve my successes but this time I really believe that I worked very hard. And it is an award that is given by the fans. I really wanted to win it, to be honest.
10: But winning "Biggest Badass Star" could increase your fame but could fast consume you as the typical Asian action star.
Rain: Of course I am worried about such possibilities. It is a big stereotype to think action films when you think of an Asian actor. But I don't think there is anything you can do about that. And you don't actually need to hide the weapons that Asian actors have. We do have a talent in making action films and martial arts is an Asian culture so I don't think you need to work at hiding it. I think that in about ten or twenty years, when the Asian market has grown a bit more, there could be a romantic comedy movie about an Eastern man and a Western woman.
10: Do you think Rain will still be standing in the spotlight when that happens?
Rain: I don't think a miracle is something that happens but something that you create. Nobody makes it happen for you, you just make it happen yourself. Some people say that I am going too fast and others say that I am too lucky. There are even those who tell me that I'm doing too many things, but if you focus and work hard, you can make everything happen. It is better when you have luck but I think you can make it happen even when you don't have luck on your side. In fact, this is a story for a romantic comedy that I am thinking about these days. An Asian man and a Caucasian woman fall in love, but the thing is that the man doesn't speak English very well even though he lives in the U.S. So he starts learning English from the woman, all kinds of things happen in the process and they fall in love. If I continue meeting many people through the human network that I am building, keep throwing ideas and discuss with them, won't myself and the next generation be able to make that kind of a movie? (laugh)
Reporter : Lee Ji-Hye seven@
Photographer : Chae ki-won ten@
Editor : Lynn Kim lynn2878@ , Jang Kyung-Jin three@
<ⓒ10Asia All rights reserved>