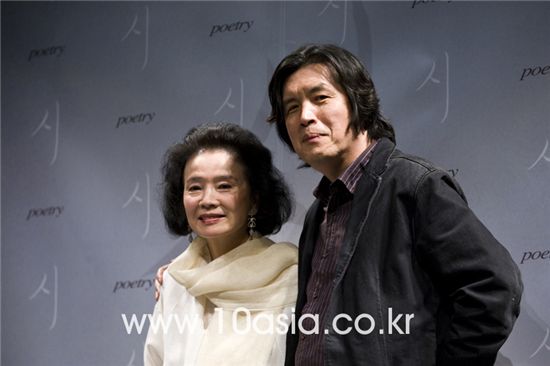 From left, actress Yoon Jung-hee and director Lee Chang-dong pose at a photo session of a press conference for film "Poetry" held at a CJ CGV theater in Seoul, South Korea on April 14, 2010. [Chae Ki-won/10Asia]
"Did you go easy on me on purpose because you didn't want me to have a tough time?" "Do I look like I'm that nice of a guy?" This was the dialogue between the main star and director of film "Poetry" as seen in video containing behind-the-scenes footage revealed at a press conference on April 14. And the two were none other than Yoon Jung-hee, who had been in a 15-year hiatus after having appeared in over 300 films during 40 years of her career and director Lee Chang-dong, who has made Korean film history starting from "Green Fish" to "Secret Sunshine." Below are excerpts from the press conference held at a CJ CGV theater emceed by actor Ahn Nae-sang.
Q: How did you come about making "Poetry"?
Lee Chang-dong: "Poetry" was both a challenge and experiment for me, as was any other movie that I've worked on in the past. I wondered how well I would be able to pull off the challenge this time. And I wanted to share the meaningful and beautiful things that we don't see with our eyes but have been disappearing due to the social conditions of the times. That's why I decided to present my audience with a film with such a title, story and main character.
Ahn Nae-sang: The director doesn't seem to have been too concerned with the film's commercial success. (laugh) But don't you still think it'll do okay?
Lee: I've received that sort of question everytime I make a film. When I did "Oasis," someone asked me if I thought anyone would go all the way to a theater to watch a film about the disabled. I make movies because of my desire to communicate with the audience. That is what films should be about -- it's not just a medium of communication for people who understand each other. I want to be able to meet and communicate with the general mass. I have faith that I will be able to do so if I succeed in delivering the truth.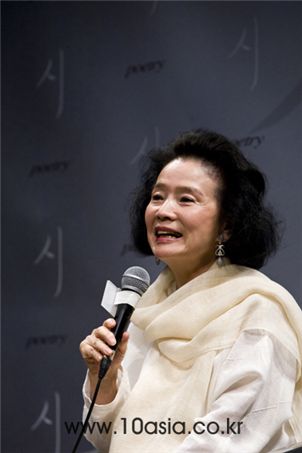 Actress Yoon Jung-hee [Chae Ki-won/10Asia]
10: What are you referring to when you say challenge?
Lee: Those who watch my film may say there hasn't been much change [to my work] but I thought I was taking on a big challenge this time. I wanted to come in touch with the audience but in a difficult and unfamiliar way, rather than make it happen too easily. That's why I wanted to set up many obstacles between myself and them and then embrace those who overcome them and run through the finish line. And that's how I wanted this film to come off as too. That's why this film is a new type of movie. A lot of films are increasingly focusing more on providing more fun and stimulus but I wanted "Poetry" to stimulate without any particular form of stimulus.
Q: The film doesn't seem to be as dark as your previous works.
Lee: I personally had thought my other works weren't that dark either. (laugh) I don't know about the film being dark or not but those who have already seen the movie say it's less uncomfortable to watch than my previous works.
Q: The movie is about a a novelist-turned-filmmaker who writes poetry. What meaning do novels, films and poetry have to you?
Lee: They're the same fundamentally. I want to look at the world through what I have within me, and communicate with the public mass through that. Of all the topics, the reason I chose "Poetry" was because it was the easiest and most approachable topic. I think it's easy to live without poetry and easy to forget about it once you graduate from school. But you still need it. It's something that can bring out things you can't see with your eyes, such as the beauty or meaning of life. So in that sense, novels, music and films are all the same. Of course there are films which provide entertainment but there are also those that don't. I wanted to ask the audience what they think the meaning is to it.
Q: The movie is about a woman called Mija. What sort of woman is she?
Lee: I'm sorry that I can't fully explain to you who she is since there are things I shouldn't disclose until the movie comes out, but she is like the Yoon sitting next to me right now. She is a legendary actress, the wife of a world-renowned musician, and an actress who gave up everything she had to support her husband for many years. In a way, it may seem like she lives a great life but on the inside, there may be a part to her that doesn't differentiate her from any other average woman in her 60s who lives in an apartment somewhere in Seoul. The movie is about such a woman reflecting on her life and about the choices she makes.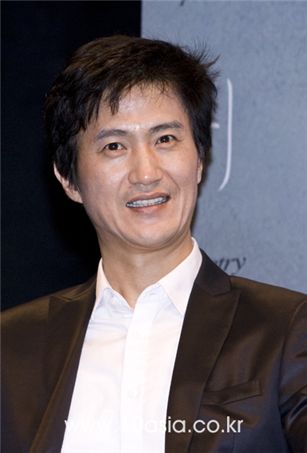 Actor Ahn Nae-sang [Chae Ki-won/10Asia]
Q: How did you cast Yoon Jung-hee for the film?
Lee: I didn't know her that well on a personal level, but you'd have to have been living on another planet if you're in my generation and don't know her. That's why although she didn't know me, I thought I knew her well, and very naturally I thought she should be the main character. Even before I started writing the scenario, I told her about the film while thinking that she would be the main character. Her real name is Mija but I felt that the main character's name should also be Mija while I was writing the scenario. It's a common name but there's the Chinese character for 'beauty' in it, so as old-fashioned as it sounds, it's also as beautiful.
Yoon: I too cry easily and admire at the smallest things. Even my husband said she's similar to me while we read the scenario. That's why I was less worried about the acting itself but it was difficult to break free from my old ways of acting. I've been in so many movies but it was quite difficult acting for "Poetry." So much that for the first time in my life, I even practiced in front of my husband. But my husband said, "Could you try being more natural?" which is exactly what director Lee said. (laugh)
Lee: Yoon is a very simple person and she has wrinkles on her face now but she has not aged on the inside at all. Mija is a woman who will be overcome with emotions when she sees the moon in the night sky, despite having seen it for 60 years, and forgets about reality at times.
Q: Did you not feel any burden in casting Yoon who has been in a 15-year hiatus?
Lee: Rather than feeling any burden, I was curious to see how Yoon would react. She had appeared in 300 movies so she had become used her old ways of acting. I'm not saying it's bad -- it's just different from working with someone who has no acting experience. So I was curious to see what she would be like when we clash, but once I actually started working with her, I found out she was very open-minded. Even young actresses resist from having to break away from what they have originally but she [Yoon] was very good at embracing it.
Yoon: You have no idea how happy and moved I was when Lee told me he had started writing a scenario with me in mind. The scenario wasn't complete but I had much trust in him because I had been watching his work for a long time. And when I finally did receive the scenario, I felt I had never seen such a [great] scenario before. I was very excited while filming.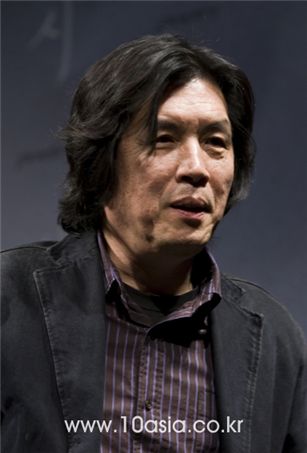 Director Lee Chang-dong [Chae Ki-won/10Asia]
Q: How was it actually working with him?
Yoon: I thank him. He helped me discover an image of myself that I had really wanted to find. That's why it wasn't easy to pull off the role but I think the chemistry I had with him and the vibe on set was beautiful.
Ahn: Did you not have any problems physically? (laugh) Lee is someone who will keep pushing an actor till they suffer from exhaustion.
Yoon: I live like a girl even though I'm in my sixties. (laugh) The staff kept coming up to me to ask if I wasn't tired but I wasn't worn out at all physically. There was a scene where I play badminton and my arm did hurt because we shot the scene several times but the production company kept saying we should go to the hospital when all I needed was a pain relief patch. (laugh)
Lee: The badminton scene was quite important and we shot it at night so she had to play badminton all night. Even young people get sore if they use their arm like that and it would affect filming. So I was going to have her get a professional massage too but Yoon didn't think it was a big deal at all.
Q: The film industry has changed a lot over the past 15 years. How has the experience been for you?
Yoon: It felt like I met with an old friend. It all came quite naturally to me actually because I had never considered myself as having left the scene. And before, I had never sat in front of a monitor to analyze my own acting but it helped a lot because I could this time. I'm very greedy [when it comes to acting] so I thought a lot about how I could show the best acting possible that I can be satisfied with, so it really wasn't easy.
Q: But you are still beautiful. (laugh) What are the secrets to your beauty?
Yoon: Aren't I just average-looking? (laugh) I even do my own hair at home... But you have take care of your own skin so I look at books and make the make-up I use.
Q: Any final words for the audience?
Yoon: I trust my fans. (laugh) I hope a lot of my fans watch it and others too. I hope people with dreams in particular will watch it.
Lee: I hope people who want to have dreams will watch it too. As well as those who can sympathize with Yoon and the younger generation who are thinking about their dreams.
Ahn: Then we'll be able to break the 10 million mark. (laugh)
Senior Reporter : Kang Myoung-Seok two@
Photographer : Chae ki-won ten@
Editor : Lee Ji-Hye seven@
Editor : Jessica Kim jesskim@
<ⓒ10Asia All rights reserved>