In the film "Nottinghill", William (played by Hugh Grant) expressed his encounter with worldwide star Anna (Julia Roberts) as a surreal experience. Meeting Jung Woo-sung in Korea may be a similar experience. Having a conversation while sitting across Jung who held a cigar in his hand is no different than meeting Santa Claus. But the moment it all becomes even more surreal is when he expresses his realistic concerns regarding shooting a film. Below is the record of 10Asia's realistic, yet even more so unrealistic interview with the actor.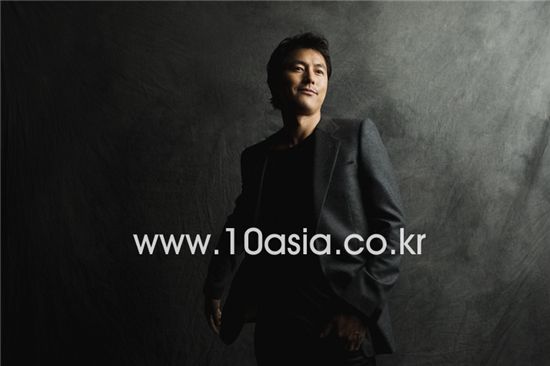 Actor Jung Woo-sung [Chae Ki-won/10Asia]
10: This is your first time working with director Hur Jin-ho. Do you like his style?
Jung Woo-sung: I really like "Christmas in August" and "One Fine Spring Day" but "April Snow" and "Happiness", not so much.
10: Why is that?
Jung: "April Snow" felt as if an extremely naive Korean language teacher was trying to teach his students sex education. As if someone who doesn't know about obscenity trying to put on that feeling in his work? And the main character in "Happiness" was too gloomy.
10: Then did you see the Hur that you like in the scenario for "A Good Rain Knows"?
Jung: There was the 'Hur-ness' to it. People may usually remember the film "One Fine Spring Day" for its lines such as "How can love change" but I liked it when Sang-woo (played by Yoo Ji-tae) silently stands on a prairie to collect sound or when in "Christmas in August", the two main characters just sat across from each other eating ice cream without saying a word. You know, those moments that really shine although they're mere trifles. I felt that in "Rain".
10: Weren't you moved even more because it's difficult for you to enjoy such daily occurances?
Jung: I think so. And I really likes those kind of things. I'm someone who likes to walk down streets and just watch people absentmindedly but it's become hard for me to do that after becoming a star and living as Jung Woo-sung. I tell myself that I don't care about trying to limit my actions to fit myself into the image people see me as, but my outward emotions and daily life have become simplified because of it. If I think about it, I always go to the same places and meet the same people. I stopped walking on streets from a certain point. Such things have disappeared for me.
10: Then would you say that you fulfilled such deficiencies in your life through your role this time?
Jung: I guess I could say I did. I did feel the daily moments and emotions that were delivered through the scenario. I got a taste of what it is to maximize the trifling emotions tossed in daily life rather than emotions forced for something dramatic.
10: You said at a press conference that one who meets Hur will "have a hell of a time" -- did you feel difficulty in the ways he attempted to pull out such emotions?
Jung: I don't know if it's his way of pulling out normality but it was just a different style from what I had experienced before. The previous films I had worked on contained a lot of action and a lot of cuts so if we had to shoot several cuts, we would do it all in one day. If from so to so is one take, I usually filmed everything that happens within it. It all moves very fast. And in such times, even if I try not to calculate my acting, I have to decide what emotions and expressions I'll show in certain parts of the cut. That means I have to be that much more precise. I have to know what I need to do more of, what I need to take out, and what is no good at which point. In other words, I'm calculating but not anything in particular. But it's not like that with Hur. He continuously sets forth questions in front of the camera and actor. 'What is it that we have to do here?' he would ask. Which would make me think 'What is he trying to do with me? Does he really want to shoot or not?' And it would be because we would actually have to finish filming everything in just a month. But when I look back on it, I myself am someone who doesn't like to be caught within set rules but I realized that I had gotten myself into it at a certain point.
10: It seems that Hur isn't the type that gives set directions right away.
Jung: That's right. He doesn't even decide on from where to where he will shoot the cuts.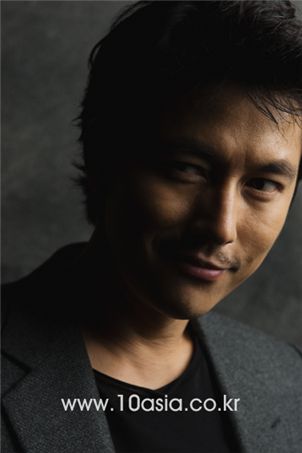 Actor Jung Woo-sung [Chae Ki-won/10Asia]
10: It must have been tough but I think it must have also been a chance for you to express your possibility and opinions.
Jung: For example, I missed the timing of taking off a flower petal from May's hair while acting and then took it off after that. I think such things happened more often in the process of me asking myself what the answer is to Hur's questions. And at the same time, I naturally was able to immerse myself more into Dong-ha's character.
10: And that's how your natural acting came out. When May said she was married, it was impressive how you didn't reveal your emotion explicitly but we were able to see something give way within you.
Jung: That emotion right there is a very interesting one. It's actually the first question that should have been asked, isn't it? "Do you have a boyfriend? A lover? Are you married?" But it never was. He hadn't wanted to. But he was hoping she would say something if they crossed a line they shouldn't, and they eventually did cross the line but she said it so suddenly afterwards that he felt sort of a queer disappointment and resentment he couldn't blame her for. Director Hur and I spent a very long time -- compared to the time it took to film the scene -- discussing and closing in on our opinions on why Dong-ha and May felt such feelings at that moment there. I think the feelings I felt while discussing it came out in my acting too.
10: Such things are different from the more manly characters we saw of you in "Beat" or "Musa". Is the reason you took on Dong-ha more because you wanted to challenge yourself in something you want to be good at rather than actually being good at it?
Jung: Not really. For sure, there are things I'm good at and things I want to be good at. But an actor doesn't limit himself by such ideas when acting. Of course, I do have to recognize what the image is of me that the public want. I used to reject having to do so when I was younger, thinking I could do whatever I want. Like falling in love when I was in my 20s. Back then, I used to think that love was about expressing my love and giving it, but it's actually about listening to the other person and taking it in. And you have to know how to observe that other person's love too. I've started to become able to look back on myself and what is happening as I grow older. And start realizing what image the public want. I actually tried this and that to try to break myself from that image because I didn't want to be defined for a set image, but the timing was bad. The public was already sure of what image they wanted to see in me. A handsome Jung Woo-sung, or something like that. So now I've decided to try to deliver slightly modified images of myself to the public by using different types of speech.
10: Like you once said on the "Park Joong-hoon Show" that you continuously think in order to survive, it seems you have a lot of concerns about yourself. As who you are as a star, as an actor.
Jung: I think I think more about myself rather than who I am as a star. Of course, I do take Jung Woo-sung into consideration when choosing a film, but that's just work. There's a part of me that can't be satisfied by that and I think about that part of me a lot. I think if I do my best at where I am right now, I will be able to keep my position even if I don't think about it too hard.
10: Such sincerity, your looks, and acting have all combined to created sort of the proper noun "The Jung Woo-sung". Do you feel such response yourself too?
Jung: Of course. At one point, you just have to know it, feel it, acknowledge it and just take it all in. That ultimately links directly to the image of when I act. And like I said earlier, it's the image the audience want to see from me. Hur wanted me to use less fluent Korean-style English when acting the part of Dong-ha for this film, but I thought differently. People would see me as Jung Woo-sung before actually falling into Dong-ha's character. Then people will think that I speak English, but it's weird. Then they'll stop empathizing with my character and automatically take out their radars to evaluate my English. Then there is no empathizing or whatsoever.
10: And like you said, it's all because of "The Jung Woo-sung". You must have many concerns as an actor.
Jung: That's the extent to which I worry. After that I just have to study my character. I'll remove everything which proves as an obstacle to watching the film and after that, the audience will be sucked into the film if it's good.
10: There are people who just do away with what is laid forth in front of their eyes, and those who looks at the big picture and work hard. I think you're the latter type. Has your perspective widened as you age?
Jung: Since young, I've been the type that observes the whole flow of a situation. I wasn't just thinking about my role when I debuted in films. The main thing that came into sight was the pains the staff had to go through. I became increasingly interested in what each of their jobs were on set. That's why I developed a passion for movies and learned a lot on set. Then naturally, with the staff I would start to think about what the problems are within the film industry. Because I became attached to it. And I think that's how I came to look at everything as a whole.
Reporter : Wee Geun-woo eight@10asia.co.kr
Photographer : Chae ki-won ten@10asia.co.kr
Editor : Jessica Kim jesskim@asiae.co.kr, Jang Kyung-Jin three@10asia.co.kr
<ⓒ10Asia All rights reserved>