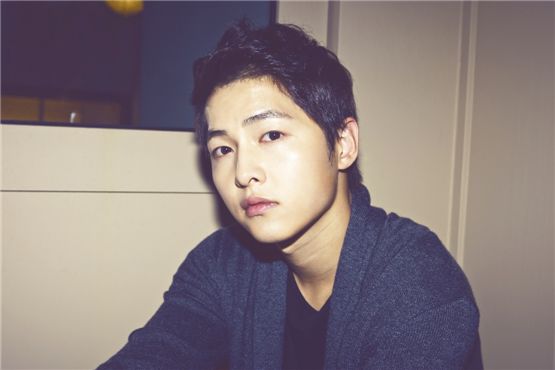 Korean actor Song Joong-ki poses in front of the camera in a photo taken during an interview with 10Asia. [Chae Ki-won/10Asia]
<#10_QMARK#>
You are a grown-up man on TV but a youthful boy on the big screen.
Song: Actually when I first chose "A Werewolf Boy" I realized this could be my last work showing my boyhood. Because I'm 28 years old already, I felt like I should say good-bye to my youth and I felt like I was off to a new start in "The Innocent Man."
<#10_QMARK#>
But in acting wise, it seems "A Werewolf Boy" was the new start. The role required a lot of reactions which coul be quite challenging.
Song: When I first read the script I thought I had nothing else to do but to react [to any situation in the story or other actors]. Detailed parts were led by Suni (Park Bo-young) in the plot. However, when the filming began I realized that was my misunderstanding. It was not Suni who raised and tamed Chul-soo but Chul-soo was the one who tamed Suni. Everyone thought Chul-soo is a character who had never seen the world and been locked up in isolation. However, it was Suni who really had been locked up. She opened up her mind and was confronting the world again. I came to the conclusion even if I am only showing the reactions, the key point here is to keep in steps with Park emotionally. The fact that I don't have lines made me listen more stories from the opposite role and finally I realized I had been acting alone all these years. I am trying to apply the lessons I learned from "A Werewolf Boy" to "The Innocent Man." I'm starting over from scratch.
<#10_QMARK#>
Aside from having no lines, there should have been other difficulties from being a werewolf boy.

Song: I had always wanted to play a werewolf or vampire. I liked the movie because it has a werewolf material but that's not what the story focuses on. It has a different message in it. I liked the freshness coming from the contradiction the focus was not on the visual of werewolf but rather on the melodrama itself. Tears welled up in my eyes from the moment I began reading the script for the first time. I had tried to approach the movie with sensibility of "Edward Scissorhands" and "Let Me In" rather than "Twilight." For the facial expressions acting, I somewhat referred the Johny Depp's.
<#10_QMARK#>
To tear-up the audience, the scene in which the werewolf boy meets with Suni who became an old lady should have a big impact on the audience. It seems all the burden was the actors' share.
Song: I concerned about the scene a lot. It was the movie's climax and I felt so burdened in spite of myself. I was obsessed to be good, really good, and focused on how to tear up the audience. Fortunately, I could see grandma Suni shooting first and sort out my thoughts. She was weeping openly and her emotion rose to the climax...then...I thought I should become more calm and relaxed. I had a feeling if I also raise my emotion to the climax then the audience would not feel the same sadness I felt. Therefore I acted like I met her yesterday, ordinarily and calmly.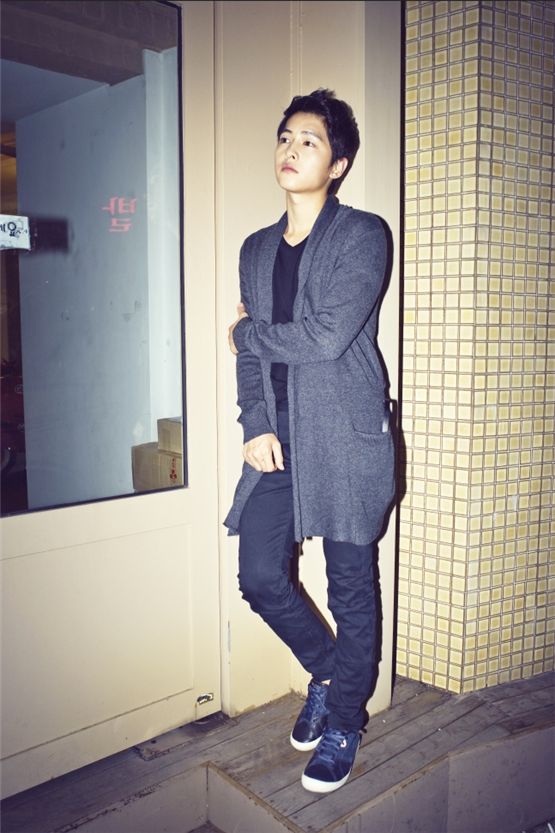 Korean actor Song Joong-ki stares at the camera in a photo taken during an interview with 10Asia. [Chae Ki-won/10Asia]
<#10_QMARK#>
The movie itself restrained the temptation to make Suni return to her youth. (Laughter)

Song: We did shoot that scene actually. (Laughter) Bo-young did a great job crying loudly while stroking Chul-soo and becoming younger starting from her hand. However, we fixed with our current ending after serious consideration since a boy and a grandma gives more lumped in a throat feeling. We continuously contemplated the ways to relax and restrain. I had been pondering my reaction whether to cry out loud when Suni slaps me and say not to get near me and get off. But again I concluded whenever Bo-young's feeling rose to the peak then I should be relaxed and tuned up in that way. This was a part of the reactions. I build up my character according to Suni's feeling. I put more emphasis on the audience's sorrow than the actor's.
<#10_QMARK#>
Of course some parts of your characters were determined on the set, but "A Werewolf Boy" or "The Innocent Man" are movies that you should understand the characters fully and show the complete images from the beginning. It should be the same for the "Deep Rooted Tree." You must be an actor that prepares a lot by yourself in advance.
Song: Emotional parts cannot be prepared in advance but I do prepare quite a lot for technical parts. I get nervous in my own way. "A Werewolf Boy" has a unique character that I has had not played in other Korean movies. So I didn't have much source to consult. Therefore I had to be preoccupied with wolves' behaviors and technique preparation. Hmm... "Deep Rooted Tree"... did I prepared something for it?
<#10_QMARK#>
There were rumors that you were intense and even looked up an unofficial history of King Sejong.

Song: To be honest, there's no need to look up an unofficial history, but I did like a drowning man who tries to clutch at a straw. I chose the drama with an anxiety; what if I fail because I am unprepared skill-wise. At this distance of time I am so glad that I decided to take the part in "Deep Rooted Tree" but it was very difficult one and I was so desperate. I guess I was lucky my position with the situation and the character's situation was somewhat similar so I could arouse sympathy from the audience.
<#10_QMARK#>
You knew from the beginning that Sejong is a tough role to play. But yet you're still playing difficult characters.
Song: Actually it is a simple matter. I choose if the scenario is interesting. I chose "A Werewolf Boy" because I liked the scenario so much. But after making a decision I felt too much pressure. After signing the contract I realized how much it is difficult. I regretted and even considered myself crazy. (Laughter) Then the anxiety became my driving force to do research and preparation.
※ Any copying, republication or redistribution of 10Asia's content is expressly prohibited without prior consent of 10Asia. Copyright infringement is subject to criminal and civil penalties.
<ⓒ10Asia All rights reserved>