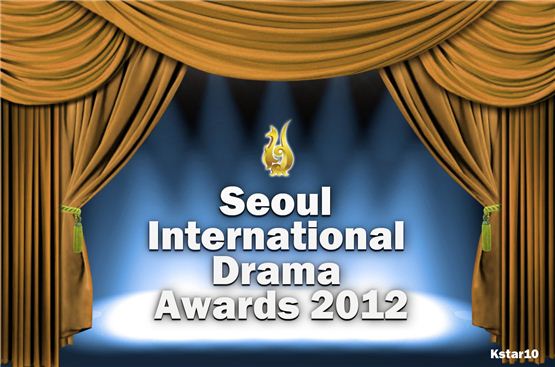 Seoul International Drama Awards opens on August 30, 2012 [Kstar10]
The 2012 Seoul International Drama Awards, one of the most-anticipated annal events for drama fans, is to be celebrated at the National Theater of Korea this Thursday .
Organizers of the 7th SDA have just confirmed the attendance of Park Yuchun and Han Ji-min of SBS' "Rooftop Prince" at the ceremony, as they have been recognized as the most popular star of Korea and chosen for the People's Choice segment.
But behind the shadow of popular actors and actress there are rookie stars who have been devoting themselves in acting like veteran actors.
Kstar10 has selected six rising stars who caught the eyes of many with impressive screen presence and a huge potential to become the next leading actors, and hopefully next year's best actor and actress at the SDA.
1. Choi Siwon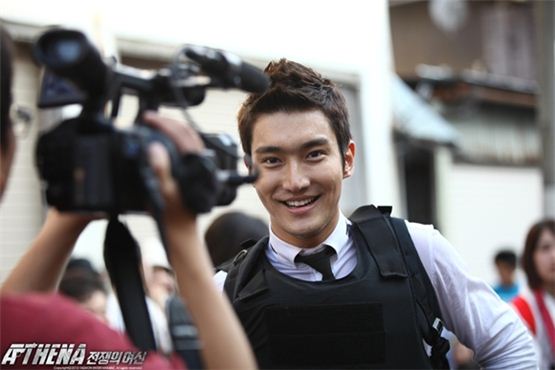 Singer and actor Choi Siwon smiles in front of the camera on the set of SBS' action crama "ATHENA," aired between December 13, 2010 and February 21, 2011. [SBS]
A newbie elite employee Kim Jun-ho in SBS' action blockbuster "ATHENA" (2010-2011)
This good-looking singer and actor may unfit the title rookie actor here, as he starred in "Poseidon" (2011) as the male lead. But when it comes to the Asian TV industry, Choi is definitely one of the rising stars. The veteran actor has had 13 both domestic and international works under his belt since he made a successful acting debut as an arrogant high school student in his debut TV series "18 vs. 29" (KBS, 2005).
Raised in a strict, Protestant family in Seoul, Choi's talents were scouted in the Starlight Casting System of SM Entertainment, one of the top three major talent agency here, in 2003. The fluent Chinese speaker was chosen to be part of the epic film "A Battle of Wits," co-starring famous Hong Kong singer and actor Andy Lau. He also has received praises from Lau, who mentioned Choi as a wonderful actor and a good example that can be set for young Hong Kong idols.
The sportsman, who holds his fourth-degree black belt in taekwondo since 14, has donned in special forces uniform again to play the male lead in KBS' action series "Poseidon," after he played the supporting role in SBS' series "ATHENA." Choi also starred in Taiwan's TV series "Skip Beat" (GTV, 2011-2012) with his bandmate Donghae, and then flew into China to star in "Fall In Love With You Again," the soon-to-be-aired romance drama.
The 27-year-old star, the first Korean celebrity that has reached over 2 million followers on Twitter, has recently been cast to play a top star in SBS' Monday-Tuesday drama "The Lord of the dramas"[tentative title].
2. Park Yu-hwan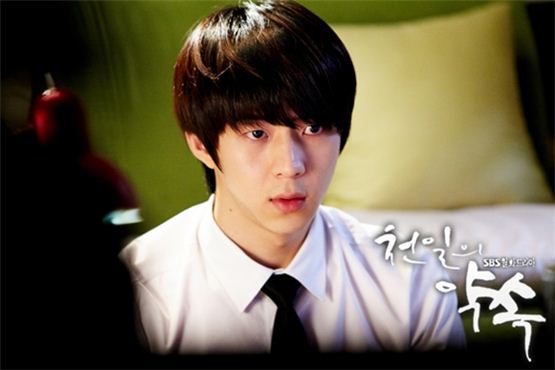 Actor Park Yu-hwan acts the younger brother of Soo-ae's character in SBS' series "A Thousand Days Promise," aired between October 17 and December 29, 2012. [SBS]
A good-hearted youngster Moon-kwon as female lead Soo-ae's younger brother in SBS' melo drama "A Thousand Days of Promise" (2011).
Known as K-pop idol JYJ Yuchun's younger brother, the rookie actor kicked off his career as a teenage uncle of actress Kim Hyun-joo in MBC's weekend series "Twinkle Twinkle." Despite his short career as an actor, he knew how to deliver character's cheesy line mingled with serious attitude, he could make a short but impressive appearance in MBC's historical drama "Gyebaek" [Romanized Korean].
The lucky actor has starred in five TV series in less than 2 years, solely with his enthusiasm towards acting. Among those works, SBS hit series "A Thousand Days Promise" is his first project that helped him be recognized by a big number of audiences. After playing the character that has unconditional love for his older sister with Alzheimer's disease for two months, he reportedly said that he could find himself as a genuine actor, not anybody's brother anymore.
After the unfortunate loss of his father in this March, Park turned to small screen by turning into an aspiring idol star with arrogant character in Channel A's "The Best K-pop Survival" [translated title]. In the series, Park not only played his first lead role but also experienced his first kiss scene with actress Go Eun-ah, also the sibling of a celebrity, MBLAQ's Mir.
As soon as he wrapping up shooting the aforementioned drama in May, the 22-year-old has been starring in MBC's weekday series "Can't Live without You" [translated title] as a hopeless aspiring film director named Kim Min-do.
3. Bae Suzy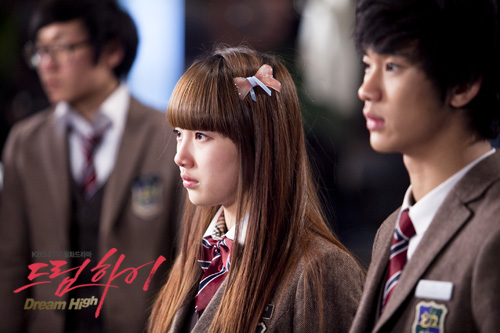 Sonstress Bae Suzy (center) and actor Kim Soo-hyun (right) play highschool students in KBS' drama "Dream High," aired between January 3 and February 28, 2011. [KBS]
Go Hye-mi, a stubborn teenager with a great self-respect, in KBS' teenage drama "Dream High" (2011)
Suzy is now more than a member of popular girl group, gaining the nickname 'Korea's sweetheart.' Putting every one of her works in a spotlight, her short yet solid filmography is as impressive as her discography.
Debuted as a member of the Korean girl group miss A under JYP Entertainment in 2010, the group's debut single "Bad Girl, Good Girl" was well-received in various generations of local music fans. After promoting the follow-up dance tune "Breathe," Suzy kicked off her first career as actress in the idol-packed drama, "Dream High."
Gaining much popularity with her solo tune "Winter Kid" [translated title] listed in the series' original soundtrack, Bae successful marked her small screen debut harmoniously with peer budding actors and actresses such as Kim Soo-hyun, IU, 2PM's Ok Taecyeon and Jang Wooyoung.
Her next feature "Architecture 101" also scored a big at local box office, and the idol singer rose to fame as an iconic figure of everyone's first crush. Then Suzy marked her return to KBS' TV series "Big," opposite actor Gong Yu, and was highly rated for portraying an arrogant girl named Jang Mari.
The 19-year-old singer and actor is currently busy as a member of miss A, and regular on KBS' variety show "Invincible Youth 2."
4. Lim Siwan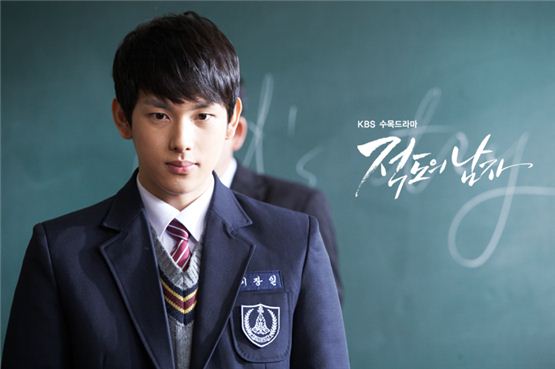 Singer and actor Lim SIwan poses in front of the camera during the shooting of KBS' series "The Man From the Equator," aired between March 21 and May 24, 2012. [KBS]
The younger days of Lee Jang-il, an ambitious high school student in KBS' series "Man From the Equator" (2012)
Siwan, a member of K-pop boy band ZE:A, is one of the most promising rookie stars who caught the eyes of many local TV producers. It's impressive that his sole acting career was built in less than six months after bringing about a huge sensation with his role as young Heo Yeom in MBC's hit historical series "Moon Embracing the Sun," early this year.
Acknowledged his stable acting skills in the aforementioned drama, Lim immediately got cast in the follow-up feature, "Man from the Equator." In the well-script drama, Lim has well described his cold-blooded character named Lee Jang-il, who betrays his best friend to change his social status from his poor background.
The singer-turned-actor was born in Busan, a southern seaside city of Korea in 1998. Since making his first appearance as member of ZE:A in 2010, he has been busy promoting ZE:A's two full-length albums and several singles released both in Korean and Japanese markets. The group released their second studio album "SPECTACULAR" on July 4, and gained noticeable popularity with its title tune "Aftermath."
The 25-year-old singer and actor is currently starring in MBC's weekday sitcom "Stand-By," co-starring actor Ryu Jin, Lee Ki-woo, and singer Kim Yeon-woo.
5. Lee Min-ho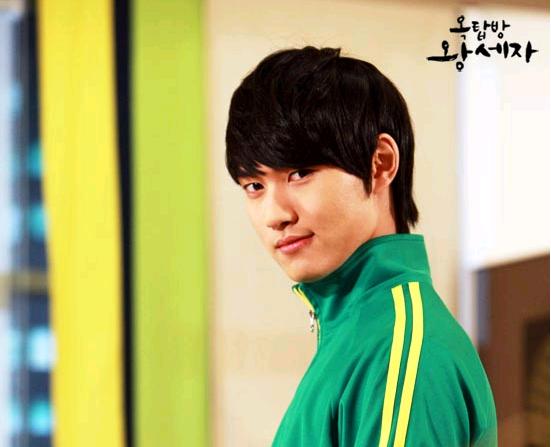 Actor Lee Min-ho poses on the set of SBS' series "Rooftop Prince," aired between March 21 and May 24, 2012. [SBS]
Song Man-bo, an intelligent courtier of male lead Park Yuchun in SBS' fusion historic series "Rooftop Prince" (2012)
Lee Min-ho has belatedly shot to stardom by starring as one of four popular young actors in MBC's smashing-hit TV series "Moon Embracing the Sun." His acting debut came years before that when he starred in SBS' popular sitcom "Soon-poong Clinic" in 1998 at six. He kept updating his acting resume by playing crowned princes in several epic dramas. Lee's passion for acting can be seen from how he enjoyed going to drama studios instead of a kindergarten.
As the leader of a qualified soccer team's in middle school, he has been titled as the individual score champion in annual junior soccer challenge. He once said on a TV show that he had had a hard time in deciding whether he should develop his acting career or not. It did not take long for the actor to make his decision. He found his gift in acting while playing the pure-hearted character in KBS' 2010 drama "Grudge: The Revolt of Gumiho."
Having fully adjusted to his character in "Moon Embracing the Sun" with his maturity, the passionate actor grabbed his first adult supporting role in "Rooftop Prince," forming a three mousquetaires of good-looking courtiers from the Joseon Dynasty with actor Choi Woo-shik and Jeong Suk-won.
The 20-year-old actor's upcoming big screen project "Running Man," [working title] will open in local theaters next year, co-starring actor Shin Ha-kyun and actress Cho Eun-ji.
6. Kim Sae-ron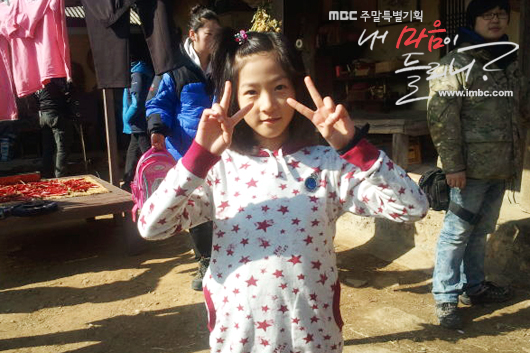 Actress Kim Sae-ron poses in front of the camera on the set of MBC's series "Listen To My Heart," aired between April 2 and July 10, 2011. [MBC]
The younger days of Bong Woo-ri, an innocent yet strongheaded child in MBC's series "Listen to My Heart"
There are a handful of young actors that show more impressive acting skills than grown-ups. Without a doubt, actress Kim Sae-ron is one of them. She is best known as a girl that saves her life with Won Bin's help in 2010 biggest hit local movie "The Man from Nowhere."
This young heroin in the silver screen first appeared in French-Korean director Ounie Lecomte's autobiographical pic "A Brand New Life" in 2009. Depicting a young girl abandoned by her own father in an orphanage, she has fulfilled her first-ever main lead role successfully. Kim, whose two sisters are also child actors, later participated in director Lee Sang-woo's "Barbie," the first Korean film to be awarded as the best film at the coveted Giffoni International Film Festival in 2012.
After taking two best rookie actress trophies home from several annual local movie awards by starring in the successful action flick, the young actress assigned her first role in small screen, as the younger role of Bong Woo-ri, who is later depicted by Hwang Jung-eum, in "Listen to My Heart." Playing an innocent yet stubborn girl to keep her mentally disabled parents safe, she has been praised a lot by TV critics and audience, though she took part in only the first four episodes.
The 13-year-old actress has been promoting the thriller pic "My Neighbor," in which she plays her first double role as a lost child, Yeo-son, and a would-be lost child, Su-yeon.
※ Any copying, republication or redistribution of 10Asia's content is expressly prohibited without prior consent of 10Asia. Copyright infringement is subject to criminal and civil penalties.
<ⓒ즐거움의 공장 "10 아시아" (10.asiae.co.kr) 무단전재 배포금지>