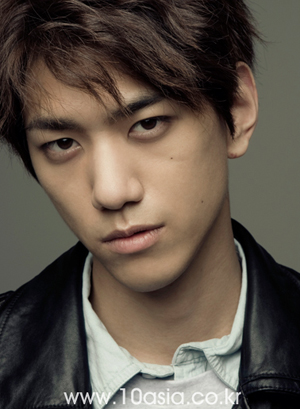 Sung-jun [Lee Jin-hyuk/10Asia]
<#10LOGO#>
Kwon Ji-hyuk is quite an attractive guy in the show because he has many talents, but for a rookie actor like you, it might have been a bit burdensome to take the role only a year after your debut.
Sung-jun
: Well, it wasn't so much of a pressure in the beginning because we had Lee Min-ki in the first two episodes. Lee took strong control of the overall show while I just reacted to his acting. But when he quit starting from the third episode, there was this huge pressure on me when playing Ji-hyuk in the show. The love story with Soo-a, the friendship with the band, the complex relationship with his biological mother and so on… Director Lee Kwon didn't give me any directions on how to act on those feelings. He trusted me too much (laugh). Of course, that helped me to maximize my acting skills up to 120 percent in some parts.
<#10LOGO#>
Then how satisfied are you with you acting?
Sung-jun
: Out of 100, I guess between 20 and 30 percent? Technically, I'm the main character so I had to do better. But I admit that I was lost sometimes. No matter how Ji-hyuk pretends to be strong and manly, he's just a teenager. But I'm not as young as Ji-hyuk so it was difficult to understand his way of thinking or his behavior from my perspective. But there were a few scenes where I felt proud of myself. At times like that, I would just tell myself, "Yes, you're Kwon Ji-hyuk!" and cheered myself up (laugh). It's more like scoring one or two out of ten, than doing something well as usual. Hmm.. I just said I rate myself 20 to 30 percent but I'll fix it to 50 percent (laugh).
<#10LOGO#>
You have revealed through other interviews that you lived with loneliness as a teenager. It was interesting to see a person who has that experience to act a character that values friendship the most.
Sung-jun
: It's hard to say that I understood the character. I tried to forget about who I was. I don't have a good memory from school and didn't have a lot of friends back then, but that doesn't mean that I should express Ji-hyuk as who I am. Whereas Choi Chi-hoon from the TV series "White Christmas" was a cold-hearted guy, Ji-hyuk is totally the opposite. I still have Ji-hyuk's character in me even after the show ended, and it also changed the way I act or my personality a little bit.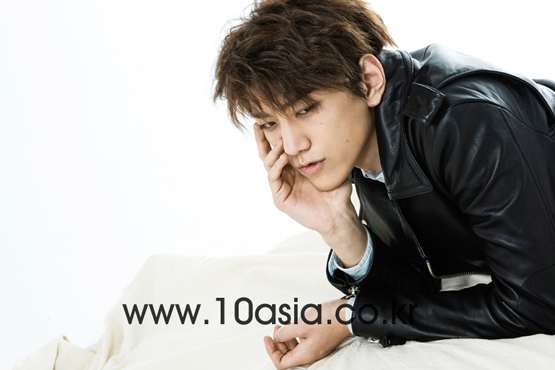 Sung-jun [Lee Jin-hyuk/10Asia]
"Twitter is fan service."
<#10LOGO#>
Though you're just a rookie, you don't seem to be intimidated. How do you do that?
Sung-jun
: Ah, this is very important but difficult to say (laugh). (Talking again after a short moment of silence) I think it's all about honesty. I try to be as honest as I can be. I tell myself that I'm going to show just the way I am and that's probably why other people don't see that I am intimidated. But actually, I'm just like any other actor who just made their debut. I get nervous and I get daunted because I don't know much about everything. Anyways, there are so many actors to learn from and I'm competing with those people. I think 'honesty' is one of my strengths as an actor.
<#10LOGO#>
Wouldn't that honesty make people misunderstand you?
Sung-jun
: Yes, a lot of people get me wrong sometimes. Some people think that I'm arrogant because of the way I act. But everyone has different perspectives and I understand if some people think that way. But Park Sung-hae (his agency's CEO) just saw me. She just nailed it (laugh).
<#10LOGO#>
Do you feel that you need to be conscious about people's misunderstanding? In the entertainment business, where rookies need to appeal themselves to other people to continue with their careers, don't you think you need to be more aware of that?
Sung-jun
: I think I'm half conscious but half not. While shooting for "White Christmas," I was just too busy to think about it. As I started to appear in SBS drama "Lie to Me," I thought a lot about not just my acting but my attitude as well. I gained confidence to continue my acting career after I played Ji-hyuk in "Shut Up and Let's Go." So I'm trying to be more active towards everything. Before, I wanted to show as much as I can through acting. But in "Shut Up," I tried to deliver the things I felt. There were times those attempts like that worked to move the viewers. I was lonely as a kid and there was a huge part of me that wanted to communicate with other people. I'm doing that job right now by acting in dramas.
<#10LOGO#>
You're quite active on Twitter these days. Wouldn't that be a part of communicating with other people?
Sung-jun
: Twitter is open for everyone so it's not a place to talk about personal stories. It's different from Cyworld's mini-homepage so you can't write your inner feelings there. But it's fun to see people's reaction to my tweets in real-time. I just write "Watch my show when it airs" and people reply to the message with their thoughts about it. It still feels a bit surreal (laugh). Of course, I don't check every messages but I try to read the tweets mentioning me whenever I can. Some people send me really good questions and I want to reply to it all but once I start writing back to people, I have to it to everyone. So to be fair, I don't reply to people at all. I can say that Twitter is just fan service.
<#10LOGO#>
Being a celebrity is not an easy job. For an example, even if you like being alone, you'd have to entertain people who came to see you.
Sung-jun
: Oh I held a fan meeting last year and I was so shy and nervous. I thought about just walking out or something. The event was much longer than I thought. Like.. two hours? I thought a lot what to do during the two hours. After all, I just played the guitar and sang a song. I think I was natural to prevent people from noticing that I was nervous. And I think I was able to do that because I was in front of my fans. If I have another chance to hold a fan meeting next time, I want to do it well. Should I dance or read a poem I wrote? (laugh)
※ Any copying, republication or redistribution of 10Asia's content is expressly prohibited without prior consent of 10Asia. Copyright infringement is subject to criminal and civil penalties.
<ⓒ즐거움의 공장 "10 아시아" (10.asiae.co.kr) 무단전재 배포금지>