Shinhwa members [Chae Ki-won/10Asia]
We want to grow old with the viewers just like the old drama 'Diary From the Countryside' (translated title) did in the past," Eric said at the press conference promoting JoongAng Ilbo's new general programming cable channel jTBC's new program "Shinhwa Broadcasting" held at Seoul Student Gymnasium on March 15. What Eric said sounds impressive and great but it is not easy to turn words into actions. But maybe Shinhwa, the longest living idol group in Korea who has been growing old with their fans the last 14 years, has the power to do so. jTBC's "Shinhwa Broadcaster," which hit the airwaves on March 17, is a program made by the group with mixed genres of sci-fi, sports, music and comedy. Producer Yoon Hyun-jun has been persuading Shinhwa to put the show together by meeting them over ten times since last year. "We aren't going to rush ourselves to make an output in a short period," he said. "I hope 'Shinhwa Broadcasting' could become another job of Shinhwa that lasts forever. It's difficult to have new ideas that no one has ever thought before but like the quote we have emphasized, 'It's different when Shinhwa does it,' I'm sure anything that we do will be different from other programs because it's being done by Shinhwa. Amid new general programming cable channels' staggering viewership ratings since their launch in December last year, could "Shinhwa Broadcasting" be a savior to jTBC? 10Asia met with Shinhwa to hear their thoughts and ambitions before making their official return to a variety program.
Eric:
Like MBC's "Infinite Challenge" or KBS' "Two Days and One Night," I like programs that have heartwarming elements inside laughter. We spent considerable amount of time together so far so that could bring us closer to the concept I like. We're seeing this program in long-run, unlike any other programs that air as pilot programs for a few months. Of course, the program's concept is important too, but most of all, I can trust the production crew here. If it's with my group members, doing survival games in remote areas would be fun too. And if we get to invite female guests, I would like to compete with female sports players instead of female idols. I have played judo against a female team from Yongin University before. Whether it's swimming or archery, it'd be fun.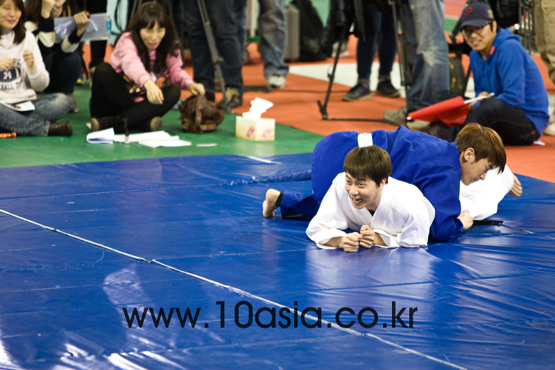 Shinhwa members [Chae Ki-won/10Asia]
Jun Jin:
While shooting the first episode, I was going around the jTBC's building and playing games with new idol groups. We found out that some of the new idols didn't know us. We're marking our 14th anniversary this year but we wanted to let people know who we are outside the camera. People ask me the difference between our program and MBC's "Infinite Challenge," because I used to be a member in "Infinite Challenge." I'd like to say that we don't have an emcee that receives the most attention. In one episode, Andy could be an emcee like Yoo Jae-suk and in another episode it could be a different member. (Kim Dong-wan: "There's no one who could keep up to comedian Yoo Jae-suk. No member in our group has a pivotal role in anything and we just trust the production crew here.") Since we have been spending over a decade together, we could show the brotherhood we have through the program. If we run out of ideas, we're considering receiving the viewers' opinion as well.
Shin Hye-sung:
: Compared to the other members, I was highly afraid of ruining my image. Things that I was afraid to show in the last 14 years were all done in one day while shooting for the first episode of "Shinhwa Broadcasting." I would have not been able to do it if it weren't working together with other members. I hope the audience can enjoy the show with affection. We've just crossed a mile and now it's time to show our fans little by little. (Question: "Who would you like to invite as the program's guest?") First, we want to try doing ourselves but if we get to invite someone later, it'll be Charlie Park (Jun Jin's dad)
Andy:
: While serving in the military, we weren't able to meet up every single day like in the past but we constantly kept in touch and met each other at least once a month. It became more frequent before making our comeback and while preparing for "Shinhwa Broadcasting" and it's nice to get to know each other more and have more chances to talk. (Question: "As the producer of group Teen Top, what's your advice on appearing in variety shows?) To be frank, I didn't talk much or know what to do on TV programs at the beginning of my career. I could give them some tips one by one but it's more important to go out in the field and experience by themselves. I'm still not perfect but I guess I'm having fun because the other members are supporting me. All six members have a strong will to win, so it'd be great if we could invite male celebrities and show the viewers the competitions against them. Shin could invite Kangta or Lee Ji-hoon while I can give a call to my own supporters and form a special episode with our close friends.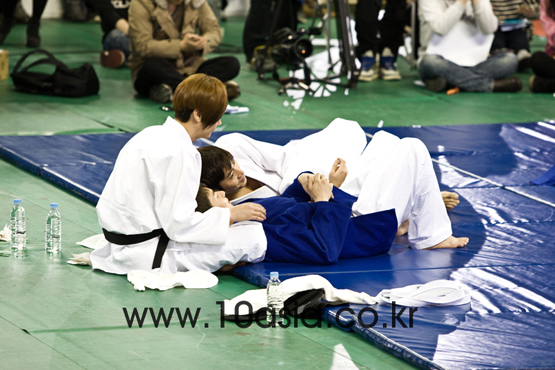 Shinhwa members [Chae Ki-won/10Asia]
Lee Min-woo:
: Our idea on the first episode rocked. I just let myself be free during the shoot, which was a day after I was discharged from my military service. Later, I asked myself why I acted crazy that day. I will watch the show but won't be recording it (laugh). But we just climbed a big mountain and I feel like I could even risk my life for this. Today, we're shooting under the theme 'Unique Olympic' and as much as this is physically tiring, we're all comical in talking so I hope you all could look forward to it. I'd like to try transforming into an one-day housewife and experience the role of a mother. (Kim Dong-wan: I'd like to take a veto vote!) Also, we'd like to meet every girl group who inspires all Korean men. Maybe we could imitate Girls' Generation. (Kim Dong-wan: "No way!")
Kim Dong-wan:
: "The interesting part about 'Shinhwa Broadcasting' is it being raw (laugh). We've been working in this field for a very long time but it'd be fun watching us not getting used to variety shows like rookies in the earlier part of the program. Plus, it'd be our honor if the audience could be part of the show. I couldn't participate in our first shoot because I broke my ribs that day. In the past, I would have done anything to avoid playing games or getting penalized but by watching everyone working so hard, I wanted to take part in the show despite my injury that day. Though it might not be so popular in the beginning, we'll work even with a low profit until our viewers say yes. (Question: Who exaggerate themselves with too much passion?) That would be Jun Jin and Kim Dong-wan!
※ Any copying, republication or redistribution of 10Asia's content is expressly prohibited without prior consent of 10Asia. Copyright infringement is subject to criminal and civil penalties.
<ⓒ즐거움의 공장 "10 아시아" (10.asiae.co.kr) 무단전재 배포금지>