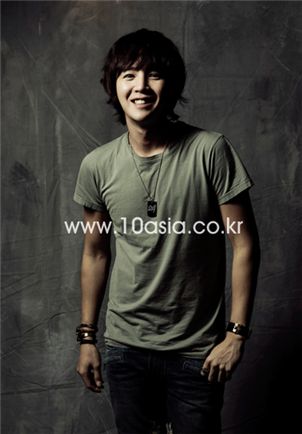 Jang Keun-suk [Lee Jin-hyuk/10Asia]

You receive more attention as an entertainer than actor but your filmography shows that you've constantly worked on projects of a variety of genres every year. Hence you may be talented in many ways but acting has always been at the center of your career so it seems that being an 'actor' is more important to you than we think it is.
Jang Keun-suk:
There are two reasons for that with the first being that I feel a stronger catharsis from expressing a character in front of the camera than showing my actual self on it. When I sing or dance, of course I'll seem like a joke if you put me beside people who actually do those things as their job. I merely know how to sing, not fully understand their world. But when it comes to acting, I'm confident of not losing if I had to fight over a character with someone else. Because I've been acting for 20 years now. Although strictly speaking, I consider myself to have been in training for 15 of those years because people recognized me but I was confused about what I was doing. I think that I started on a new playing ground when I turned 20.

I was honestly quite surprised by you in KBS TV series "Hwang Jini" which received a lot of attention as well as in KBS' "Hong Gil-dong, the Hero" and MBC's "Beethoven Virus." You had a presence which did not get overshadowed even by actor Kim Myung-min.
Jang:
But I made a fatal mistake while working on that project. I wanted to become a man too quickly. I cut my hair short, grew a beard and stiffened by body. What should I call it... that I sort of used a cheat key? I think I was thinking that I'm all grown up now that I'm 22, 23. So putting on an attitude and trying to look cool and manly so that I wouldn't seem like a kid, was the mistake I made. I should've been under the mindset that I should learn from Kim Myung-min but I just struggled not to get overshadowed and I still think it made me look pitiful.

Well people may think about their mistakes but it isn't the easiest to talk about them in such a frank way. Yet you seem okay with it?
Jang:
I always practice objectifying myself. There's a Jang Keun-suk that is listening to the Jang Keun-suk that is speaking. So if I lied or exaggerated anything while talking, I'd get scolded by the Jang Keun-suk that's listening. I trained myself to do that. And for example, if the Jang Keun-suk ten years later told the Jang Keun-suk today, 'Hey, stop doing the shuffle dance, it's embarrassing,' then it would be a mistake for me to be doing the shuffle dance right now. Because I'd regret it later on. But if I'm able to communicate with the public and enjoy how they laugh and have fun while looking at me, then I think the Jang Keun-suk ten years later would say, 'It's okay because you're 25. But you need to make sure to find your place when you're 35.'

So you're saying that you nurture a character of yourself in simulation but while you might be living according to the plans you have for yourself, there are times when the public won't play along.
Jang:
I think that's why the public is very amusing. They seem simple yet are also hard to please. But one thing for sure is that no matter how good a 25-year-old is at something, he's still just 25. He could be a real genius but he can't be better than an adult with more experience in life. Yet the reason I just honestly say that I want to be the prince of Asia is because I'm young so there's so much for me to do. When I say my dream is to become the prince of the world, I'm not saying I'll achieve it but that I'll show the public how I work towards it. And I may fail or have to tread on a thorny path while trying but I think I should still walk it while cutting at the thorns. I'm not embarrassed of failing or suffering setbacks. I'll just be mad at myself, not afraid of the public finding out about it. I may fall and get hurt but please root for me when I do fall! And of course, you're also allowed to just ignore me too! Because I'll definitely be back on my feet again! This is the ultra positive mindset I have.

But people are bound to shrink back when they fall. It will at least hurt if not be embarrassing. So how is it that you're not afraid of it? Have you been working on it since you were young?
Jang:
It's because no matter how much pain I'm in right now, there was a time when I was in much more pain. I may not look it but I lived a hard life when I was younger. The reason I started acting when I was young was to make money and me and my parents talk about those times a lot when we drink together. I've hit pit bottom before, when I first came to Seoul, so the pain I feel when I fall over now is nothing compared to how I felt then. I've tried not to go down the wrong path because I don't want to go back to where I was. So I think having been through that time is how I came to have my positive mindset?
Jang Keun-suk [Lee Jin-hyuk/10Asia]

I think that Japanese people like that positive mind and honesty about you as well. And you're walking on a different path from other Hallyu stars in Japan in the sense that you didn't expand your career into Japan based on your popularity in Korea. So I think this in itself must be significant for you.
Jang:
I think it serves as a task for me because I don't have a hit or representative project in Korea. I haven't had a drama that has passed the 30 percent mark nor a movie that has seen over two million viewers. I achieved those dreams in Japan first because "He's Beautiful" set new records. But on the other hand, this has presented me with a task. I could say that I just want to stay in Japan because I've seen success there but I'm Korean and want to be acknowledged in Korea. No amount of money can fulfill this desire of mine. That's why I could've taken a break but I've been working hard on "Love Rain" (tentative title) immediately after "You Are My Pet." I think I feel a compulsion to resolve this task.

What are your thoughts on "Love Rain"? The main characters to director Yoon Suk-ho's past works have been people who are extremely cautious at expressing their emotions.
Jang:
"Love Rain" is about two forms of love. Up till the fifth episode, set in the 1970s, the show depicts on the cautious analogue-type love of our parents' generation. People sometimes confess of their love through text messages or email these days but in those days, you would have to wait in front of the girl's classroom for up to an hour to meet her. And I think that's more romantic. It's sweet and how should I put it, I think one's heart stayed aflutter for longer. Then starting from the sixth episode, the utterly digital love starts and my character becomes defiant and sometimes outspoken. Getting to show both of these in a single project is the largest challenge as well as merit the drama has for me.

I think what keeps you going is the uncontrollable amount of energy you have. But you may have that energy because you're young. And you may run out of that energy once you're old so you'll need a different sort of weapon for then.
Jang:
Experience. I've been working for 20 years so I think I'll know how to get back on my feet after failing. That's why I don't want to go the 'safe way.' I want to do things that I haven't done before and take on reckless challenges that I know won't work out. And then I'm sure there'll be a project that comes to me and make me become the prince of Asia more quickly. Of course, I would then be happy to have become the prince of Asia but I'm also not interested in doing well in the obvious way. Do I always have to go straight forward? Wouldn't taking the long way around be fun as well? Whatever the road I take, I want it to be fun. It's fun surprising the public with projects like "The Case of Itaewon Homicide" which wasn't expected of me at all. And when they start getting interested in the path I'm taking and wonder about my next choice, I take on movies like "You Are My Pet" where I show them what I do best. Next year, I may be a zombie or murderer. I want to go about things excitingly than with a single image.

I wish there were actors like that in Korea as well.
Jang:
Aren't there a lot?

Yoo A-in? [laugh]
Jang:
Yes. Yoo A-in and Kim Soo-hyun. I laughed a lot while watching "Punch." And I've known A-in since I was in high school. We haven't kept in touch after growing up and becoming busy although we've said hello to each other at awards ceremonies. But it somehow seemed that I'd have more fun watching him from far away than close up as good friends. And what do you know, he makes it big with "Punch." If Yoo A-in has "Punch," I have "You Are My Pet." And Kim Soo-hyun, hurry and catch up! Overtake me so that it stimulates me! [laughs]
※ Any copying, republication or redistribution of 10Asia's content is expressly prohibited without prior consent of 10Asia. Copyright infringement is subject to criminal and civil penalties.
<ⓒ즐거움의 공장 "10 아시아" (10.asiae.co.kr) 무단전재 배포금지>