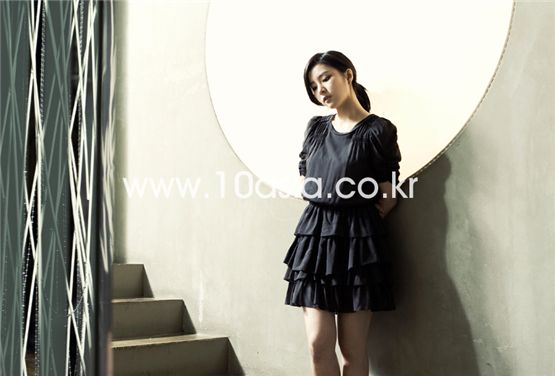 Shin Se-gyeong [Lee Jin-hyuk/10Asia]
썝蹂몃낫湲 븘씠肄
Two years ago, on a day the rain plummeted down, Se-gyeong (Shin Se-gyeong) and Ji-hoon (Choi Daniel) of MBC sitcom "High Kick 2" disappeared with the black and white screen and actress Shin Se-gyeong who played housekeeper Se-gyeong disappeared without a trace as well. Unlike actors such as Hwang Jung-eum and Yoon Si-yoon who immediately used the interest they gained through "High Kick 2" to take on new projects, Shin Se-gyeong went on a break which lasted close to two years. Of course, she did not really rest since she shot movies "Hindsight" and "Soar Into the Sun" and is now appearing in series "Deep Rooted Tree." But Shin Se-gyeong did not seem to mind what people called a 'career break' and she did not seem to be in a rush to return to the screen before she gets forgotten. "That's what the public mistakenly thought because they wouldn't know if they don't see me on screen. Or rather, it's just natural that the public's interest would decrease in me the less I'm exposed. But I told myself that I need to take time to draw back in order to make a new leap forward. I don't think there'll be any problems as long as I do well since I have two movies and a drama coming out."
And due to her having halted her acting career in high school to live her life as an ordinary high school student who likes music and movies, she was able to experience the various emotions that one needs to as an actor which has made it possible for her to have more diverse expressions than other actors her age. In that sense, it is only natural that Shin wanted to be in movie "Hindsight" where she had to play the role of Se-bin who doesn't know if she feels love, friendship or sympathy for Du-heon (played by Song Kang-ho) that she has to kill. She even confessed several times during her brief interview with 10Asia that she "really wanted to do 'Hindsight'." "It was the first script I felt I would be very sad to let go of. I felt that the two's relationship was something that was undefinable -- different from the typical lovers that appear in melodramas. They'd comfort each other when lonely and sympathize with the other person when they find out how they're alike." That is why she says that is it movies that comfort her loneliness and tap at the emotion of love that Shin Se-gyeong remembers in particular when it comes to movies. Below are five movies that have been "like saviors" to Shin Se-gyeong even before she became an actress to when she finished filming "Hindsight."
<#10_LINE#>
1. "Fallen Angels"
1995 | Wong Kar-wai
"There was a time, when I was 20, that I had a really hard time. It really wasn't even over a big deal but I had a hard time emotionally so I'd just lay down somewhere and stuff. I guess it was a tumultuous time for my emotions that I don't want to think of even now. But watching 'Fallen Angels' at the time consoled me. It was consoling because watching the main female character wail made me think, 'There's someone who's sadder than me.' I don't think watching comedies is the solution to when you're having a hard time. It's the really sad movies that rather consoled me. Anyway from then on, it felt like I was in debt to this movie so it's my first choice when I recommend movies. I recently watched it again and I was happy then. So maybe that's why but Takeshi Kaneshiro looked cute. [laughs]"
A project by Wong Kar-wai starring actors Leon Lai, Michelle Reis, and Takeshi Kaneshiro. It tells about the lives of loneliness-ridden characters Wong Chi-ming (Leon Lai) who is suffering from amnesia, Michele (Michelle Reis) who is his partner that loves him, and He Zhiwu (Takeshi Kaneshiro) who has been a mute since he was five years old and was deserted by his first love and father. Like Shin Se-gyeong said, this is a movie you could rather be consoled by because of how pitiful the lives of the main characters seem to be.
2. "Lock, Stock And Two Smoking Barrels"
1998 | Guy Ritchie
"This is a movie about gambling and cheating but it's a lot of fun. And it contains enough comical elements to make you laugh your head off but it's closer to being a drama than a comedy. It's a project you can have a lot of fun watching and this is my favorite amongst these types of movies. It's been a while since it's been out but it's not out-of-date in any way. And the male actors are all amazing as well."
Instead of winning money, Eddy and his three friends who join Harry's gambling game to win big, are threatened to lose their fingers if they cannot pay up 500,000 pounds in a week. These four boys, who need to put their lives on the line for the money to keep their fingers, by chance overhear on the plan that a group of robbers next door are planning and from then on, the complicated relationships between characters are formed. The movie requires a high level of attention from viewers due to the appearance of five groups each with different goals but the pieces of the puzzle come together to complete a whole picture toward the latter half. That is how well-structured the movie is.
3. "Sympathy For Mr. Vengeance"
2002 | Park Chan-wook
"I watched this movie after filming 'Hindsight' because I missed Song Kang-ho so much. Like a habit, I watched 'The Show Must Go On,' 'Sympathy for Mr. Vengeance' and 'Thirst.' But I watched 'Thirst' only once. It just felt like I should. [laughs] I feel very bad for saying anything about 'Sympathy for Mr. Vengeance' but if I may dare make a comparison, it was like singer Lena Park from MBC's 'I'm a Singer.' Every singer is great but they all have their talents whether it be how they express their emotions, how technically skilled they are or how great their singing abilities are. But Lena Park is perfect at everything. And to me, 'Sympathy for Mr. Vengeance' is a movie that's like that."
The movie that signaled the start to Park Chang-wook's vengeance series. After making "Sympathy for Mr. Vengeance," which tells of the brutal vengeance taken on by Ryu (Shin Ha-kyun) who has lost his older sister and Dong-jin (Song Kang-ho) who has lost his daughter, Park Chan-wook completed The Vengeance Trilogy with "Oldboy" and "Sympathy for Lady Vegeance."
4. "Talk To Her"
2002 | Pedro Almodovar
"This is the movie that tainted my days of when I was 19 into red. In other words, you could say it's a movie that symbolizes me when I was 19. When I was young, not yet at the age to watch 'Talk To Her,' the lady at the video store of our neighborhood recommended it to my mom and we watched it together. I didn't understad it back then but it felt completely different when I watched it when I was 19, the age when my sensitivity had become so soft that it was ready to burst any moment. I liked the movie's plot but particularly the scene where the dancers dance. It was the first time that I got moved by people expressing a certain emotion with their bodies. And I had heard that it's important for us actors to express our emotions with our faces but that we also have to know how to use our bodies well. That's why it had more of an impact."
There is a ballerina who is in a coma and a bullfighter, and Benigno and Marco who love them. They have the same stories but they love their women in completely different ways. What is the standard of differentiating love, dedication and obsession? Does such a standard actually exist? And set aside all of these questions, even just the "Cucurrucucu Paloma" that musician Veloso sings in the movie is enough reason to watch "Talk To Her."
5. "Betty Blue"
1986 | Jean-Jacques Beineix
"It's about a truly passionate love where one gives everything to one's lover. 'Betty Blue' made me think that I want to love like them. [laughs] Is it too dangerous? I know there's very little chance of it happening but wouldn't I be able to love like this sometime?"
Zorg, an aspiring writer and Betty, who is trying to help him become a writer, love each other to a stifling extent. It is not just the words they exchange but also their gaze, sexual intercourse and even the air around them that shouts of love. They may risk their lives for their love for each other but that is also why their love sadly heads to a halt. Betty becomes uncontrollable due to her growing obsession over her lover and Zorg makes a decision that will help her let go of him easily.
※ Any copying, republication or redistribution of 10Asia's content is expressly prohibited without prior consent of 10Asia. Copyright infringement is subject to criminal and civil penalties.
<ⓒ즐거움의 공장 "10 아시아" (10.asiae.co.kr) 무단전재 배포금지>