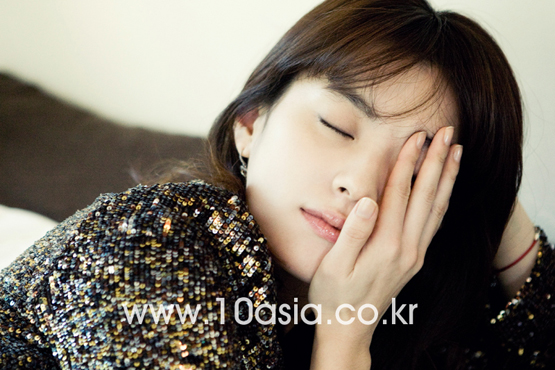 Actress Han Hyo-joo [Lee Jin-hyuk/10Asia]
"Then I succeeded! [laughs]," actress Han Hyo-joo said while clenching her fists when told that her character Jung-hwa in film "Always" just seemed like a pretty and loveable woman instead of a visually impaired person. Han Hyo-joo was a cheerful person off the screen as well, just like her characters in SBS TV series "Shining Inheritance" and MBC TV series "Dong Yi - Jewel in the Crown." Yet interestingly, the reason she decided to take on "Always" was to shed herself of that image. "After 'Dong Yi,' I was asked many times through interviews: 'What project do you want to do next?' And I answered that I want to do a melodrama pic. The dramas I'd been in so far were about love amidst growth, family and friendship. So I wanted to do a movie just about love and no other obstacles." And like Han Hyo-joo said, there were no parents against their love nor any friends giving extensive advice in "Always" which depicted on the great love between former boxer Chul-min (So Ji-sub) and visually impaired woman Jung-hwa (Han Hyo-joo). There was only a woman who forgives everything about a man and that man who is ready to sacrifice even his life for that woman. Below are Han Hyo-joo's choice of five romantic movies which she said gain depth over time.
<#10_LINE#>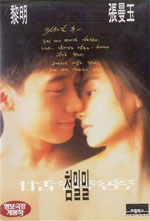 1. "Comrades: Almost A Love Story"
1996 | Peter Chan
"I came to watch this movie again because director Song Il-gon recommended it to me while I was filming 'Always.' And although it was shot more than ten years ago, it was still so sophisticated and refreshing. It's sophisticated to the point that it made me think, 'Wow, this was what this is about?' after not having understood it completely when I watched it when I was young. 'Always' is about the noble, pure and sacrificial love between a man and a woman, right? A movie about one person loving another person. But 'Comrades: Almost A Love Story' is about a person loving another person yet having a different person like that person. It's very realistic but told in a beautiful way."
Other than the fact that they both like singer Teresa Teng, they are extremely different. Xiao-Jun (Leon Lai) is a man with the simple dream of returning home and marrying his fiancee while Li Qiao is a woman with big dreams and ambitions. The two, who come across each other in a train to Hong Kong, endlessly repeat the process of depending on each other, then falling in love, then going to someone else, and then realizing they cannot forget about each other.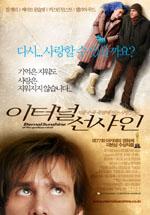 2. "Eternal Sunshine Of The Spotless Mind"
2004 | Michel Gondry
"This is a movie that has very pretty imagery in particular. There are many bits and pieces of scenes from it that I remember. And the most memorable scene in particular is when the two lie on the ice. They really looked happy then. And the music was great as well."
Your memory of having loved someone in the past is something you want to remember forever but also delete. And it is the same for Joel (Jim Carrey) and Clementine (Kate Winslet) who once loved each other but slowly become tired of each other and decide to break up. Clementine erases her memory of Joel and when Joel finds out about it, he too asks for his memory of Clementine to be erased. Yet the more he tries to forget about her, the more he realizes the importance of those moments although it is too late. Jim Carrey may have appeared mostly in comedies but does well at pulling off his role in this romantic movie as well.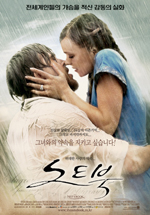 3. "The Notebook"
2004 | Nick Cassavetes
"The main female character loved someone when she was young but broke up with him because they cannot be together for realistic reasons and meets someone she can marry. But she ends up leaving him, returns to the man she loved when she was young, and spends the rest of her life with him. I mean, what kind of love is that? [laughs] It was amazing. I think I'll like this movie for a long time."
One can tell that "The Notebook" is a sad love story from the movie's poster showing a man and woman in embrace and kissing each other in the rain. It is the scene from when Noah (Ryan Gosling) and Allie (Rachel McAdams) meet again for the first time in seven years after having broken up over difference in status. You may wonder whether it is possible to think about and love just one person for the rest of your life but Noah shows a love that the word 'great' does not do justice for. The movie is an adaptation of the novel of the same name by novelist Nicholas Sparks of "Message in a Bottle" and "A Walk to Remember."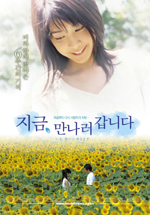 4. "Be With You"
2004 | Nobuhiro Doi
"This is a fairy tale-like movie like 'Always.' And there are times when these sort of movies move you more than the realistic ones. So I liked this movie a lot because I watched it when I was craving that sort of movie. I liked its imagery more than anything."
Like a miracle, the wife who died after saying she would return a year later during the rainy season, appears in front of the husband. Realistically, it may be difficult to accept but like Han Hyo-joo said, there are times when you want to see a fairy tale-like love. The family has six weeks until the wife has to depart again and during that time, the couple and their son spend all of their time loving and caring for each other. The couple's love is sad but so is that of the son's who, worried that his mother will go away if the rain stops, prays it will continue to rain by hanging a rain stopping paper doll upside down.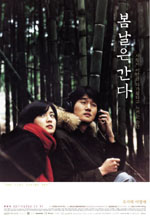 5. "One Fine Spring Day
2001 | Hur Jin-ho
"I watched this movie for the first time when I was in middle school. And back then, all I thought was, 'Wow, Lee Young-ae is so pretty' and 'This is a movie with a great vibe to it.' But I came to like it more and more over time. Later on, I watched it thinking, 'These sort of lines?' and 'How could the director have thought of these kind of lines?' [laughs] I like this movie a lot too because it told of a realistic love."
"One Fine Spring Day," which is famous for quotes "Do you want to have a ramen and go?" (Lee Young-ae as Eun-soo) and "How does love change?" (Yoo Ji-tae as Sang-woo), is about the love between an extremely naive man and a woman who knows too much. In the early morning of one day, Sang-woo runs to Eun-soo when she says she misses him. The silhouette of Eun-soo in the arms of Sang-woo in itself leaves a beautiful yet sad lingering feeling.
※ Any copying, republication or redistribution of 10Asia's content is expressly prohibited without prior consent of 10Asia. Copyright infringement is subject to criminal and civil penalties.
<ⓒ즐거움의 공장 "10 아시아" (10.asiae.co.kr) 무단전재 배포금지>