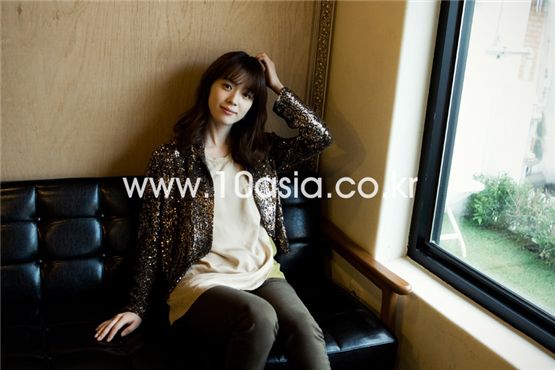 Han Hyo-joo [Lee Jin-hyuk/10Asia]
Han Hyo-joo is the type of actress that can make you feel happy without having to do anything. And in part, it may be because she played cheerful characters in hit SBS TV series "Shining Inheritance" and MBC TV series "Dong Yi - Jewel in the Crown" but it is also the result of having an energy which "believes in the power of positivity." This actress, with her attractive smile, contains such cheerful energy into all the characters she plays. That is why one does not feel sympathy for her in her latest pic "Always" where she plays the visually impaired Jung-hwa. Below are excerpts from the interview with this actress.
<#10LOGO#>
It seemed that Jung-hwa in "Always" was saying "I'm a cheerful and loveable woman" with her whole body. From a certain point onward, I forgot that she was visually impaired.
Han Hyo-joo:
Then I succeeded! [laughs] I wanted to express Jung-hwa in exactly the way you put it just now. I didn't want to show people that she's thinking 'This is how tough of a life I live' just because she can't see nor did I want her to accept that of herself. That's why she dressed in brighter colors and smiled more. If I were in Jung-hwa's shoes, I may have been depressed and told myself, "I'm such a miserable person. How will I live my life from now on?" but Jung-hwa is beyond all of that. She can't die. She somehow has to live. And I think it's because she received a lot of love from her parents while she was growing up. She's a very strong person.
<#10LOGO#>
I felt that you were able to give off that feeling about her very naturally because you've built on your image as being an actress who is positive and cheerful.
Han:
My character was supposed to be even more cheerful, according to the script. But as the one who'd be acting her out, I felt that it would be pretty difficult to do. What about the guilt she feels over her parents dying because of her and having nothing to do when she somehow needs to make a living right away? So I told director Song Il-gon, "I know what you're saying but I don't think I'll be able to express her to this point." And he said, "She has to be cheerful. She has to smile. That's the only way Chul-min (So Ji-sub) will fall in love with her." So from the very beginning, we continuously discussed and adjusted on the amount of cheerfulness she'd show. While the script was very movie-like, the characters became more realistic as we played them. Jung-hwa held herself back a bit and Chul-min became a bit more cheerful than he was originally set to be.
<#10LOGO#>
Well, you may not be her but were there moments you choked with tears from a woman's point of view?
Han:
I really liked the scene where she went to Chul-min and asked him out on a date after not having seen him for a while since getting assaulted by her immediate superior at work. It must've taken a lot for her to be able to do that so I felt a bit sad when shooting that scene. And when the camera zooms into Jung-hwa's face for that scene, Jung-hwa gives a brief smile. That smile was really sad. I think I felt more sorry for her when she was smiling than crying. She's really an amazing girl.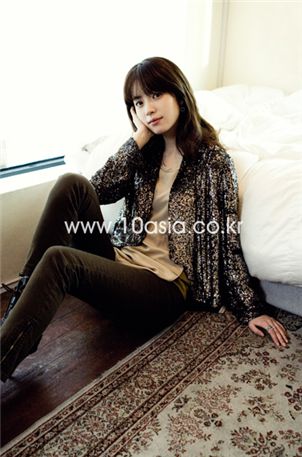 Han Hyo-joo [Lee Jin-hyuk/10Asia]
<#10LOGO#>
There were many details you had to mind to, not just in expressing her emotions but also to how she was visually impaired. So Ji-sub said it seems like you're the type that puts a lot of stress on yourself... How was it having to control your emotions on set?
Han:
Now that I think about it, I think I got influenced by my character a lot. It's not like anything had happened but for no particular reason I kept getting angry while I was acting. And I'd never been so sensitive before. Even if I am on the more sensitive side, I usually don't show it and get over it with a positive mindset. Yet it's true that I got very sensitive when working on this project. Jung-hwa may have been cheerful and spirited on the outside but of all the characters I've played so far, she held the biggest pain inside. It was frustrating to have to smile. But I'm not the type that gets mad so I dealt with it within myself.
<#10LOGO#>
So it must've not been easy to laugh and chat with other people when you had breaks on set.
Han:
That's why I spent a lot of time in my dressing room alone. It wasn't on purpose [laughs] but everyone was very considerate about it. They helped me spend alone time.
<#10LOGO#>
Having good chemistry with So Ji-sub has to have been important because Jung-hwa and Chul-min basically led the entire emotional flow of the movie.
Han:
So Ji-sub showed different acting for every take. And because he acted differently, I'd respond to it differently too which I liked. I acted every scene with the emotion I felt that moment. I didn't tell myself that I should act in a certain way and it's hard for me to tell you how I felt back then. It was as if I was doing everything live.
<#10LOGO#>
In an interview after "Dong Yi - Jewel in the Crown" ended, you said that you'd like to take on a romantic movie next. Is there a reason that you pinpointed to a specific genre?
Han:
Both "Shining Inheritance" and "Dong Yi" were about love within the framework of growth, family, friendship and all. But I'd never done anything which is just about love and nothing else. So I'd been thinking I want to do that is deeply romantic and the timing worked out for this.
<#10LOGO#>
Now that I think about it, you don't have any parents who are against you or gives you a long lecture on what to do. [laughs]
Han:
There really wasn't. [laughs] Jung-hwa didn't even have a single friend.
<#10LOGO#>
So was working on a melodrama as good as you expected it to be?
Han:
To start with, I'm so happy that I look so pretty in it. [laughs] And I think I've gained depth after shooting a melodrama. It's a project that suits the word 'first time' in many ways. It was my first melodrama, my first big commercial movie, and it felt like I was acting for the first time as well. Everytime I went into shoot, I asked myself, 'Why am I so nervous?' [laughs] As much as firsts are always nerve-racking and awkward, they're also that significant. That's the sort of movie "Always" was for me.
※ Any copying, republication or redistribution of 10Asia's content is expressly prohibited without prior consent of 10Asia. Copyright infringement is subject to criminal and civil penalties.
<ⓒ즐거움의 공장 "10 아시아" (10.asiae.co.kr) 무단전재 배포금지>