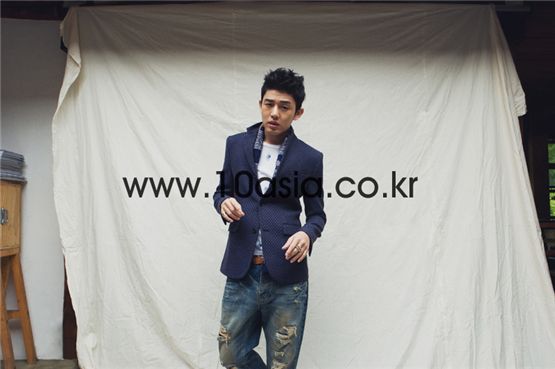 Yoo A-in [Chae Ki-won/10Asia]
Interviewing Yoo A-in was like looking for the end of a maze while holding onto a single piece of thread. And it is because it was not easy having a conversation with someone who would give an answer in a language of his own to whatever question and topic he was asked on and make the interviewer wonder about new questions. However, although that thread was thin, it was sturdy. That is the single thing that hasn't changed about he who rose to stardom through KBS' "SungKyunKwan Scandal" a year ago and is now back with "Punch" where he again plays a youth who is lost yet is different. Yoo A-in still lives as Yoo A-in. That is why he is interesting.
<#10LOGO#>
While watching "Punch" I suddenly thought, 'Why does this actor always get so much burden placed on him?' You seem to play a lot of characters that are lonely, poor and are lost.
Yoo A-in
: My characters have really always been burdened by something. Because it is actually no fun to play teenagers who don't have any burden on them and just go through everything that everyone does. I think Hyung-kyu from KBS' "Man Who Can't Marry" was the rarely sound and universal character that I played. I'm sure he must've had concerns of his own but they didn't necessarily show in the project.
<#10LOGO#>
The moment you cried out, "Why on earth are you doing this to me?" in "Punch," I felt that you have a face that is great for expressing sadness. And I felt that it came from the feeling of unjustness that you feel inside you, not just from playing your character.
Yoo
: That really was me. There definitely was a side to me that wondered, 'Why on earth is the world treating me like this?' and Wan-duk was just someone that's younger than me. In terms of my facial expression, I have the face where when I raise my eyes like this, I can look sad and pitiful really well. [laugh] I used to think that acting is difficult and tried to go with my instincts but I think I've come to be more analytical and know which muscles to use to express certain emotions.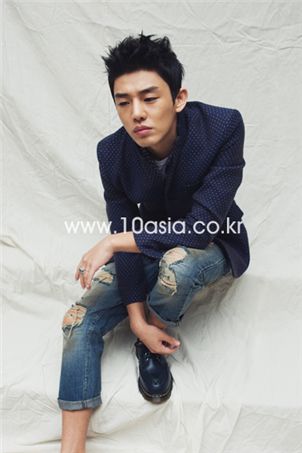 Yoo A-in [Chae Ki-won/10Asia]
<#10LOGO#>
But it wasn't easy to get a grasp on your character in the beginning of the movie. Although Wan-duk was someone in the most unfortunate circumstances possible due to poverty, having a disabled father, and a Filipino mother he hadn't even known of, he wasn't rough or a strong rebel but rather just unmoved by everything and in a way was more mature than adults. What was your understanding of him in general?
Yoo
: It was actually much easier to understand rebels like Wan-duk -- no, he actually wasn't even a real rebel -- than very extreme or rough rebels. Because that's the way reality is. There actually are more kids who stay in school rather than run away from it and more kids who stay with their parents no matter how awful their families are doing. So that's what I thought of a lot. Actually, in that sense, Wan-duk is actually quite different from the characters I've played in the past. He actually may be much more innocent, nice, flexible and well-rounded than me in the sense that he fought a fight within himself rather than becoming an outsider. He was sharp within his round exterior, not someone with a jagged and difficult exterior as well. Probably more so than some adults.
<#10LOGO#>
And on the other hand, I felt that Wan-duk's future wouldn't be all that smooth just because he started to do kickboxing.
Yoo
: I do think a lot of people were hoping the ending would show Wan-duk win a kickboxing competition or some sign of hope for him. Even my parents said, "He should've won a competition!" [laugh] But I was happy that a sport didn't get used in that sort of a tacky way in this movie. I had actually wondered why it has to be a sport again. I didn't get why they couldn't have come up with a device, that isn't sport, through which a young guy can let out his energy and make his way out into the world. But the movie ended up changing its direction from having a definite happy ending and I liked that the somewhat possibly worn-out subjects got approached in a refreshing way.
<#10LOGO#>
Well I think one of the reasons that sports appear often in movies about teenagers is because it's one of the few ways for people who aren't well off enough to become successful.
Yoo
: And another reason is that the teenagers and people in their twenties that the older generation depicts on can't be that diverse. Even the roles that I get are juvenile delinquents, rebels in their twenties, which are all great of course. But I wish there were more characters in more special situations and with special traits. I'm happy that the character I've played has been able to be shown in a mainstream commercial movie like "Punch" but I'd now like to take on projects with more depth. Of course, not that I get to decide since I'm not the writer.
※ Any copying, republication or redistribution of 10Asia's content is expressly prohibited without prior consent of 10Asia. Copyright infringement is subject to criminal and civil penalties.
<ⓒ즐거움의 공장 "10 아시아" (10.asiae.co.kr) 무단전재 배포금지>