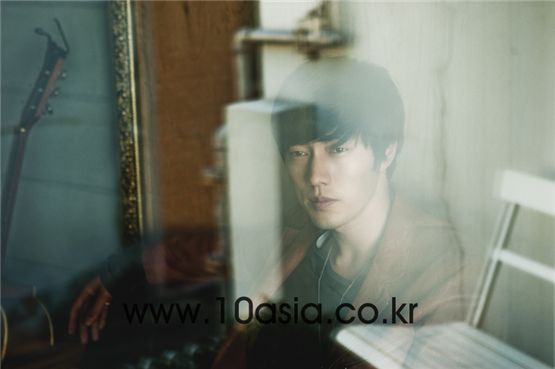 Actor So Ji-sub [Chae Ki-won/10Asia]
From a certain point onward, So Ji-sub was a name we were familiar with yet not close to. He was regarded more as someone with a stylish image than definite substance and his aura as a star rather seemed to repress the characters he played in SBS' "Cain and Abel" and MBC's "Road No. 1." He may have become a star through his acting and characters in SBS' "What Happened in Bali" and KBS' "I'm Sorry, I Love You" but this also rather brought about the paradox of stopping one from fully immersing into his character. Hence if his upcoming movie "Always" is one that his fans have gotten excited over, regardless of how well the movie itself has been made, it is because So Ji-sub's valuable appeal and his character as boxer Jang Chul-min, have fused at the highest possible state. In other words, he has acted well. So what does this mean to the actor himself? Below are excerpts from 10Asia's conversation with him.
<#10LOGO#>
"Always," the opening film for the Busan International Film Festival, was received well by the media and the general audience at the time. It did at its premiere as well.
So Ji-sub:
I watched it for the first time that day as well and luckily, people responded to it so it made me a bit happy. I had talked about this with the director as well but it's up to the heavens to decide on the success of a movie so I'd just been hoping that the audience would shed at least one tear inside their hearts. And hence I'm relieved that it seems to have been the case so far.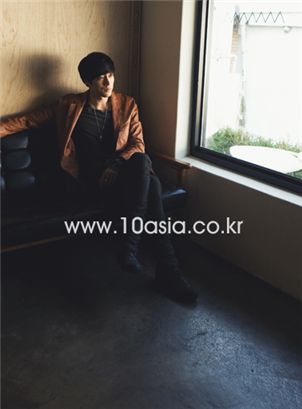 Actor So Ji-sub [Chae Ki-won/10Asia]
<#10LOGO#>
How did it feel to watch it as a member of the audience?
So:
I lacked objectivity. I choked with tears the whole time because I was reminded of the hard times I had shooting the movie. The physical and psychological hardships.
<#10LOGO#>
Well it's easy to understand the physical hardships you must've gone through since you played a mixed martial arts player. But what were the psychological struggles?
So:
It was hard to stay romantic throughout. That's how movies are different from dramas. Dramas move forward quickly so you may act out one emotion here and then move onto another there but with movies, you sometimes have to wait up to three to four hours for a new cut to get set up so you need to hang onto that emotion all day long. And that was really hard to do. Plus I have a hard time getting over the characters that I play but luckily, I started working on a new project soon after this time. If it wasn't for that, I would've had a hard time.
<#10LOGO#>
Isn't having good chemistry with your scene partner important to maintaining such emotions?
So:
I had only met Han Hyo-joo once in the past, at an awards ceremony. And I expected her to be a cheerful and bubbly person but it turned out she was actually the complete opposite. She was serious, had a lot of thoughts regarding acting, and was the type that puts a lot of stress on herself. But that helped me a lot. It would've been hard to focus on my emotions if she was playful and all over the place. But seeing her think a lot about her character helped me a lot too.
<#10LOGO#>
But it must have been difficult to be scene partners with someone who's playing a visually impaired person.
So:
Actors deliver their emotions through their eyes but she wouldn't look at me so this was very frustrating at first. I couldn't focus and kept wondering how I'm supposed to act. But I got used to the situation in a week. It felt comfortable after really starting to feel that this person really can't see me. Acting is such a strange thing.
<#10LOGO#>
Set aside the earnest romance within the movie, the story in itself wasn't very refreshing. So what's the reason you stlil went for this movie?
So:
I wanted to do a love story like this. I thought that it would be nice for people who watch this movie to think of their past and the excitement they felt over their first love or crush.
<#10LOGO#>
And did you think that you'd do well at delivering such emotions?
So:
I didn't. I'm not the type that thinks, 'I'm good at this so I'll show people this.' I'm the type that has to rack it out by tormenting himself. I'm very sure of what sort of acting I'm bad at but not sure of what sort of acting I'm good at. Nor am I sure of what sort of acting I'm confident at doing.
<#10LOGO#>
Nonetheless, seeing you play Chul-min in "Always" made me think, 'Yes, So Ji-sub is an actor who is so good at these roles.'
So:
I think that's how people see me. I've become imprinted in their memories in that way. Healthy in body yet serious in mind. I think it's more so because the movies or dramas in which I played such roles did well so well that people came to remember that about me and look forward to that.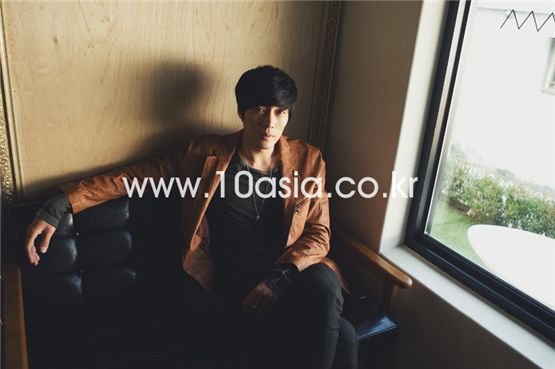 Actor So Ji-sub [Chae Ki-won/10Asia]
<#10LOGO#>
So do you think that could serve as a limitation?
So:
I'll need to overcome it because I can't stay inside that image. I need to play different characters through which I'll be able to show different sides to me. Yet actors can either act with their bodies or words and I think I'll probably do less acting that involves my body when I'm older so I'd like to do a lot of that while I'm still healthy.
<#10LOGO#>
Well this may be an issue of age but you also said before that you don't like roles where you wear suits and put airs on.
So:
I think there are more roles I have yet to play than have played so far but characters that put on airs while wearing suits is no fun. I like playing roles I can act out comfortably. Characters that'll sit on the ground and even eat things off of it. There's a limit to how you can behave when you play the son of a rich family.
<#10LOGO#>
Speaking of fun then, when do you have fun when acting?
So:
It's probably the same for all actors but there's a catharsis I get when I feel that I've become my character. I'm the type that has to rack out what I need to from within me to become my character but there's a thrill I get when I start acting or talking like that person instead of being myself. And those moments are exhilirating and fun. I felt such a feeling when filming "What Happened on Bali." I didn't get what it was about before that.
<#10LOGO#>
So in the end, it's about becoming a character that's not you. But this is another thought I have then. Do people want to see you play such loser-like characters? There are roles they hope to see you play.
So:
It could serve as a limitation. But I think I'm at a crucial moment right now. I had looked back at myself one moment and realized I was only the So Ji-sub that people want me to be. When I was home alone, I asked myself 'Who am I? What am I?' And realized I was trying to be and had already become the So Ji-sub that everyone wanted me to be. I wasn't myself anymore. So I had a really hard time up until recently. I was in a slump in terms of acting.
<#10LOGO#>
Would you say it was psychological?
So:
Like I said before, I'm the type that extracts things from within me but that's all I did the past 15 years instead of indulging myself in any way. So I became so empty on the inside that I'd have a hard time on set. I may need a break but now's also a good time for me to be an actor and take on a lot of projects so I haven't been able to decide between which I should do.
<#10LOGO#>
If you were able to take a break and indulge yourself in whatever you could, would you prefer to be alone or communicate with others?
So:
I absolutely like being alone better. I like staying still, without thinking about anything. Before, I used to want to hear people's voices so I'd turn on the TV but I didn't like the sound of the TV either so there was a time when I talked to the wall. Now, I just like sitting still without any thoughts. I try to erase all thoughts.
<#10LOGO#>
You just told me how you empty yourself out rather than indulging yourself.
So:
That's indulging myself. It's stressful trying to indulge myself yet there are things I gain when I let go. What's important is that I take time to reflect on myself, not how long I take that break for.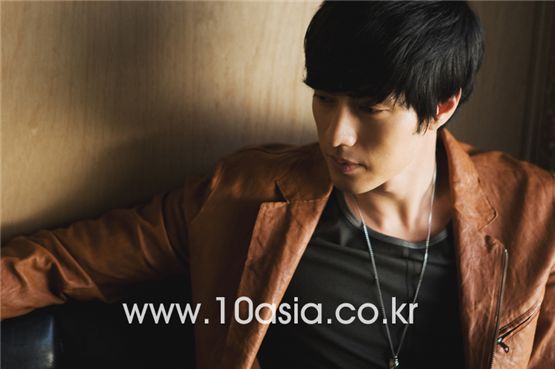 Actor So Ji-sub [Chae Ki-won/10Asia]
<#10LOGO#>
Do you by any chance like to deviate as well?
So:
I do. I try to act in ways that are outside of the image people have of me. That's why I shoot fun music videos and get tattoos. There's definitely a form of fun that follows from acting like that.
<#10LOGO#>
You used to like taking photos as well.
So:
I did but I stopped doing it once it become work. It's something I liked to do but became burdensome because people kept expecting more out of it. So I want my public and private life to be kept separate. I'm not going to talk about what I like from now on. Because the moment I do, it becomes work.
<#10LOGO#>
Maybe it's just that the weight your words hold as So Ji-sub as a model versus So Ji-sub as a star are different.
So:
I'm thankful for it but there's a pain and pressure that comes with it. Of course, I wouldn't be doing what I do now if it was nothing but painful.
<#10LOGO#>
Well you said it's work but you've also come to have an image as a Hallyu star regardless of your work.
So:
I don't like the term Hallyu star. I like to be called actor So Ji-sub.
<#10LOGO#>
Maybe that's why then but it seems we've been hearing less about your work overseas.
So:
There are some projects in China and Japan that are being discussed but I'm focusing on Korea for now because if I focus on my work overseas, it'll ruin my work in Korea and lengthen the intervals in between projects. I'd like to work overseas if I get the chance to, not adjust my schedule to make it fit that of Japan or China.
<#10LOGO#>
But global projects can be fun for you as an actor, regardless of your status as a Hallyu star. Like the comical scenes got to act out in movie "Sophie's Revenge."
So:
What's fun about working in those countries is that even if I am a Hallyu star, there are much more people who don't know me than know me. That's why I can have more fun with the projects I choose although it may get criticized once it comes over to Korea. That's why I was able to play a goblin in "Kitaro" and ruin my image in "Sophie's Revenge." There may be barriers in terms of the language but I'm not scared.
<#10LOGO#>
That's probably due to the time you've spent as an actor. Yet despite that, is there anything you still fear?
So:
I still get nervous before standing in front of the camera. But I can't help it. I think it'll stay that way my entire life. And I don't think I'll be able to do what I do were it not for that thrill and excitement I get from it. I think I'd start considering this a joke if I become too confident and free-willed in front of the camera.
※ Any copying, republication or redistribution of 10Asia's content is expressly prohibited without prior consent of 10Asia. Copyright infringement is subject to criminal and civil penalties.
<ⓒ즐거움의 공장 "10 아시아" (10.asiae.co.kr) 무단전재 배포금지>