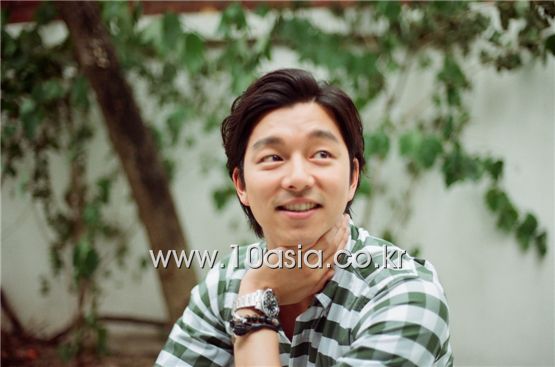 Gong Yoo [Beck Una/10Asia]
Beck
: What do you think about the original novel moved you?
Gong
: At first I thought, 'What an idiot' regarding In-ho but I slowly started to feel sorry for him. Because I asked myself, 'How are you living your own life then?" and in a way, I came to think that he is the closest to living his life in the way that we live ours in reality. The environment I was in at the time I read it probably had an effect as well because for the first time, I was within an organization where the whole is more important than the individual and one's personal opinion doesn't get that much respect. So as an actor, I had the strong desire to express someone who can't help but agonize over a huge barrier he comes across in life. And these all came together so strongly that I immediately called the chief of our agency, asking him, "Have you read writer Gong Ji-young's 'The Crucibles'?" And that we'll talk after he reads it. Then I went straight to him, as soon as I left the military for my last leave, and he already didn't look too happy. (laugh) I mean, he must've been so confused to see me appear out of nowhere and talk about copyrights and say that the book should be turned into a movie when he had never really seen me like this although we had worked together for quite a long time. I guess it surprised him. But I also think he realized why I was wriggling the way I was so he really did his best to find out for me.
Beck
: So it was because it was a movie you had wanted to do with your heart and soul that the "Good work" you got from your colleagues after its premiere sounded different.
Gong
: That's right. It was different. And I was nervous. Because in a way, it was an adventure for me. I actually do think most people were in doubt. 'Nah, Gong Yoo in "The Crucibles"?' All I could do was to thank everyone, including writer Gong Ji-young, who believed in me. Of course, I had started on the movie overcome with passion but once we went into shoot, it felt like a coat of fog was closing over me. And once it was time to show the movie to people, I worried a lot over what I'd do if it flops after making it into such a big deal. But I felt the most happiest as an actor while working on "The Crucibles."
Beck
: The child actors' acting was excellent as well. They may be young but there's an energy you got from them too, right?
Gong
: Of course. They may not have a lot of experience on set and may be clumsy technically. But put aside the fact that they're actors, there's a pureness about them. And I think I received a lot of help from that vibe about them. Because my heart would hurt even when Yeon-doo glanced up at me with her big eyes. It wasn't something I had to force myself to feel but basically me just releasing the energy the children gave me.
Beck
: Maybe that's why but the feeling that In-ho's eyes gave off when he looks at children in particular felt good.
Gong
: In-ho is someone who feels complex emotions. From agony over reality to anger to worry over where he can return to. But I was sure that he is someone with 'courage.' Just not sure of whether he should pull out that courage or keep it inside him. And on passing, I had mentioned to the director that In-ho should look at the children with a different gaze. The problem was that it should be pure but I didn't know whether I had such eyes to. (laugh) I do think I was able to do it to the extent I did because I like children so much. My close friend [Lee] Chun-hee recently had a kid. And she's a newborn but has such defined features. In my eyes, she was the prettiest baby in the postnatal care center. But I mean, I'm already like this with my friend's kids so... Is it time for me to get married? (laugh)
Beck
: There are fans of yours who have been waiting for you for a long time so shouldn't you pursue your career for a bit longer before getting married?
Gong
: I had actually wanted to get married really early. Because work is important but so is my happiness. Yet there are so many things that I've wanted to come to do after coming out from the military. And it's not like you can do only the things that you want to do when you get married. It may include the project I do or going overseas to study. I also want to achieve something before I'm 35 but can't ignore my age. So I've told myself, 'Let's put marriage aside for the time being' which has made me feel more at ease. I like where I am right now.
Beck
: Even if it wasn't for that special situation In-ho was in in "The Crucibles," I think you too have had concerns similar to those in the movie throughout your life. About how you should live, what you should follow, what you should turn your back on. Because I'm sure it must've been a time when you thought hard about such decisions and concerns.
Gong
: I think I still live with those concerns. And it was actually when I was 29 that such thoughts were strong. The time when I wondered whether I'm going on the right path as an actor, if I've stepped off on the right foot and needlessly felt a rush of regret over my past. I was most intense right before I left for the military, before I shot "The 1st Shop of Coffee Prince." It was to the extent that producer Lee Yoon-jung said she worried over how she should film a drama with me the first time we met because she said I looked like someone who tortures myself a lot. And I troubled my manager a lot too at the time. He was trying what he could do make me popular before I go into the military but all I'd do was say no to everything. In the end, he said, "This is it!" while handing me "The 1st Shop of Coffee Prince" but I sat there telling him I'm going to do an independent film and an artistic film so imagine how hard things must've been for him. (laugh) But I was also sort of a softie so I ended up doing a lot of things I initially said I wouldn't do. And of course, they ended up serving as the foundation to my acting skills and I gained a lot too but at the time, I kept thinking I was losing. And things just burst after me having suppressed those emotions for such a long time.
Beck
: But I think your life was dramatic in many ways after "The 1st Shop of Coffee Prince." You enjoyed an extreme amount of popularity and love, you went to the military, the public came to think differently of you and your attitude toward your work changed too. What do you think the past few years were like?
Gong
: To give it to you straightforward, "The 1st Shop of Coffee Prince" was definitely the time during which I regained my name as an actor. A drama which cured me who was harsh on and hurt myself. I don't think I ever had so much fun in front of the camera. I was so excited and realized my passion hadn't died out, that I was starting all over again. I do pride myself in the fact that I was drawn to "The Crucibles" instinctively but I also do think that was possible because the soundness of my heart served as the foundation to it. And on top of that, there was the time I spent in the military regaining who I was as a human being named Gong Ji-chul.
Beck
: I heard that you still keep in touch with producer Lee Yoon-jung and the rest of the crew that worked on "The 1st Shop of Coffee Prince." In a way, it's still quite hard to believe that Lee Eon passed away.
Gong
: What happened to Sang-min (Lee Eon)... It was the first time I lost someone close to me. I still don't talk about him unless I'm asked about him like this......
Beck
: Like Mr. Kim Chang-wan had said, "The 1st Shop of Coffee Prince" is not just a TV series but definitely like a memory of the entire of the summer of 2007 yet even before I knew it, I somehow thought of someone who is no longer here.
Gong
: I was receiving training in the mountains the day it happened but I was so out of it that they didn't even let me hold a gun. And then I begged to be let out to at least get to see his coffin get borne out...... Yet I still don't want to accept the fact that he's gone. It's as if he's still alive and maybe that's why I'm so idiotically still clinging onto him. Instead though, I've become very close with the friend that Sang-min was closest to. He told me to think of him as Sang-min and he will follow me like Sang-min did. And that's how I came to gain a younger brother who has blind faith in me.
Beck
: Another new ten years are starting now.
Gong
: Yes. I'm actually looking forward to the ten years. I think they'll be quite a lot of fun. And of course, my filmography for when I'm in my thirties will look different from when I'm in my twenties. Not that it'll be greater but just different. And I'm looking forward to the projects that'll fill up the list. Yet I feel like I'll be able to enjoy them more on a personal level as well instead of deciding on the genre I'll be in or the character I'll play in advance. I also feel that I need to become more flexible although I won't be able to do what I hate and at times should know how to go in the direction that the public wants me to although not get carried away by them. I feel that I need to be responsible for the people who like me and support me. Because thinking that I'm getting something that's mine taken away from me and doing something willingly are very different things. When I was young I used to think used up but I think I've come to let go of that mentality that I'm a victim. I've come to teach myself not to be so harsh on me anymore and as both an actor and human being, I now hope I'll be able to age well.
※ Any copying, republication or redistribution of 10Asia's content is expressly prohibited without prior consent of 10Asia. Copyright infringement is subject to criminal and civil penalties.
<ⓒ즐거움의 공장 "10 아시아" (10.asiae.co.kr) 무단전재 배포금지>