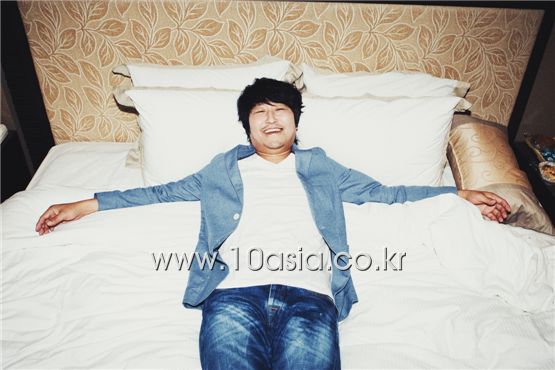 Song Kang-ho [Chae Ki-won/10Asia]
<#10LOGO#>
Well even with that, you must express yourself in different ways depending on the situation so I'm curious when you decide to use what sort of ad-libs.
Song
: It differs for every project. In the case of "Thirst," I believed that sticking to the storyboard and script director Park Chan-wook came up with would be the best way of expressing his intentions so I said my lines word for word, as they were in the script I was given, without any ad-libs. It was the same with "Secret Sunshine." On the other hand, I used a lot of ad-libs for movies like "Hindsight" and "Memories of a Murder" because they went through a lot of changes on set. Director Bong Joon-ho likes to have his actors act freely within the realm of his projects yet he only goes with the really good ad-libs because they shouldn't affect his work negatively.
<#10LOGO#>
Well, being able to have such control over your acting while being natural with it can probably only happen if you trust in yourself as an actor. When did you start to have that trust in yourself?
Song
: I actually debuted in 1996 with "The Day a Pig Fell Into a Well" but I had such a minor part that I really just did what I was told and didn't even know where the camera was. I think director Hong Sang-soo might be sad if he hears this. (laugh) But the first project that I decided I want to really start acting was in "Green Fish" from 1997 and I was very lucky because I got to work with great people like director Lee Chang-dong and actor Han Suk-kyu so I learned a lot about movies.
<#10LOGO#>
You're 23 years apart from Shin Se-gyeong whom you appeared with in "Hindsight." What sort of relationship do you portray yourselves as being in?
Song
: Our age difference isn't that big in the movie but we also won't look like lovers. Of course, we definitely shouldn't, but our age difference was also something that shouldn't create a gap between us so we expressed ourselves to an adequate point. There's a very mature vibe about Shin Se-gyeong as an actress -- in terms of the tone of her voice or her looks. So the gap between our ages doesn't look that big. And my senior actors used to tell me, "An actor is a good actor when he looks three or four years older than his age when he's young and three to four years younger than his age when he's old." And it wasn't in regards to one's looks. It means that an actors should look like they have depth when young and look lively and dynamic when old.
"I'd also like to do movies you can laugh your head off from start to finish."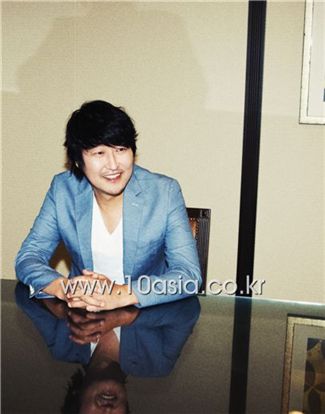 Song Kang-ho [Chae Ki-won/10Asia]
<#10LOGO#>
How has it been working with Shin Se-gyeong?
Song
: Shin Se-gyeong has mostly done dramas so I could see that in the beginning, she was confused about the environment on a movie set and wasn't sure of what to do. Basically put, with dramas you do what you're told to. But you don't have to with movies so she was allowed to try out different things but seemed stiff because she didn't have much experience doing so. That's why I made her treat me like her friend and that's when she started doing ad-libs. That's when I realized that she's an actress that can put herself at such ease. And it shows in the movie as well. There's actually a very thin line between those two points, but it makes all the difference, and although she had a hard time stepping over that at first, she made that line as thin as possible at one point and stepped over it. And that's what I was proud about with her. Because it's just impossible for some people to do that.
<#10LOGO#>
"Hindsight" is close to being a romantic movie but your filmography shows that you've rarely been in romantic movies. Is there a particular reason for this?
Song
: I personally am not drawn to romantic films. Of the movies I've been in, I regard "Secret Sunshine," "Thirst" and "Hindsight" romantic films. And I dont' intend to denigrate the genre itself -- romantic movies are a very wide genre. I think that's also why I rarely did any romantic movies when I was younger. "Secret Sunshine" may seem to talk about love but is actually about life and eternal salvation and "Thirst" too has a meaning of its own but contains love within. The same goes for "Hindsight" which may seem like a romantic movie in general but is different from the typical movies we see as being in that genre. Whether it was love or friendship that they felt for each other, the movie would've been a bit boring if it was just about their emotions.
<#10LOGO#>
What's movie "Howling" like that you're filming with actress Lee Na-young right now?
Song
: I play a director who is quite aged, with kids, not a young one. But they'll just serve as the background to the movie. I think I'll mainly be expressing the things that happen at work.
<#10LOGO#>
Well you have rarely taken breaks but there are also a lot of people that want to see you in your trademark comedies like "No. 3" or "The Foul King."
Song
: And I really want to do them too. But I get a lot of scripts that are more serious than traditional comedieis these days. I'd like to do movies that you can laugh your head off from start to finish but I haven't really been given the opportunity to. Well, actually... "Hindsight" may not be a comedy but there will be some elements to it that'll surprise you. (laugh)
※ Any copying, republication or redistribution of 10Asia's content is expressly prohibited without prior consent of 10Asia. Copyright infringement is subject to criminal and civil penalties.
<ⓒ즐거움의 공장 "10 아시아" (10.asiae.co.kr) 무단전재 배포금지>