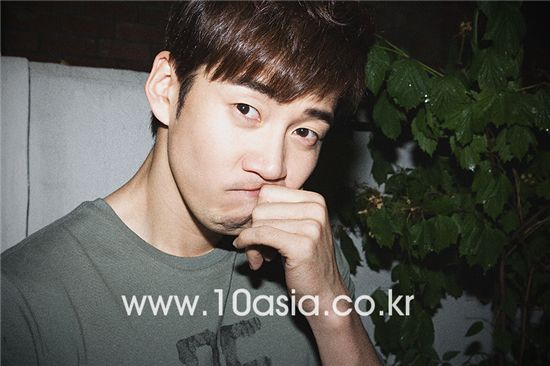 Yoon Kye-sang [Chae ki-won/10Asia]
<#10LOGO#>
There was a limit to how far you can go with your acting in "The Greatest love" but on the outside, you did gain something you haven't experienced before, such as high viewership ratings or popularity.
Yoon:
From the very beginning I felt that there wouldn't be much to show in terms of the acting. That's why when we held the press conference for the show before it went on air, I said that I want my character to be someone who gets loved by the public and that I'd quit acting if it didn't happen. (laugh) Otherwise, I didn't think I'd be able to do the acting I was asked to. I mean, I had to play someone who covers up the girl's ears when she hears something she doesn't need to, would hold her wrist to check her pulse -- someone who is the sweet, every girl's ideal guy. But I think this drama taught me that what the public wants lies elsewhere. There is definitely something I've gained through "The Greatest Love."
<#10LOGO#>
Well you can't not do dramas from now on but the words 'skill' and 'Yoon Kye-sang' somehow don't go together.
Yoon:
That's why I'm doing both. The things I was disappointed or was angry about in terms of my acting in dramas, I release in movies. With "Poongsan," I contained all my stories with In-ok in even the scene that I'm smoking a cigarette. There have also been times that I've acted unaware of which angle I was being shot from. That's my style of acting. But actors are the ones who get chosen so I do have to keep elevating the status of my brand power. With pure acting, there are plenty of actors who are better than me. And I felt it while filming "Road No. 1" because a lot of actors in it used to be in theater. They didn't know where the camera was and not skilled but they're acting was great to the point that I felt embarrassed of myself and out of place. And I chased them around all the time to improve my acting. As long as I keep my acting real, it'll improve so what I came to learn this time was that in order to improve the exterior conditions, I need to work on dramas that'll be popular.
<#10LOGO#>
You definitely need to appear in dramas that'll be popular to have more opportunities to show people how your acting has improved.
Yoon:
If I was the Yoon Kye-sang from four months ago, "Poongsan" couldn't have become so talked about. Of course, it's also because it's by director Kim Ki-duk but people wouldn't have been as happy over it. So although I was a supporting actor in "The Greatest Love," I was lucky to see "Poongsan" get released at that time. That's why I'm thinking that I need to become at least a bit more powerful. I would've usually always worked on a movie after a drama but I'm considering a drama as well now. In that sense, "Poongsan" has definitely been a turning point for me. Regardless of how people will evaluate the movie, I've definitely shown something in regards to my acting and it's going to be difficult to find a project that's better than this soon so I think I should take on whatever I can that'll reveal my appeal better. Then when I can become more helpful, I could become helpful to directors like Byun Young-joo or Juhn Jai-hong. Then after that, whatever it is, even if it may be a really weird movie, I think something will come out of it.
<#10LOGO#>
You mentioned "Road No. 1" which didn't receive much attention because it got low ratings but lieutenant Shin Tae-ho was a character that stood somewhere in between the characters you played in "The Greatest Love" and "Poongsan." He was extremely masculine yet when he falls in love, changed to the point that he lost his mind but fundamentally was friendly and humane.
Yoon:
He's Poongsan and Yoon Pil-joo put together. That's where the egg for Poongsan was born. I think I was able to play Poongsan because I had played Shin Tae-ho. I would've probably been quite worried about "Poongsan" if I hadn't found out how to put on my gazes through Shin.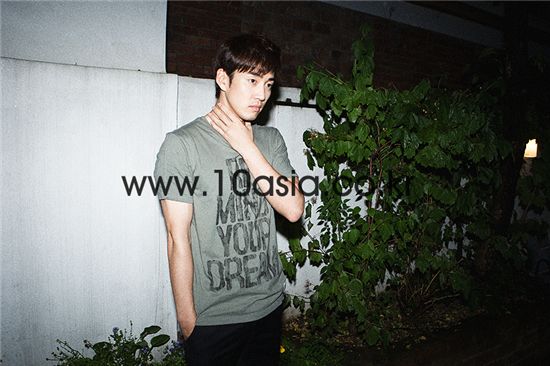 Yoon Kye-sang [Chae ki-won/10Asia]
<#10LOGO#>
It seems that the sense of inferiority you felt over your own acting has been expressed as sort of a yearning and in the end, that yearning is probably what has made you grow. The reason you're still acting while being so critical of yourself and fighting this hard fight is probably because you like acting so much but why is this so?
Yoon:
I was really bad at my school studies. I was a kid who always loved to imagine. And I have a past that is something you'd see in a movie but it's pathetic, not amazing. And by chance, that kid got to receive a huge amount of love. But he always felt burdened by that love. I'm an honest guy so I need reasons to make myself understand what's going on. But I felt uncomfortable receiving so much love when I'm not even a great singer. If someone compliments me for what I'm worth, I'll accept it confidently but not when that's not the case.
<#10LOGO#>
So you have to know why for yourself.
Yoon:
That's right. But that really wasn't the case when I was a member of G.O.D. Everyone else was always so good so it felt like I had just gotten very lucky to become part of them. And that's when I saw what acting was and I felt like I could do a good job with it. The only thing I could be good at. That's why I can't give up. And that too happened to me when I was 26, at a time when I'm all grown up and thinking about life so imagine how much I must've obsessed over it. It felt like I didn't have enough time and that time was very precious. So that's why I don't waver even if people speak ill of me, really. Because acting is something that is my own - it's not something will take away from me. And I gradually see more and more people acknowledging my acting so I will definitely not get crushed. I'm still under the same mindset. I treat my colleagues well on set too because I don't want to let my guard down even a bit when it comes to my acting. I don't want to give anyone room to misunderstand me.
<#10LOGO#>
Well it showed well in "The Greatest Love" but the entertainment industry is a place that is very easy to be misunderstood.
Yoon: :
It's very easy to be misunderstood and slam down other people's reputations so if you want others to see you as who you are, you have to lead an honest life, even if it may not be easy to do. Of course I want to drink and go out. But I've lived my life in a way that I wouldn't be criticized in that aspect. And I think that's what's good about me. After that comes acting and that affects your acting. That's all there is to it. But in a way, I've also been thinking that I can live without this. I go to a cooking academy. My hobby is to cook so I want to become a chef. I've been in this industry so long that since I'm not a fool, I see when this life will come to an end. But I can only live by doing what I like so I'm preparing when I can. But as much as I'm an actor now, I don't want to be misunderstood. I will sing with joy and believe I have succeeded the moment that people think I'll have a reason for playing the roles I do, regardless of the character I play or project I take on. And I'll stay this way. I'll also stay honest. That's the only way I'll be able to show myself without being misunderstood.
<#10LOGO#>
Do you think you have good fortune in terms of having good people around you?
Yoon:
So much. I think that's why I've become an actor and have been able to act till now.
<#10LOGO#>
Every actor or crew that has worked with you have said you're a "good person." It seems that being complimented by people you work with is as important to you as being complimented by the public for your acting.
Yoon:
It's important. It's basically all there is to this job. I think I can go a step further and do another project only by them having good evaluation of me. I want people to see me as a good person before they see me as a good actor. People always want good people to do well right? So I think those thoughts will stimulate me to work harder and become a better actor.
※ Any copying, republication or redistribution of 10Asia's content is expressly prohibited without prior consent of 10Asia. Copyright infringement is subject to criminal and civil penalties.
Reporter : Kim Hee Ju fifteen@, Yoonina (TV Critic)Photographer : Chae ki-won ten@Editor : Jessica Kim jesskim@, Lee Ji-Hye seven@
<ⓒ10Asia All rights reserved>